Convert SVG to PNG:
Well, you may already have an SVG file now you need to convert it to a PNG file, in order to use it on various social media or somewhere else. The SVG file is a vector file so we can't use it anywhere or we couldn't print it. So we need to convert it into a PNG or jpg file. You can convert the SVG file into a PNG file both online and offline. The online converter requires a network or wifi connection where offline conversion needn't any network connection. There are too many online platforms to convert these files among of all "Convertio, Cloudconvert, ezgif, are the best sites".  These sites are not only for convert SVG to PNG files you can convert any image file format as you like. But here you need wifi connection for every step.
If you want to convert offline then you need any conversion software like Adobe Illustrator, Photoshop, Vector Magic, etc. All software processes are the same. So, here we will show you how to convert SVG to PNG using Adobe Illustrator. You may already get tired in search of searching for the best SVG to PNG file converter. Now stop browsing here and there and follow this article. I promise you to not desperate you. Let's do a study about what is SVG and PNG in search of seeking knowledge. 
What is SVG file: 
The abbreviation of SVG is Scaled Vector Graphic. This file is based on a vector file. Basically, this file means the graphics in the XML file. You need a browser to open an SVG file. Well, this file was developed as an open standard format by WWW or World Wide Web. SVG file formats are used for sharing graphical content on the internet. 
 Advantages of converting SVG to PNG:
The SVG file is web-based image format so we can't use this image on any social or foram site. When we convert an SVG file to PNG we can view the image without using any web browser. Though the SVG file is pretty purer than the PNG file.
Why do we use SVG image format:
This image format does not lose any quality if it is zoomed or resized. This format is maximumly zoomable. Compare to other image formats this format quality remains purer. You can print this format with high quality at any regulation. Image format can be searched, indexed, scripted, and compressed. 
What is PNG file: 
Portable Graphics Format is the short form of a PNG file. This is a popular bitmap image format. This format is best for digital art like flat images, logos, icons, symbols, etc. This image format uses 24-bit color as a foundation. The PNG file format is a type of image format to store images. The JPEG format loses its algorithm and the image may lose some of its data. But the PNG file format doesn't lose its algorithm and there is no worry of losing its data. So, a PNG file can contain more information than a JPEG file. The file size of PNG is bigger than the JPEG file. You can save the file as transparent in a PNG file. 
Shortcut keys of convert SVG to PNG file using Adobe Illustrator:
Open your SVG file with Adobe Illustrator ➜ Go to file from menu bar ➜ Export ➜ Export as ➜ Save as PNG
How to convert SVG to PNG using Adobe Illustrator:
Though adobe illustrator is a drawing, artwork, and illustrations software application you can convert any image file in a different format. There are many more image converting applications if you know the one's conversion process you can make it using other applications. Let's learn how to convert through Adobe Illustrator. 
Step 1- At first you need to open your SVG file with Adobe Illustrator. If you don't know how to open an SVG file with Adobe Illustrator then simply click on your SVG file and press the right button on your mouse. Now move your cursor on the "Open with" section then select Adobe Illustrator.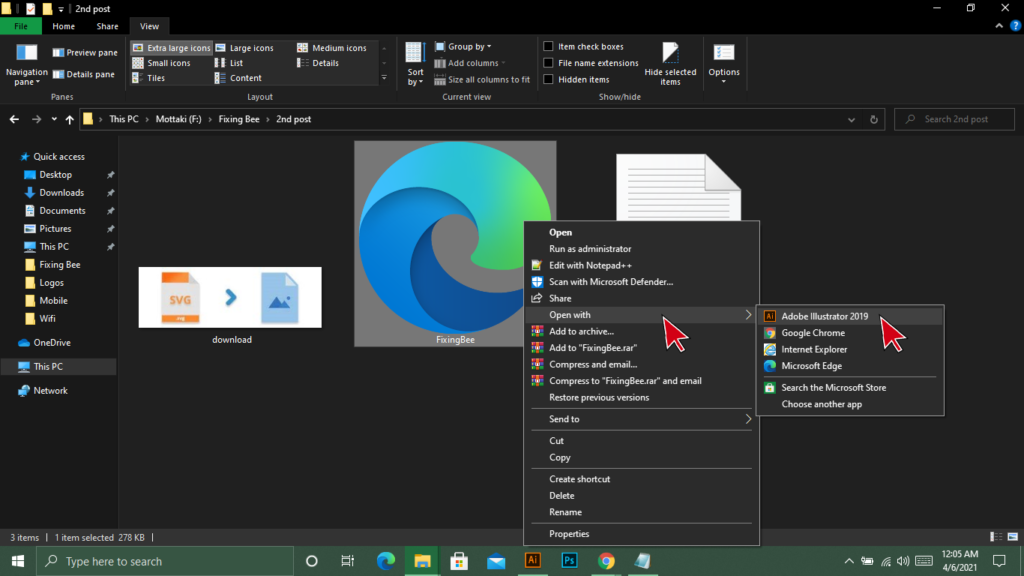 Step 2- Now you are on your Illustrators interface.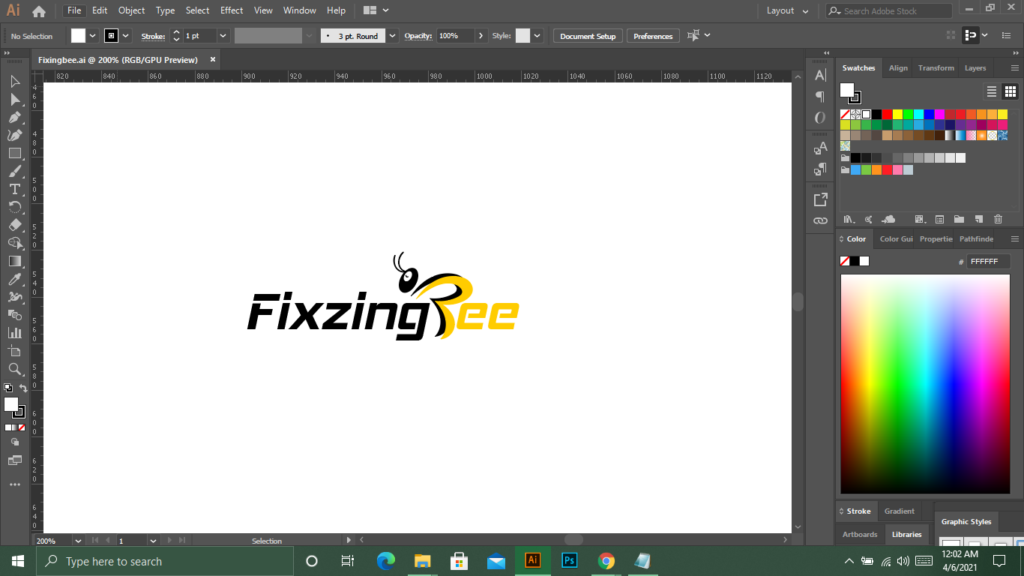 Step 3- Click on the File option from the menu bar. Then move your cursor on "Export" then click on "Export as".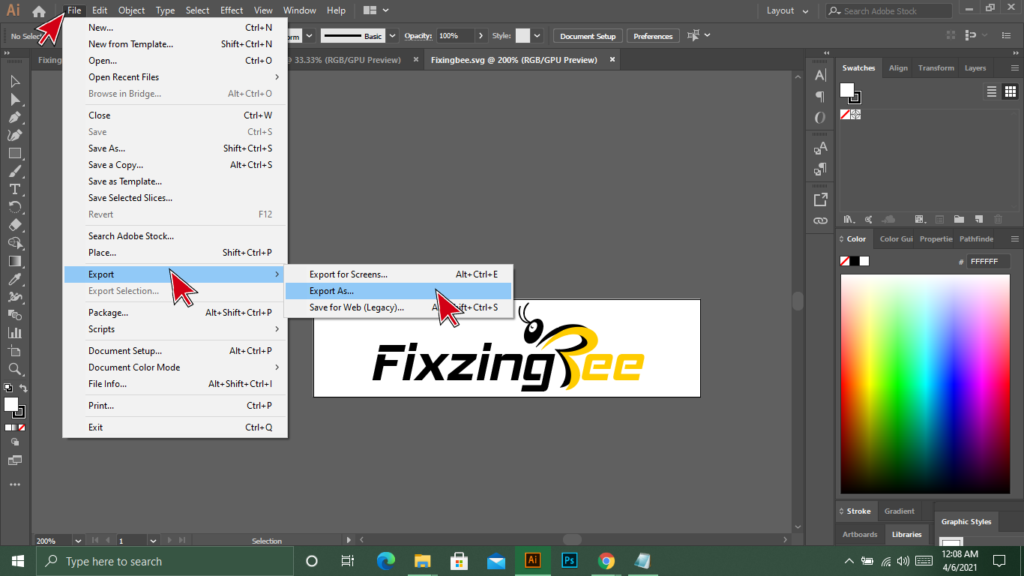 Step 4- This interface showing you that what format you prefer to convert into. As we learning that convert SVG to PNG so we have to select "PNG". First, give the name of this PNG file then select the format.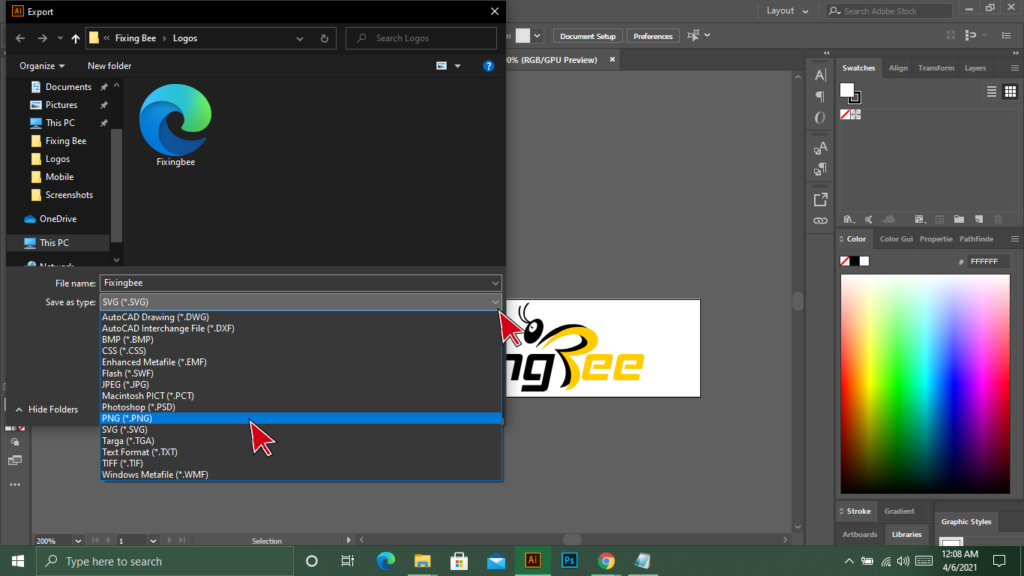 Step 5- Here you have to do some simple steps. First select resolution. For better quality select 300ppi. This is the highest quality of this format. Secondly, you have to select an aliasing mode. Aliasing is used for edge smoothing. For a better smooth edge you better use "Type Optimized" aliasing.
Thirdly, you need to select a background. You can set the background of your image as transparent, white, and black. When you set the background as transparent there will be no background object. Setting the white background gives you a white background of your PNG file. Same work in black background.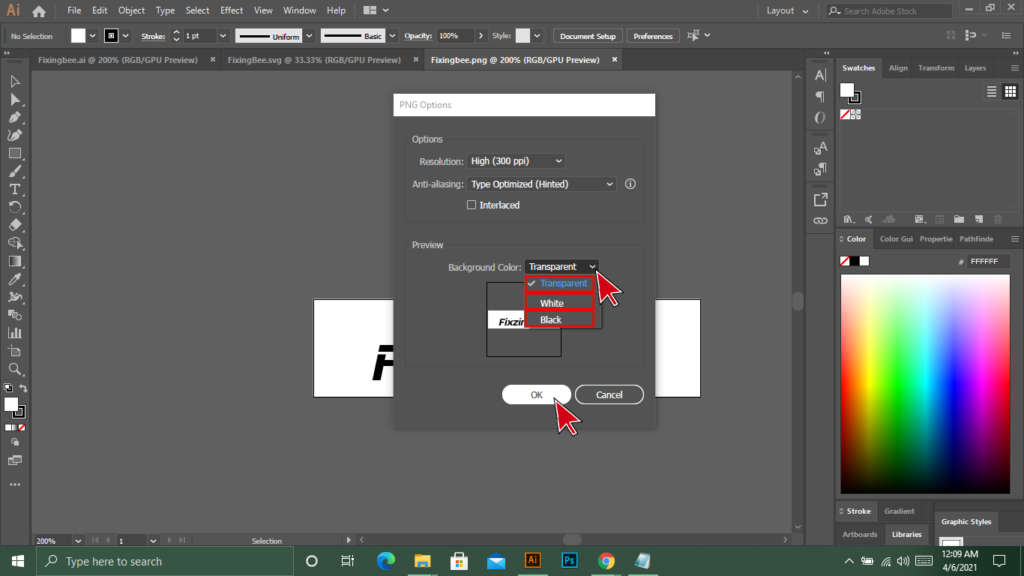 Step 6- This is the converted image. We just converted it SVG to PNG.