However, Gmail's archive feature allows you to save important email messages without deleting them. The lack of a separate folder for archived mail makes it confusing to find the messages you want to retrieve. However, you can enable all mail views in Gmail to access the email in your archive. Then delete any message you want to get back in your inbox. An archived email is not technically removed from your account; You can still search and find it just like any other email. We can easily unarchive an archived message in Gmail on a computer and mobile device.
I've archived an email, wondering where it went, and want it back in your inbox? Learn how to unarchive Gmail email archive and inbox or any other labels and folders. When your Gmail emails are crowded, you can delete the oldest ones, but you won't be able to review them in the future if necessary.
Saving old emails is probably the best thing to do because you can archive them later if you need to. Learn how to save your emails in Gmail and how to unarchive Gmail in the article below. This process can be done on both your desktop and your mobile device, although the process looks a little different.
What Happens to Your Archived Emails
All emails in your archive will disappear from the "Inbox" folder, making room for future emails. They'll move to another folder in your Gmail account called "All Mail". You can find all emails (archived and archived) by typing the sender's name or part of the email's title into your Gmail search bar. Archived emails will be returned to the "Inbox" folder if they are answered at any time. All you need to know about archived emails is to do the process yourself.
How to Archive Emails on Desktop or Mobile
Also, you can archive any or all of your emails with a few simple clicks. Now you can easily find important emails by making some space in your "Inbox" folder, so you don't need them when you want to archive some emails. You can only save emails that you have read or you have not yet read Here's what you need to do to save all your emails at once:
Also Read: How to delete Snapchat account permanently on android?
Step 1: Log into your Gmail Account.
Step 2: Select all of the emails you want to move to the "Archive" folder.
Step 3: Click the archive icon (box with the arrow below) in the top menu bar and the emails will be moved to the "Archive" folder. Your selected emails will appear in the "Archive" folder.

Try this way for all mails to Archive

Step 4: Click on the small arrow next to the empty square above your email list and click on the drop-down menu. Select "All." Click "Select All Messages" above your first email.

Step 5: Once all your emails are selected, click the "Archive" icon and all your emails will be moved to the "All Mail" folder.

Step 6: Click "OK" when the pop-up window appears. All your emails can now be found in the "All Mail" folder.
How to unarchive Gmail messages on a computer
Step 1: Open Gmail on your Mac or PC. Scroll to and click on the "All Mail" category on the left-hand side. Scroll or search to find the email you wish to unarchive.
Step 2: Once you find it, right-click and select "Move to Inbox".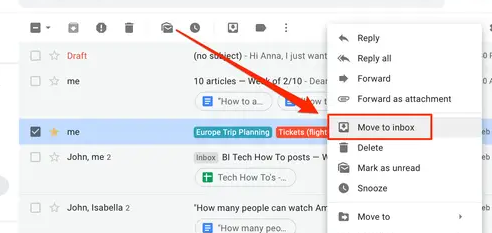 Step 3: The selected email has now been archived and moved to our Gmail account inbox. We can now check to unarchive emails in our inboxes.
Also Read: HostGator Pros and Cons best fastest web hosting for WordPress website
How to Unarchive Gmail on Mobile Phone via Gmail App
You see, in addition to computer systems, you can empty emails using the Gmail app on your mobile phone. It is also quite easy to do. To do this, follow the instructions below how to unarchive Gmail:
Step 1: First, open the Gmail app on your mobile. Then, once you open it, tap the More button in the upper left corner.
Step 2: Scroll down a bit till you see the All mail option. Tap on it to go to the All Mail folder.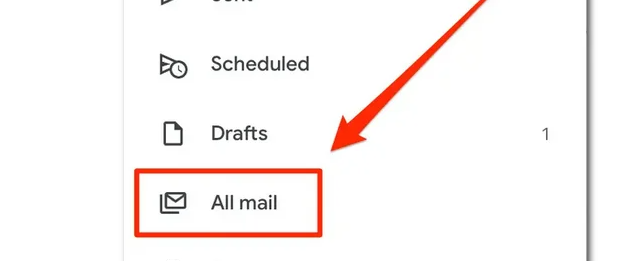 Step 3: There, from the list of emails, find the emails you want to save. Once you find it, hold the email to select it. Do this for all emails you want to go to the Inbox folder.
Step 4: After you do this, tap on the Move to Inbox icon at the top (the one with the down arrow). Additionally, you can open the email and then tap on the top three dots. From the menu that appears, select Move to Inbox to unarchive the email.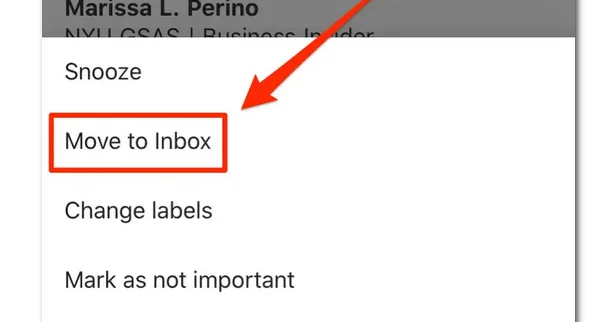 Step 5: Once you do this, it will move all selected emails to the Inbox folder and thus free them from the archive.
Save important emails for the future
Some emails are more important than others, so it's normal that you want to save them for future use We have explained how you can do this on both PC and mobile devices You're now ready to handle your emails, and you don't have to worry about an overflowing inbox
What kind of email do you keep and why? Did this article help you? Tell us what you think in the comments section.
How to Unarchive Gmail FAQs
How do I find archived emails in the Gmail app?
To see archived emails on your Android device —> open your Gmail app —> click on the hamburger icon on the top left, and then click on the All Mail label.
Where is Archive in Android?
Tap the hamburger menu (three horizontal lines on the top left corner). Tap the Archive tab to see all the archived photos. You can also add images to the archive by selecting the Add to archive button.
How long do archived emails stay in Gmail?
30 days
How long are archived emails kept in Gmail? Messages you archived aren't deleted, and you can access them at any time. Gmail keeps your archived emails indefinitely or until you delete them. Only messages that are deleted are removed from the Trash after 30 days.
Where do archived emails get saved?
When you archive your messages, technically you're removing them from your inbox. However, they're still kept in your Gmail account. Your archived emails aren't kept in a folder like your "trash" or "important" folders; instead, they're found in All Mail.
How do I get my archived postback?
On your profile, in the top right corner, you'll see the encircled clock icon, which opens your archive where only you can see posts you've archived. From there you can restore their visibility to those who can see your profile.