Here's some info about the Microsoft surface charger for your Surface and what Microsoft-licensed power supplies are available for Surface. Our Laptop Power AC Adapter / Charger – Microsoft Surface Series is the best and highest quality power cord currently available for this model. Designed exclusively for the Surface and designed to match its look and feel, the 65W power supply quickly recharges the battery. When the USB port lets you charge another device at the same time.
The Microsoft surface charger product guarantees to meet the needs of the original specifications. Microsoft Surface Charger series is exclusively made with the help of top-quality materials that provide the highest level of safety, reliability, dependability, and adaptability.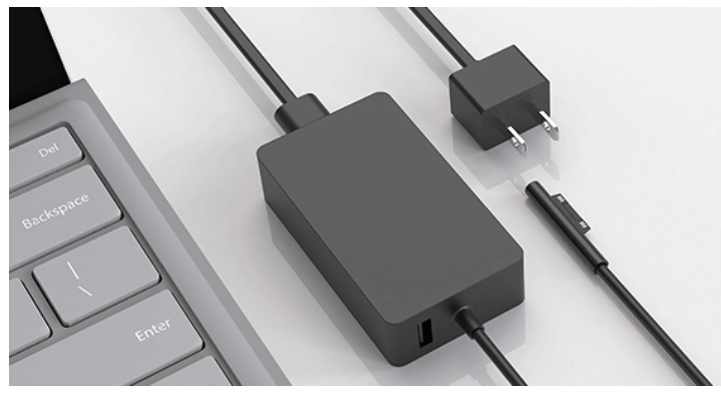 If you're interested in purchasing an additional power supply, or upgrading your power supply, see Microsoft Surface charger power supplies at the Microsoft Store.
Surface power supplies are designed to work with Surface. We strongly recommend only using a genuine Microsoft or Microsoft-licensed power supply, one that either came with your Surface or was purchased separately, to charge the battery.
Read More: Microsoft Surface Dock 2 Latest Products
Features & Benefits
Compatibility: Surface Book 3, Surface Book 2, Surface Book, Surface Laptop 3, Surface Laptop 2, Surface Laptop, Surface Pro X, Surface Pro 7, Surface Pro 6, Surface Pro (5th Gen), Surface Pro 4, Surface Pro 3, Surface Go 2, Surface Go.
Wattage: 127W AC.
Dimensions (L/W/H) : Power Supply: 3.98 inch x 2.24 inch x 1.10 inch (101 x 57 x 28 mm), DC cable: 55.12 inch (1400 mm).
Weight : Power Supply: 0.86 lbs (390 g), AC cable (North America): 0.09 lbs (39 g).
Connector type : USB 2.0 connector (7.5W)., C8 AC connector.
Warranty: 2-year limited warranty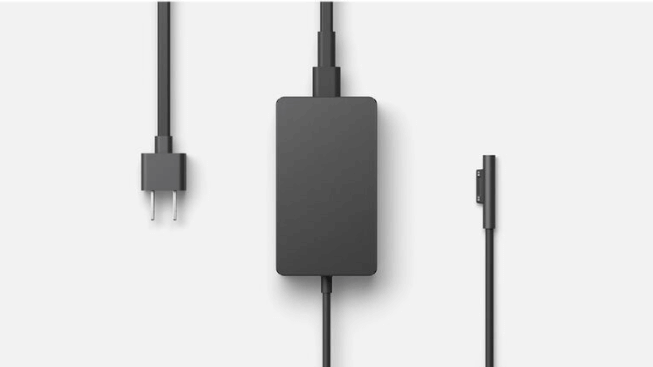 Microsoft surface charger 65W Power Adapter For Surface Pro
Charge your Surface Pro 4 tablet with this Microsoft Power Supply Adapter. The magnetic connector connects easily to your device for quick installation, while an integrated USB port charges an additional mobile device. Featuring power delivery of up to 65W, this adapter supports fast charging. This Microsoft Power Supply Adapter has an 85-inch power cord that allows flexible device installation and supports hassle-free transport of lightweight construction.
Read More: Alienware Aurora 2019 the best gaming PC
Compatible with Microsoft Surface Pro 4, Pro 3, and Surface Book.
A magnetic plug easily connects to your tablet.
Additional USB port charges tablets and smartphones.
85″ cord enables flexible device placement.
Stay connected for a longer time period with the Microsoft Surface charger 65 W Power Supply. It comes with an adapter that recharges the battery and a USB port that you can use to simultaneously charge another device. This laptop power adapter is designed to match the look of the Microsoft Surface Book and ensures that you continue to work without interruption. This 65-watt power adapter is lightweight and compact in size, allowing you to carry it wherever you go.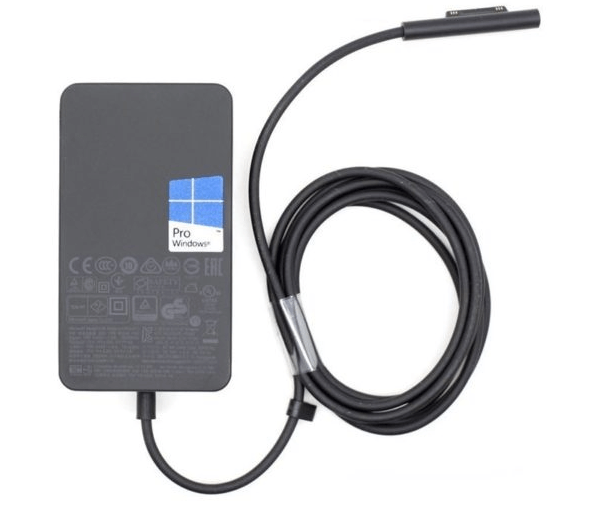 For devices using USB-C
For the Microsoft Surface charger that has a USB-C port, you can choose to charge your device using that. If you choose to do so, keep these things in mind:
1] For best performance, we recommend using a USB-C charger that provides at least the same wattage as the power supply to your Surface. For more information about Microsoft surface charger power supply, see Surface power supply and charging requirements.
2] If the battery runs out and the charger you are using uses 60 watts or more, your surface will turn on as soon as you plug it in. If you use a charger that uses less than 60 watts, you will need to charge your Surface 10%. Before it was launched.
3] You cannot charge your Surface with a Surface Connect charger and USB-C charger at the same time. If both are connected, your Surface will only charge from the Surface Connect charger.
4] If you connect a low voltage charger or a USB-A charger to a USB-A-to-USB-C cable, your device may charge slowly. Attach a recommended charger instead.
5] The Surface Studio 2 has a USB-C port, but it has no battery and does not receive incoming power via USB-C. You should use the power cord that comes with the Surface Studio 2 for power. If you encounter a charging problem while using the USB-C port, see the solution to the USB-C problem.
How much battery charge is left?
Battery status is displayed in different places:
1] Lock screen: When you wake up your surface, the battery icon will appear at the bottom-right of the lock screen.
2] Desktop Taskbar: The battery status is displayed on the right side of the taskbar. Select the battery icon for information about charging and battery status, including the percentage of power and time remaining.
Your surface warns you when the battery is low. If you do not recharge the battery when you receive this warning, your Surface will eventually save your work and shut down.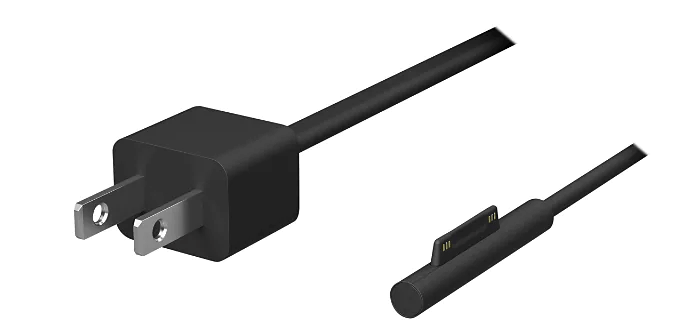 With the Microsoft Surface Pro 4 Charger, you can give your Surface Pro 4 new power. Get an extra charger for the office or keep one in your backpack or bag. You will always have a charger in your hand. This charger can be used with almost any Microsoft Surface model.
Note: this charger is suitable for the following models: Surface Book 2, Surface Book, Surface Laptop 3, Surface Laptop 2, Surface Laptop, Surface Pro X, Surface Pro 7, Surface Pro 6, Surface Pro, 5th Gen), Surface Pro 4, Surface Pro 3, and the Surface Go.
Microsoft Surface Pro Charger Features
Input: AC 100-240V (Worldwide use) Output: 15V 2.58A 44W. With Additional USB Port, Wall Plug and 6ft Power Cord
Wall Plug and AC Power Cord Plug – When you do not need an AC power cord, you can unplug it, replace our wall plug, when you need an AC power cord, you can plug in a 6 FT power cord. Easy to charge for various occasions for travel, home, car, office, etc.
The USB port lets you charge other devices such as your phone / iPad at the same time.
Multiple Safeguards – Made from premium quality ABS + PC fireproof materials and built-in IC chip technology, including overheating protection, short circuit protection, over-voltage protection, and over-current protection.