Recently, Nvidia announced a new high-end graphics card, the Nvidia GeForce GTX 780. See the GeForce GTX 770 Game Performance Guide for some of the biggest games to play in 2022. The GeForce GTX 770 is a very low-performing component of gaming hardware and can only run on indie system requirements. Specifically, we'll see how well this graphics card runs in 1080p resolution as well as in ultra settings at 1440p and 4K. The GeForce GTX 770 graphics card returns a poor performance on the Resident Evil 8 at a 1080p speed of 1 frame per second in Ultra graphics settings.
Price
The GTX 770 offers performance that's relatively close to what the new top-of-the-line GTX 780 offers, but at a more affordable price-point:
NVIDIA GeForce GTX 780 MSRP: (3GB) $649.00

NVIDIA GeForce GTX 770 MSRP: (2GB) $399.00
While it's significantly faster than the old GTX 680, the 780 is also $200 more expensive. Today, Nvidia is launching a card designed to fill that void — the Nvidia GeForce GTX 770.
Read More: GeForce GTX 760 Graphics Card Specs
A notable difference is the memory speed – the GTX 680 offers 1,92GBps RAM bandwidth, while the GTX 770 pushes it to 224GBps. Total GPU memory is similar to the GTX 670 / GTX 680 in 2GB, although Nvidia expects partners to release a 4GB version in the near future.
Note: The following references to this GPU are included in NVIDIA's reference graphics card design. Clock features apply when gaming with medium to full GPU usage. Graphics card specifications may vary by add-in card maker. See the add-in-card makers website for actual shipping specifications.
GeForce GTX 770 Specs
GPU
NVIDIA GeForce GTX 770:
CUDA Cores: 1536
Base Clock: 1046 MHz
Boost Clock: 1085 MHz
Memory
Clock Speed: 7000 MHz Effective
Configuration: 2 GB
Interface: GDDR5
Interface Width: 256-bit
Bandwidth: 224.3 GB/s
Technologies
Microsoft DirectX: 11
OpenGL: 4.3
CUDA: Yes
Interface
PCI Express 3.0 x16
Display Support
Display Connectors:
1 x DVI-I DL
1 x DVI-D DL
1 x Display Port
1 x HDMI
Maximum Digital Resolution: 4096 x 2160
Maximum VGA Resolution: 2048 x 1536
Multi-Monitor Support: Up to 4
Power Requirements
Power Consumption: Up to 230 W
Minimum System Power Requirement: 600 W
PCI Power Connectors:
1 x 6-pin
1 x 8-pin
Dimensions
Height: 4.4″ / 111 mm
Length: 10.5″ / 267 mm
Width: Dual-Slot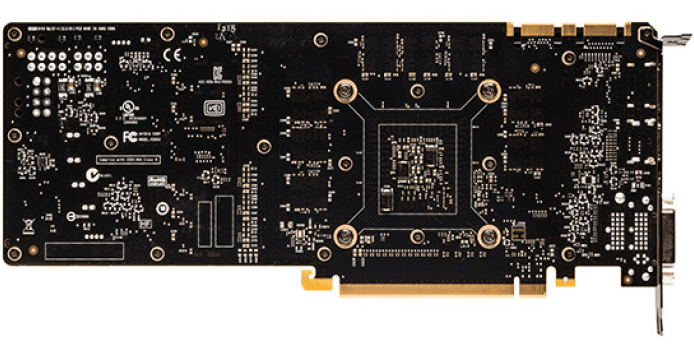 Launch your game with the GeForce graphics card. Featuring a 256-bit interface with 1536 CUDA cores and 2GB GDDR5 VRAM, the GTX 770 can quickly render gameplay in HD and beyond at frame rates for smooth and consistent action. The primary points of comparison of the 770 GTX are the GTX 670, which replaces it, the GTX 680 (based on which), and the AMD Radeon HD 7970 GHz version, AMD's own competitors in this space.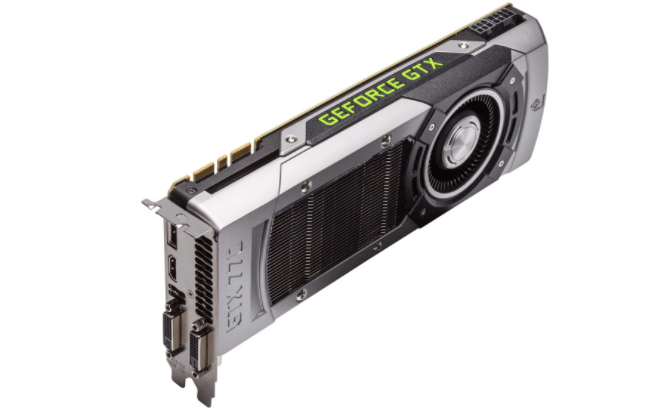 GeForce GTX 770 Performance
Not only good for gaming but the GTX 770's CUDA cores are also designed using NVIDIA's Kepler architecture. HDMI and DisplayPort output supports resolutions up to 4096 x 2160. This resolution, combined with NVIDIA's surroundings, can provide an immersive gaming experience using multiple monitors.
Read More: NVIDIA GeForce GTX 590 Specs
The card's output panel has four output ports; A DisplayPort terminal, an HDMI terminal, a dual-link DVI-D terminal, and a dual-link DVI-I terminal that supports VGA output via an optional DVI to VGA adapter. For cooling, the card has an integrated blower-style cooling system.

Is the GTX 770 good for gaming?
A 770 will run most games today fairly well. You will be stuck at 1080p at medium to low details for most games. But it is enough for the majority of games. You'll get a solid 60fps at this setting for most, and can even hit 120+ on less demanding games like Overwatch.
NVIDIA GeForce price comparison
| Name | MSRP Price | 3DMark Score Value for Money |
| --- | --- | --- |
| NVIDIA GeForce GTX 1070 Ti | $399 | 17 |
| AMD Radeon RX Vega 56 | $399 | 17 |
| NVIDIA GeForce GTX 770 | $399 | 5 |
| AMD Radeon R9 290 | $399 | 9 |
Bad news for owners of older Nvidia graphics cards this morning, as the graphics card maker has confirmed they're ending support for all of their desktop Kepler GPUs starting this October. … Nvidia GeForce GTX 780. Nvidia GeForce GTX 770.