Is Samsung Galaxy A71 5G handset suitable for you? Well, If you are hesitating to buy this phone then read this article attentively. Here I'll describe all the specifications of the Samsung A71 phone. People who used Samsung smartphone they know whats the performance of this phone. The User Experience (UX) and User Interface (UI) are much better than other smartphones. Samsung company provides the AMOLED display maximum of their phone.
Is SAMSUNG Galaxy A71 5G worth buying?:
It sounds pleasure that Samsung company release a flagship smartphone for under $1000. Samsung released their Galaxy A71 smartphone at $599.99. Compare to other Samsung flagship smartphones this phone's price is pretty affordable. I don't think it is a bad idea to choose this phone. My recommendation is if you can afford this price then you can buy this phone without any hesitation.
We all know that Samsung hardware is very strong. Some people compare Samsung to Nokia because both smartphones are so strong that they won't break easily. One thing to keep in mind is that the price of mobile phones goes down as the days go by and as well as mobile is also improved.
Body and Display proportion:
FrontSide: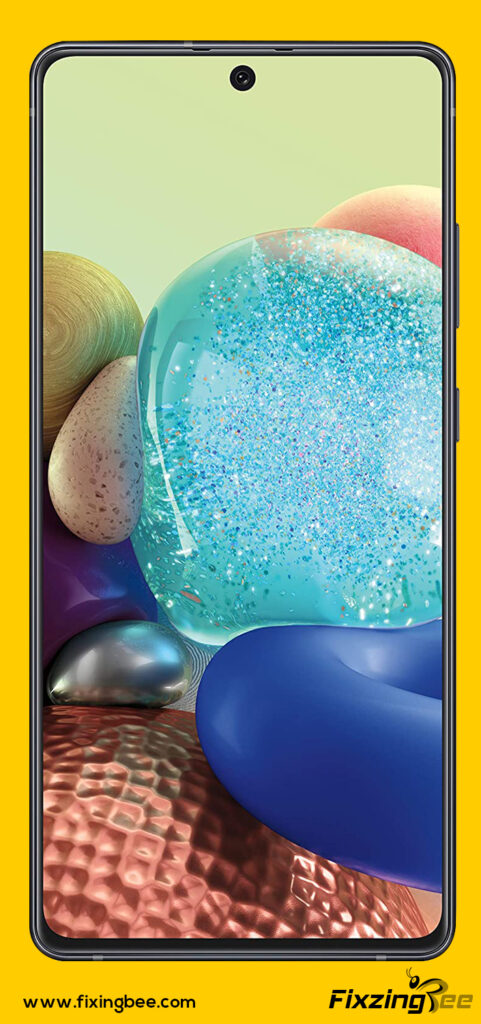 The size of the screen is 6.7 inches. On the front side, a small dot-notch camera is placed on the top and the middle alignment. The front glass is build-up by Corning Gorilla Glass 3 with an aluminum frame. The Samsung Galaxy A71 5G is slim enough and the edge is a curved plastic black panel.
The design depends on you, some people like curve edges some likes flat edges. Obviously, the Samsung A71 is a full-screen display. The height of this phone is 6.3 inches, the width is 3.0 inches and the depth is 0.3 inches. The weight of this phone is 6.5 ounces (185 grams) so, I don't think it would very uncomfortable to carry.
Needless to say that Samsung always provides AMOLED displays. But this phone contains a Supper AMOLED Plus display.  The regulation of the display is 2400 by 1080 pixels. The screen contains vibrant colors and inky blacks and it is enough bright to see in sunlight. You can adjust the display brightness according to your demand.
Users can also set the automatic brightness mode which helps to adjust the brightness according to the environment. That means if you go to a dark room the brightness will increase automatically, similarly if you go to a brighter place the brightness will decrease automatically.
The SAMSUNG Galaxy A71 5G phone provides an in-display fingerprint sensor. To be honest the fingerprint sensor is not so fast compared to the iPhone SE or the Pixels 4a smartphones.
BackSide: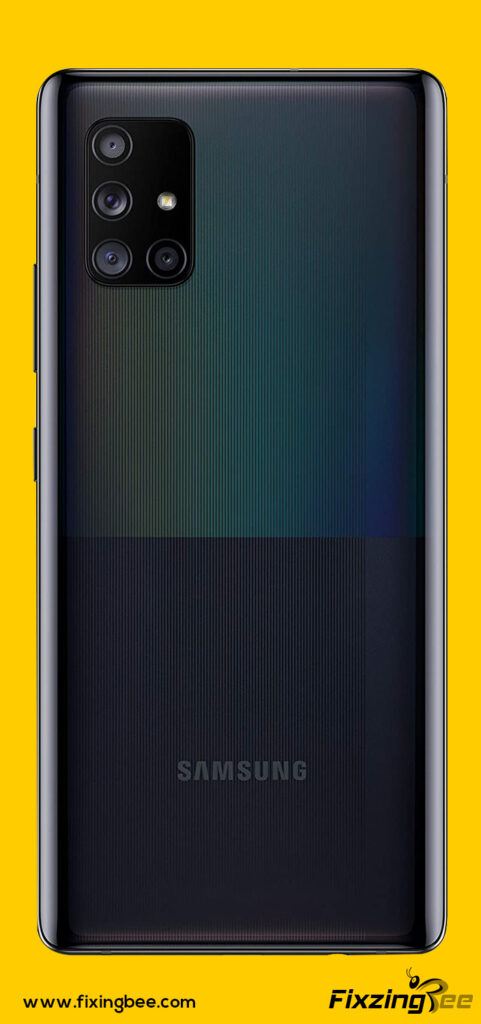 Four cameras and a flashlight were placed on the backside. The back panel is constructed of plastic but anyone could be mistaken for glasses. It looks almost glass on the backside. This phone has a hybrid SIM slot. The speaker's sound quality is better. A 3.5mm headphone jack port is placed on the bottom of the phone. Non-removal Li-Po 4500 mAh battery used on this phone.
Buttons: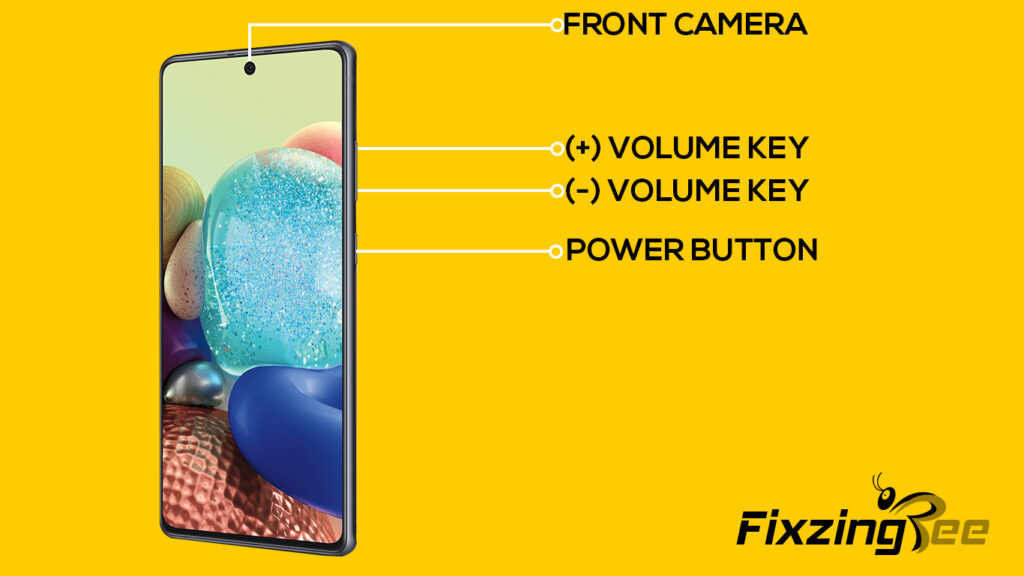 There are no buttons on the edge of the left side, volume key, and the power/Bixby button on the right. The buttons feel so satisfying when tapped. Because of the large display and body structure, the buttons are the slightest hard to reach with small hands.
Available Colors: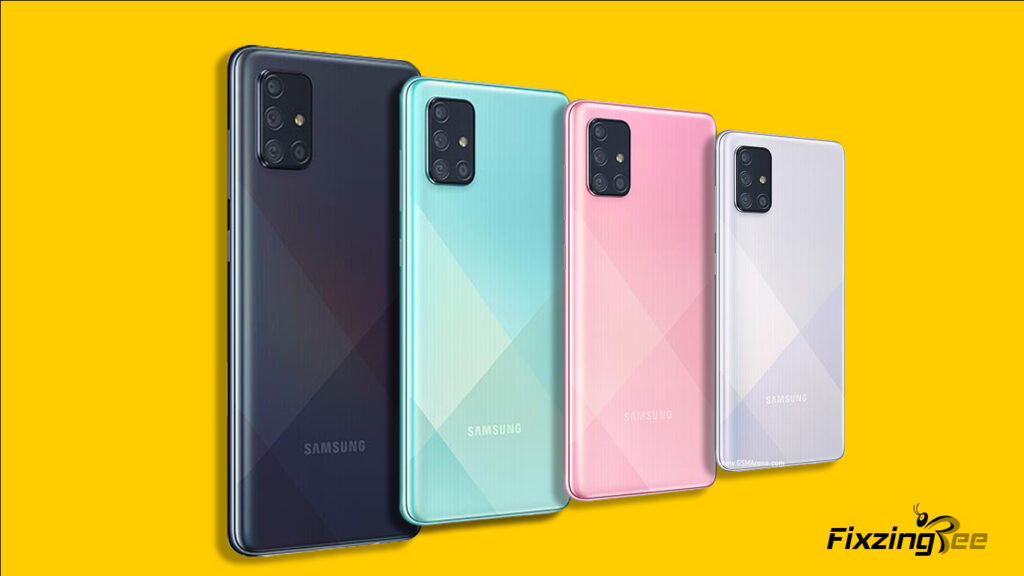 There are three different colors available for this phone Prism Cube Black, Prism Cube Sliver, Prism Cube Blue, and Prism Cube White. There are no hardware or software differences in these colors model. Buy any of the colors according to your choice.
Processor and storage:
The Samsung Galaxy A71 5G operating system is based on Android version 10, up to version 11. User Interface (UI) is one UI 3.0. Exynos 980 (8nm) processor was used on this device. CPU is Octa-core (2×2.2 GHz Cortex-A77 & 6×1.8 GHz Cortex A55) and GPU used on this device is Mali-G76 MP5.
This phone allows an external card slot but uses a shared SIM slot. 128GB/6GB RAM or 128GB/8GB RAM phone available on the market.
Camera Specifications: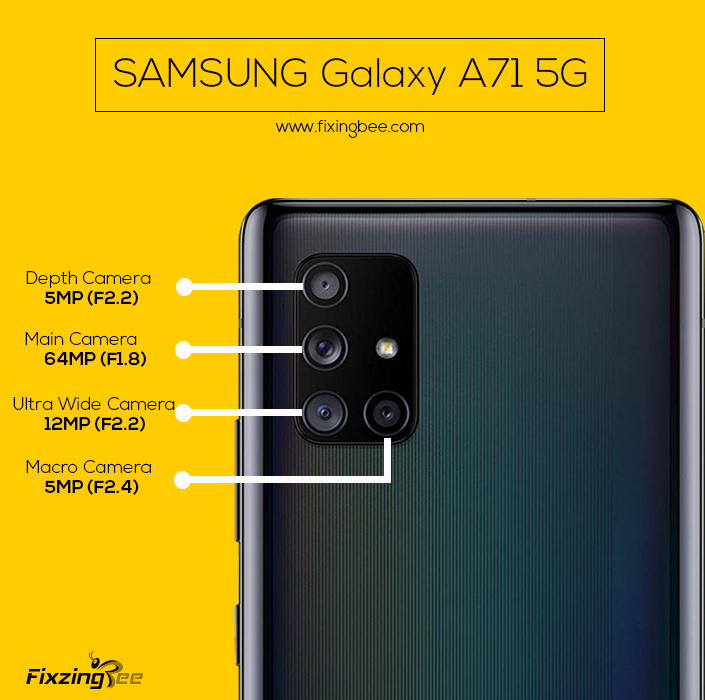 Samsung Galaxy A71 5G phone contains four cameras on its backside.
1- Main Camera: The resolution of the main camera is 64 megapixels. The focal length of this camera is 26mm and the minimum aperture level is f/1.8.
2- Ultrawide Camera: Users can capture photos in ultrawide mode at 12 megapixels and a minimum f/2.2 aperture point.
3- Macro Camera: The macro camera is 5 megapixels at f/2.4 point aperture.
4- Depth Camera: Depth cameras regulation is also 5 megapixels but the aperture can decrease up to f/2.2.
Video Quality: You can capture 4k videos at 30 frames per second (fps), 1080 pixels at 30/240fps, 1080p at 980fps with a gyro-EIS system which reduces the handshaking problems.
Selfie Camera: A 32 megapixels selfie camera is used on the front side of this phone. The focal length of this camera is f/2.2 with an f/2.2 aperture point. HDR feature also added to this camera.
Video Quality: The front camera allows 4k video recording at 30fps and 1080 pixels at 30fps.