An active social media presence is essential for small businesses to build their brand and expand their customer base. However, it can be challenging to maintain the speed that various social media networks require, especially while juggling operating a business.
These social media management tools will aid your marketing efforts, which will also enable you to get the most out of the time spent increasing social media engagement. So, without further ado, let's take a look at the top social medial tools on the market.
1. HubSpot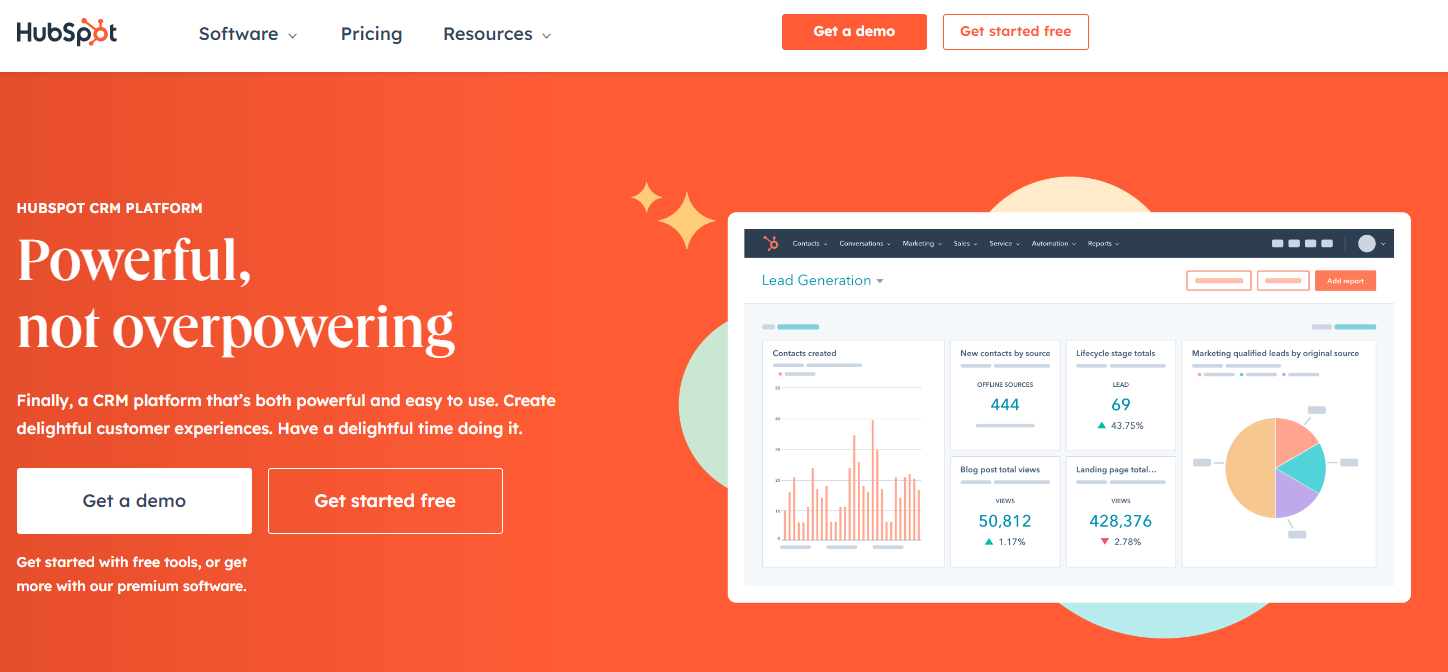 Hubspot is a sizable software suite that can manage all your company's requirements in one place. It doesn't matter if your company is large or small. This software can take care of everything. Hubspot is a company that offers a variety of services under one roof, including social media management software, sales tracking, CRM, and much more.
It is also one of the few platforms that smoothly combines marketing, record-keeping, customer support, and operations. This is partly due to the fact that it grew over time and is an overall fan favorite.
Hubspot can be your best option if you're looking for all-in-one software that can help you manage every element of your company. Hubspot's Marketing Hub will probably be a perfect fit for you and your needs if you're looking for social media management software.
2. Buffer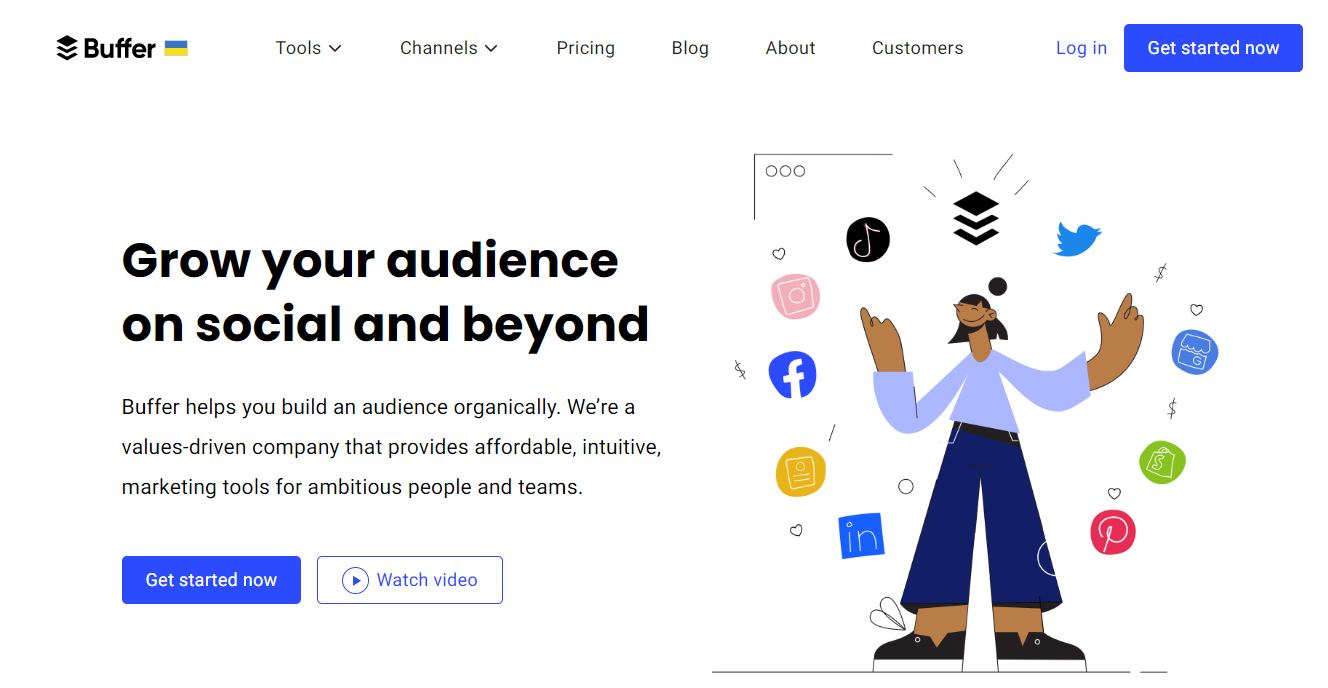 You've probably heard of Buffer if social media is a big part of your marketing plans. Buffer is a well-known social media management application that enables you to manage several social media profiles from a single dashboard, with over 230 million posts made in 2019. It's a great choice for small to medium-sized companies.
With just one click, you can post material to all of your social network accounts using the app. Buffer helps you modify your strategy by identifying the content that is performing the best, thanks to clever analytics. You can schedule material for later with Buffer's browser plugin, which is a valuable addition that interacts with WordPress, Chrome, and RSS readers.
3. Sprout Social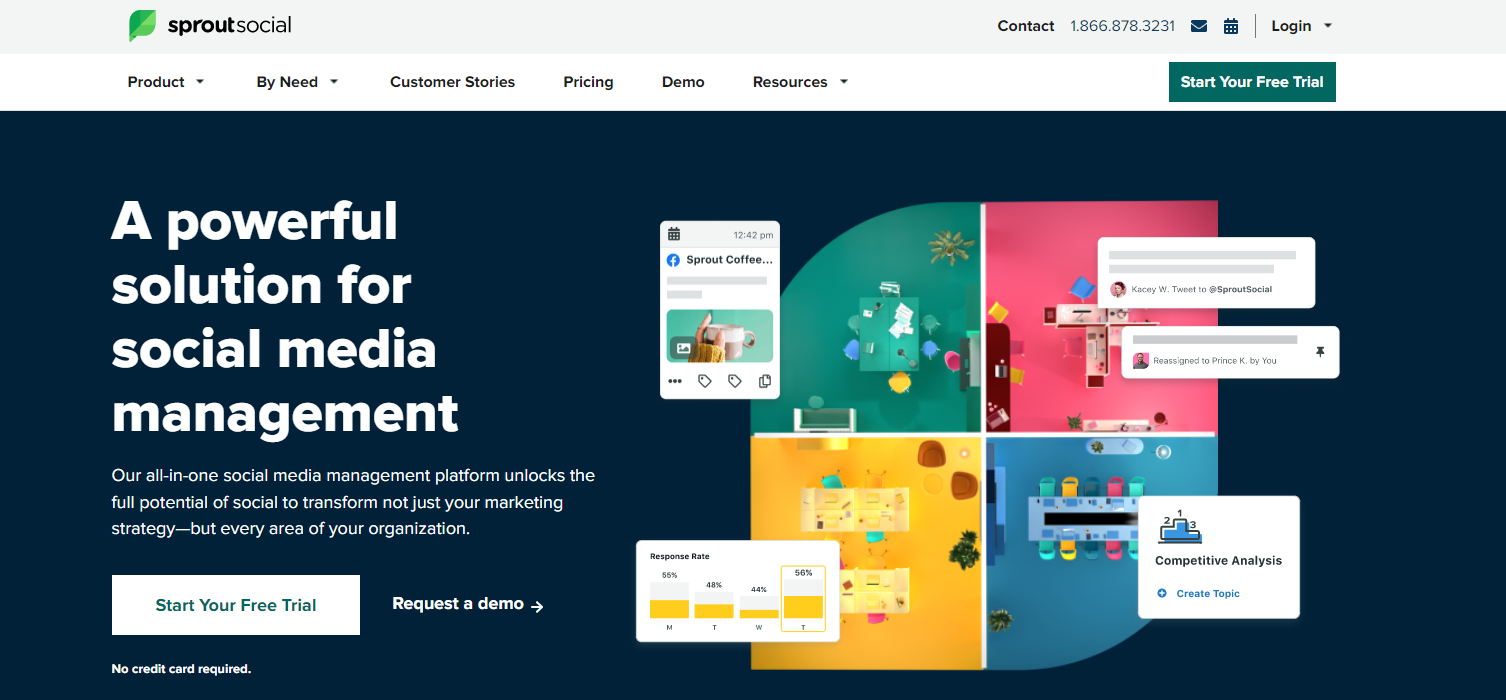 With the powerful social media management tool Sprout Social, you can schedule posts in advance and check analytics data to see how well each post and social profile is doing. It is an excellent social media marketing platform for individuals who wish to track content performance and deliver analytics to other business partners because of its analytics capabilities (such as its post-performance report and easily downloadable report PDFs).
It's a one-stop shop that can help you manage everything, from managing your social media content schedule to emailing potential clients to scheduling articles in advance, so you don't have to worry about developing and publishing content throughout each busy day.
4. Later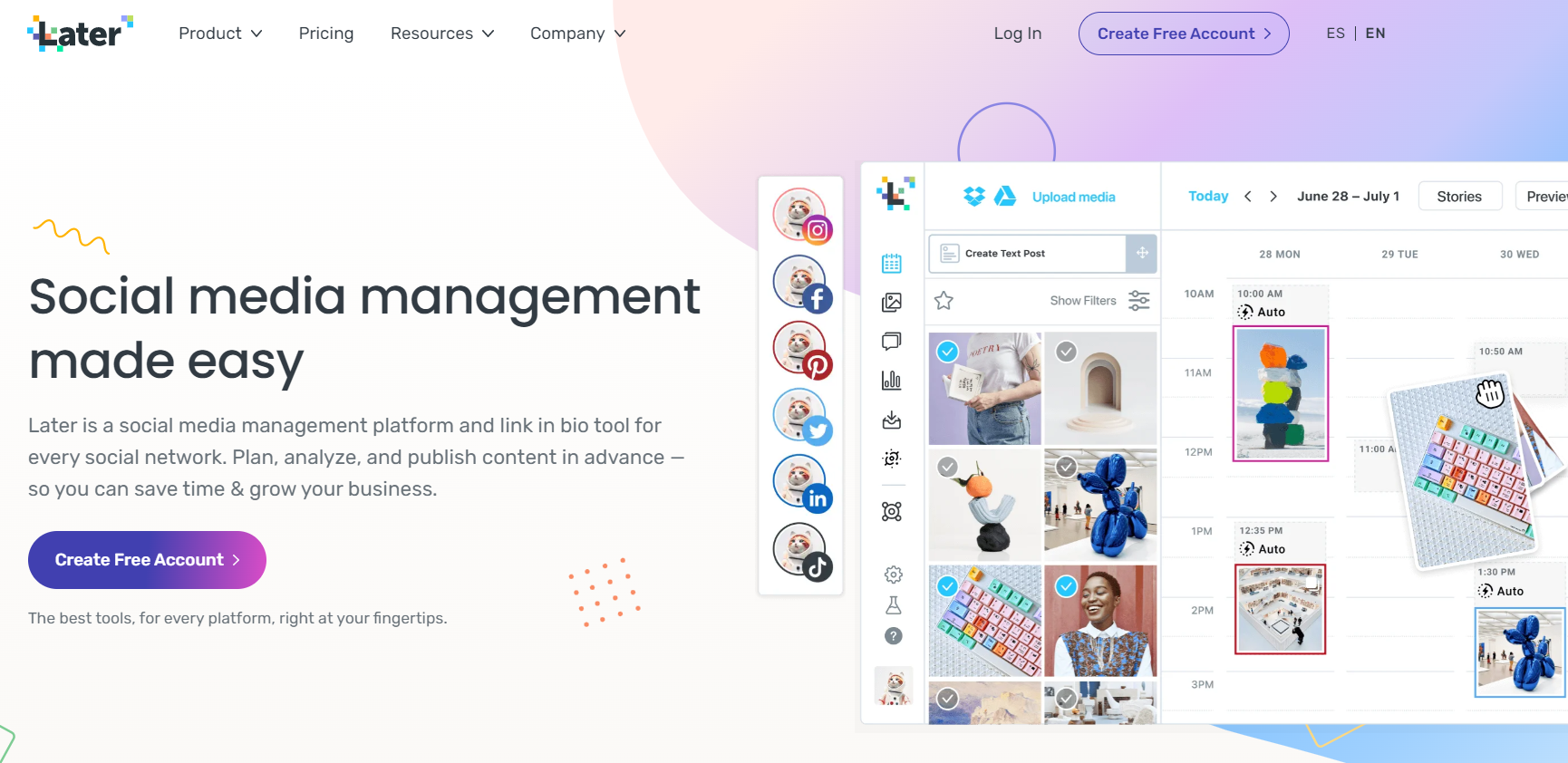 Although it originally started out as a fantastic Instagram management tool, it has since developed to help its users in managing Facebook, Pinterest, and Twitter in addition to Instagram. Small business entrepreneurs just starting out should think about Later, as should solopreneurs with a slim profit margin. With this effective tool, you can connect to promotional pages from your social media posts and, for a small initial cost, give your material the right hashtags.
Similar to the majority of the other social media management tools on this list, Later's standout features include the ability to plan posts and access the analytics data required to develop a strategy gradually. With so many useful features, you'll be glad to know that it's also one of the cheapest tools you could get.
5. Elink.io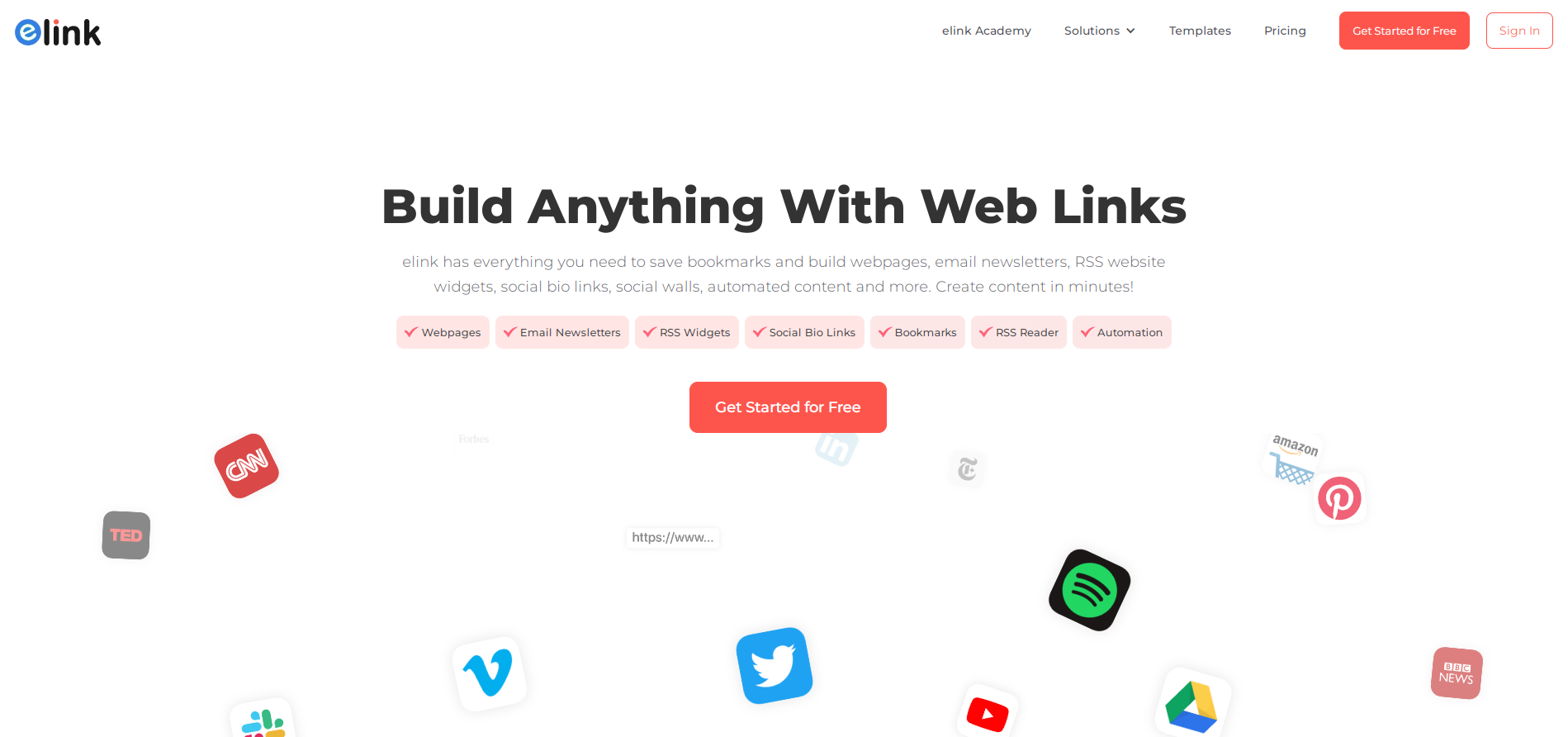 A fantastic all-in-one solution for content curation and marketing, elink.io enables marketers and content producers to easily publish email newsletters and web pages, and embed web content. You can also use it to create visual content from a collection of web links (articles, videos, etc.) in a matter of seconds. Users can monitor the developed and shared material's interaction rates and content performance.
Elink provides 19 exquisite, already-built responsive layouts, allowing you to concentrate on gathering amazing content without ever having to worry about design. The best way to think about elink.io is kind of like a business version of Pinterest, so if that interests you, definitely give it a go.
6. Hootsuite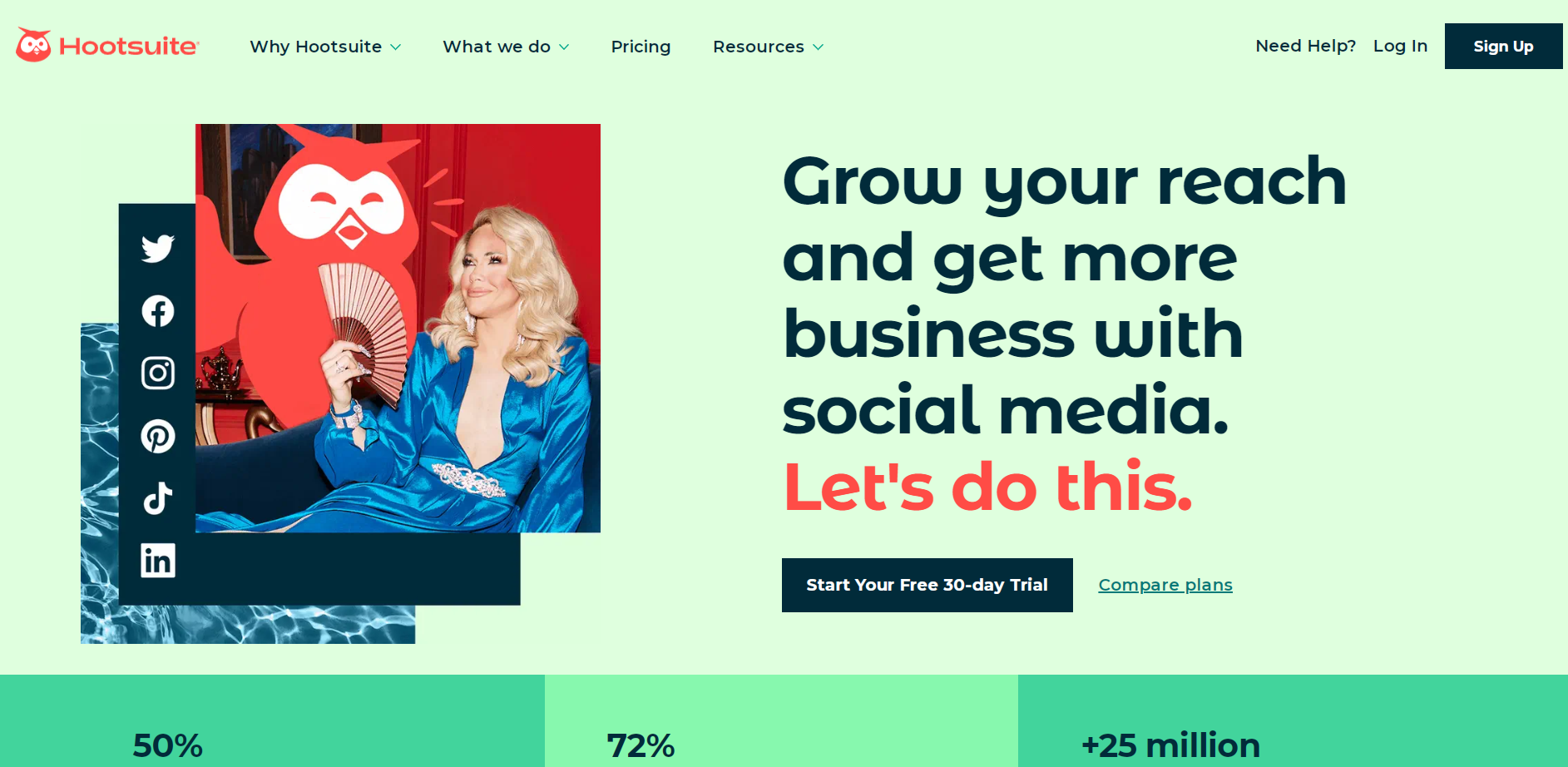 You already have plenty on your plate as an entrepreneur. It's unlikely that you have the time to update your social media accounts and post new content every single minute of the day. You must be able to keep up, though, as posting content to your social media pages frequently is essential for maintaining contact with your audience and keeping your business at the forefront of consumers' minds.
Hootsuite is a reliable social media marketing platform that will enable you to manage your accounts while on the road. The five essential functions of Hootsuite are publishing, engaging, monitoring, advertising, and analyzing. You can use it to manage your social media calendar or publish posts.
Meet Edgar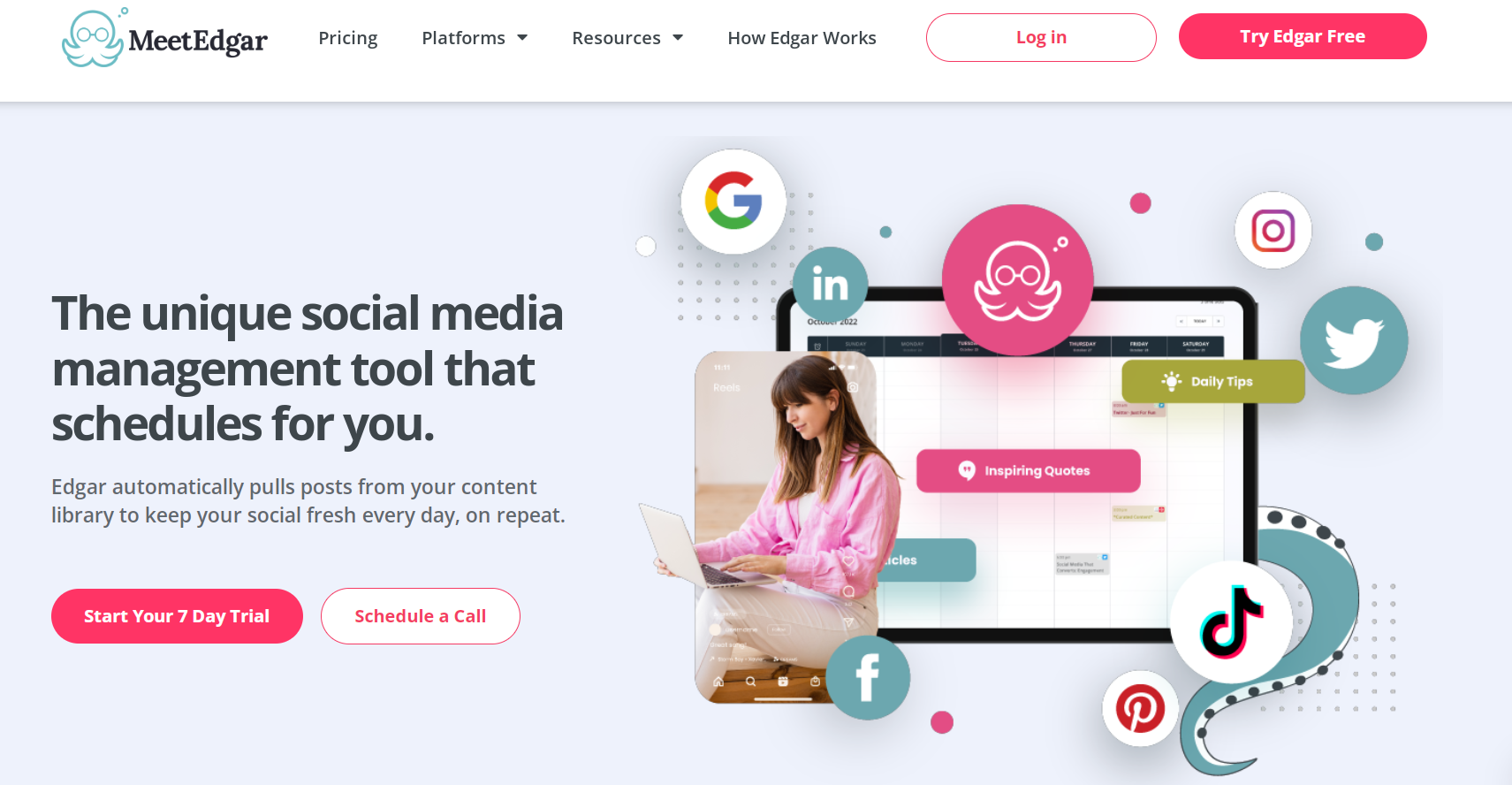 Meet Edgar is a terrific platform that excels at one thing—getting the most social media traction possible for each piece of content you create. Want to post on social media frequently but don't have a lot of content to share? For you, Meet Edgar is a fantastic option. This tool "pulls" information from your profile and converts it into automatic status updates using artificial intelligence.
Additionally, they'll reuse content that is appropriate for reposting, automatically edit your posts to comply with spam rules, and choose reposts when you run out of planned content. To put it another way, MeetEdgar can make your profile appear lively and engaged without you having to put in a lot of effort.
Final Thoughts
It can be difficult to manage social media marketing. It takes a lot of effort, talent, and perseverance to establish your brand in a congested marketplace. Businesses must compete to grab customers' attention in the face of so much excellent content available. The right social media management tools, on the other hand, can greatly cut down on that work and save you time.
Did we miss anything? Do you have any other favorites? Feel free to let us know in the comment section below.