What is Online Notepad?
Notepad is the most popular windows default system for taking notes. You can easily take notes using desktop default Notepad. It is the complete offline system for every desktop or Laptop windows. But you also have an online notepad. You can save any text from the Internet and access it anywhere. Online notepads let you write something in text form. You can create lots of notes for different purposes. Notepad usually comes with your Windows or Mac default system, but there are times when you need Notepad online. Online Notepad is a free browser-based text editor that allows you to create and edit multiple plain-text files in your browser.
It's great for quick note writing and easy page printing. This prevents data loss if you accidentally close the tab, make a mistake, or the browser window crashes. The document you are working on will be automatically restored when you return, even when you close and reopen your browser. There is support for saving documents directly to your computer. And some of them have more functionality that is not available by default.
In the meantime have common text editor provides, including undo, redo, copy, cut, paste, find and replace, font formatting, save, print, character map, insert date and time, emoji list, etc. Note that your notes will be public if you don't create an account. By creating an account, you can make private notes.
Here is a list of the 5 best free online notepads that do not require login. All you have to do is access the website and start typing.
Top 5 free online notepads websites for your notes.
1. CoderSup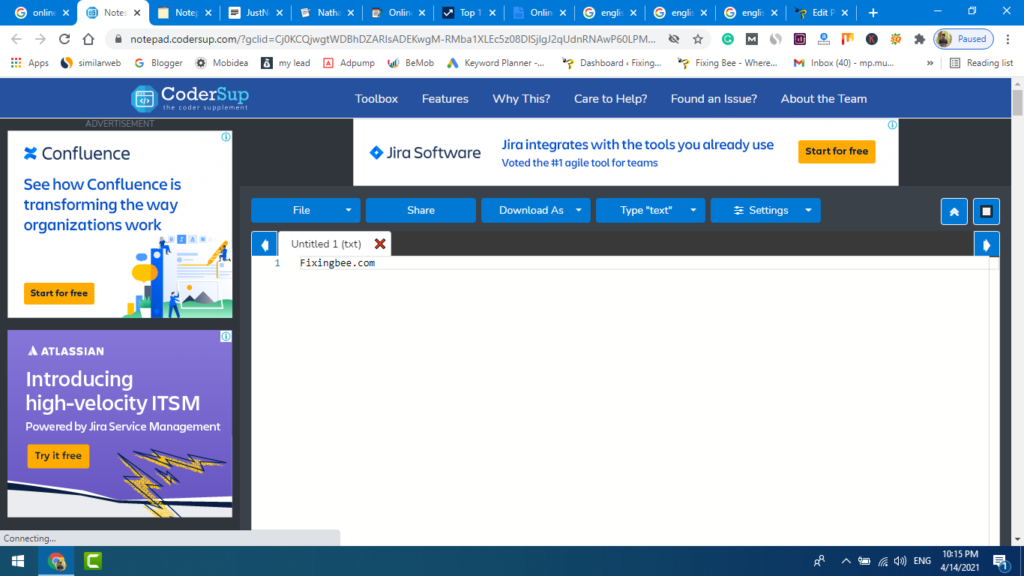 CoderSup is a free online notepad website for any notes. We're glad we jumped into it. Like the other apps and services mentioned in this article, Codersop is one of our favorite online notepad solutions. If you wanna notes using CoderSup then you get some features. CoderSup is not the most popular but you can try is it for your notes. It has a menu bar and there are include File, New File, Rename File, Open File, Share, Download As, Type "text" and settings. When you click the File option then open the New file, Rename the file, and Open file. If you want to write a new note then you go and click the file button. Now you go to the New File then open new pages for notes. And if you want any files Rename this File so you can easily.
Notepad Online
You can open the File on this website from your desktop and take notes. There is a Share option and you can share your notes on any social media. If you want to share your notes then click the share option. Now, will open a new tab for copy your notes links. You can set share time for 1 month, 1 Day, or 1 week. Now you click the copy option and share your notes on your social sites. There is have a Download option top menu bar. You can download your notes in a text format or pdf format. Then if you click Type text then you get more text features for notes.
For example, The Online notepad CoderSup provide you text file abap, aes, apex, c#, bat, cpp, csp and more.  Then you get a setting option and if you click this setting button then you will get a Dark mode option and Word Wrap option. If you wanna Dark Mode then you can set it easily. I hope if you use CoderSup for taking notes so you to be happy.
2. Rapidtables Online Notepad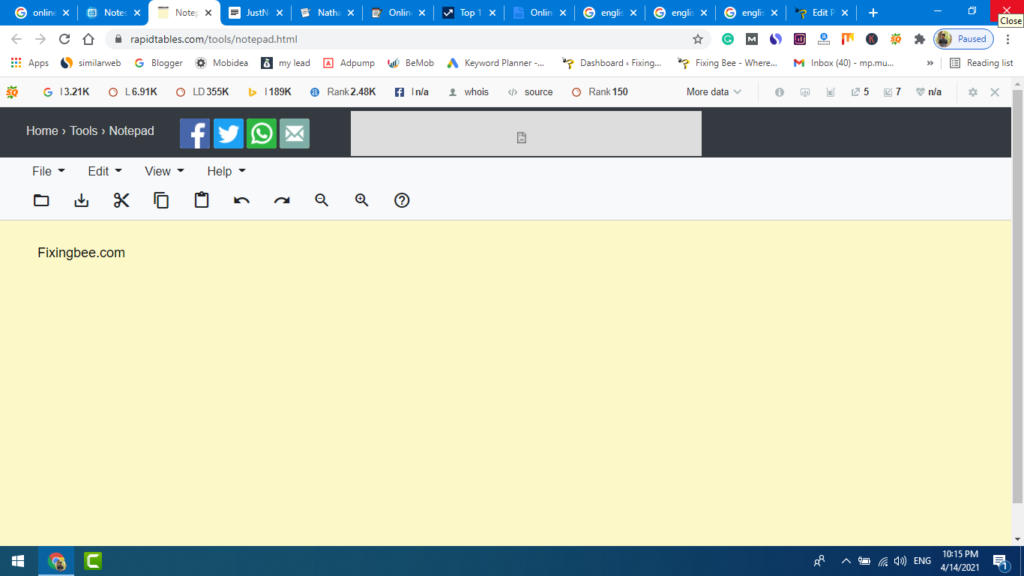 Basically, Rapidtables is an online tool platfrom. You will get more service from the Rapidtables website. Rapidtables also provide an online notepad for your notes without login. If you want to use Rapidtables online notepad then you search Rapidtables.com/tools/notepad on your browser.
And you can search just Rapidtables notepad. Easy to use online notepad for free without question. At the moment you land on this website you will see a large text area and you can simply dive into it. You can take note of the things you need.  You will get many features in writing notes. It has the ability to copy, cut, paste, undo, redo, select all, and zoom in and out. When you're done writing, you can simply save your text file to your desktop by clicking "Save".
You can print directly from this site. Each option is nicely given and beautifully arranged. Rapidtables online notepad is the most common website for your notes. If you by mistake close this tab so this website require autosave. and you can get any time this service without any cost. So I recommend of you Rapidtables is the best platfrom for your any note.
3. Justnotepad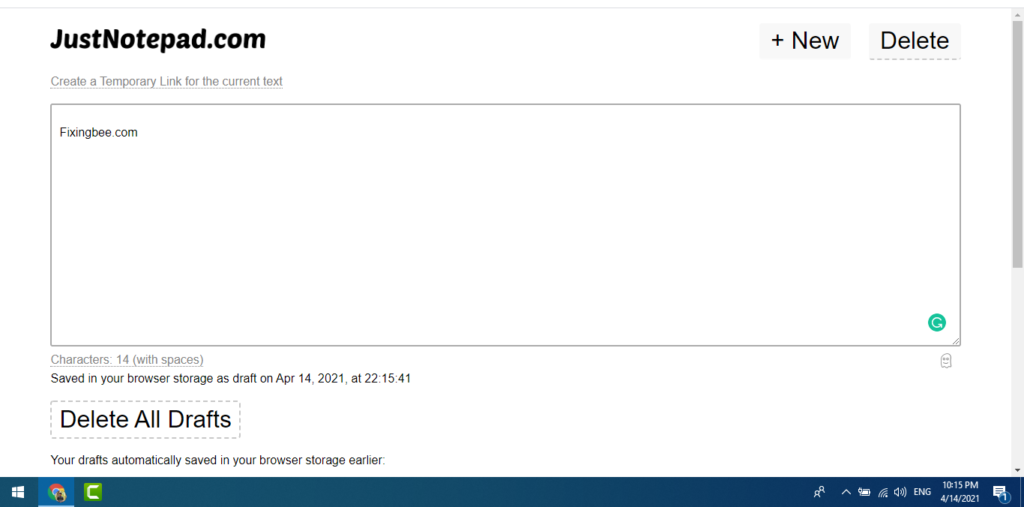 JustNotepad.com is a free online notepad that lets you create any text notes in your web browser. No login required, no sign up required. If you are obsessed with design then this next tool is suitable for free online notepad. It provides you with a clean and tidy interface. You can create note ideas, to-do lists, links, or any other simple text that you just want to type into a web browser.
This simple online notepad has autosave feature and lets you recover your text "as a draft" if you have closed your web browser / windows or browser tab. Stop complaining about this missed deadline and start typing everything in this online notepad.
If you need multiple specialized text editors, including text formatting tools, you can find lots of different applications (no word processor or text editor) for your special needs. It is not a "text editor" and has no text format. Or you can download and install, for example, the free and open source LibreOffice Writer (for Windows, Mac OS and Linux).
4. Shrib Online Notepad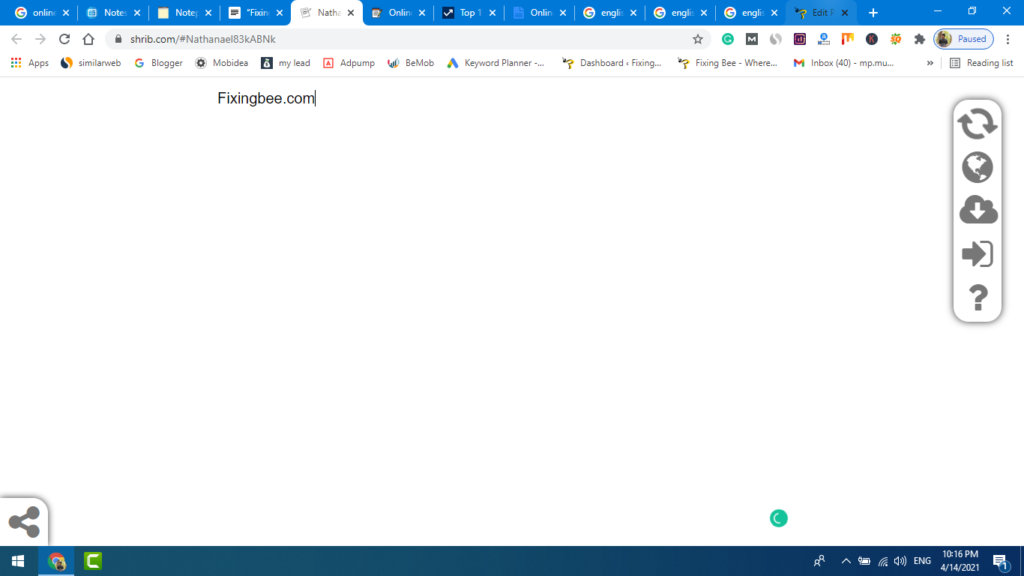 Saving text files on someone else's computer is not a wise idea. That's why when you use the Internet on someone's computer, you should take your application to take notes online. To get the job done quickly and securely, check out the online note-taking app known as Shrib. It features a minimalist design and is one of the easiest free notepad apps you can find online. Shrib automatically saves your text as you type and allows you to recover your saved notes at any time within 3 months of inactivity.
Optionally you can save backup copies for your notes in case you want to track changes. Shrib has been described as "take your notes and never lose them again" and this is a website of the Office and Productivity Department. The best alternative to SimpleNote is that it is free and open source. To secure notes, simply set a password for them by clicking the "Lock these notes" link. At the top you will find the public URL of the note which you can customize and share.
5. aNotepad online notepad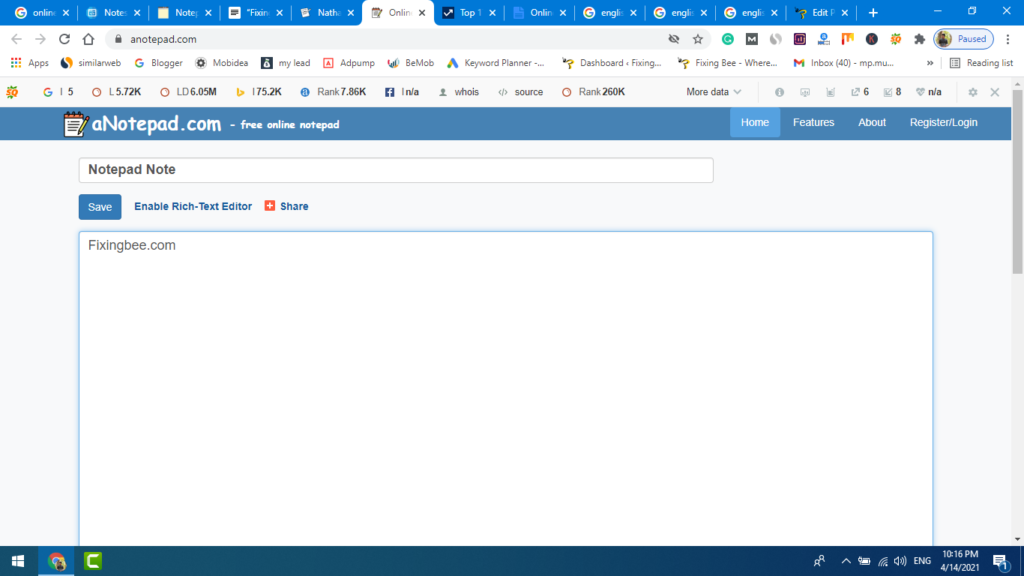 aNotepad is an online notepad that allows you to save notes without login. Another great notepad with great features. Notepad is just like Notepad. It has built-in rich text editor for fast, hassle-free and more advanced formatting. It's completely free and lets you create an account whether you want to save your notes or keep them private in the cloud.
Additionally, you can share your own online notes directly on social media which is great for team collaboration. Using the rich-text editor you can add different fonts, bold text, italicize text, add links, add images, and add tables. Always save notes on your computer or as personal notes on the web.
Notes can be saved as a PDF, Word document, or in text format. You can Download notes as a PDF, Word document, or text document. You can create a password for your notes. This allows you to encrypt specific notes or collaborate with a group of people.