World of Tanks:
World Of Tanks game is a multiplayer online game. This game was developed by "Belarusian" company
Wargaming, featuring mid-20th century (the 1930s–1960s) era combat vehicles. This game is built upon a free business model game means this game is free to all. But a premium option also exists in this game. The main motive of this game is controlling an armored vehicle on player VS player gameplay.
CLICK HERE to download the game.
Gameplay :
To play the World Of Tanks game players needs a pc or mac computer. Players can take control of a single armored vehicle as their choice and the vehicle is placed on a random map for play the battle. To play this game the player has control over the vehicle's movement, the player shouldn't forget about the firing control. This is the most priority strategy to won the battle.
This contains a very existing feature, the player can communicate with each other through text typing or voice chatting.
The winning rule is either destroying all opponents' vehicles or capturing the opposing team's base. The better you control the mouse the better have a chance to won. The Player has to learn how to control the mouse very fastly.
The World of Tanks game contains a few types of gaming modes that change the rules of the battle but it wouldn't change the gaming mechanics.
World of Tanks game contains multiple game mechanics such as camouflage, shell ricochets, and module damage.
Gaming modes in the World of Tanks game:
1. Random Battles,
2. Team-training Battles,
3. Tank Company Battles,
4. Team Battles,
5. Stronghold Battles and
6. Special Battles.
Because of poor reception from its release "Historical Battle" and "Rampage Battle" have been taken down for improvement.
In Random Battles players mode, players can also participate in platoons, groups of two to three players who are put into the same team.
In this game, players can also enjoy the missions' completed modes. This mode contains a huge amount of rewords.
Vehicles:
World of Tanks game contains various types of war tanks that are controlled by players. These vehicles are modeled to closely resemble their fellow in real life. In this game, the developer has been simplified or modified particular parameters to fit game mechanics and better gameplay.
Five types of vehicles are available in this game: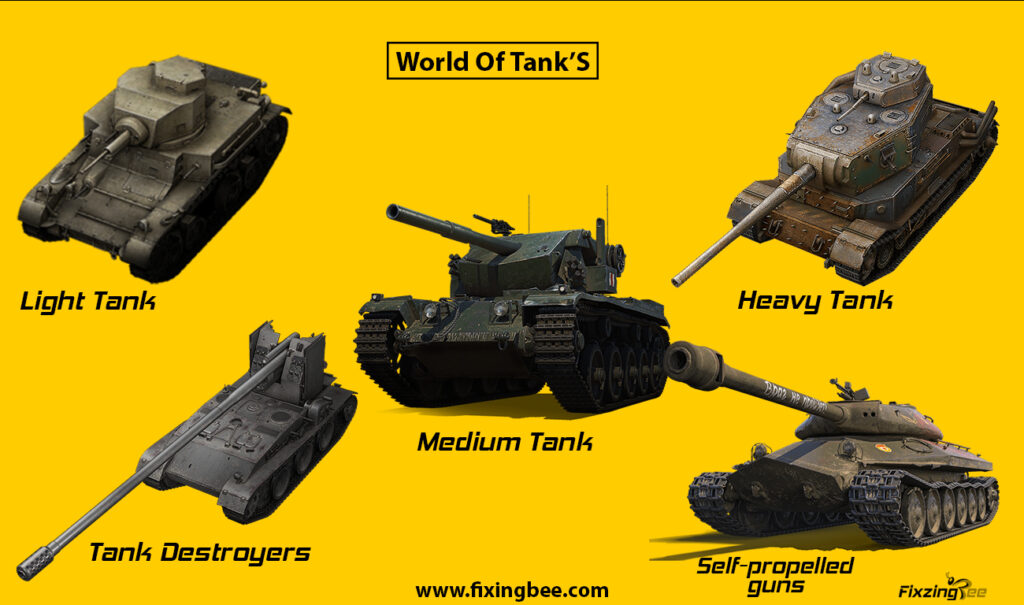 1. Light Tanks
2. Medium Tanks
3. Heavy Tanks
4. Tank Destroyers
5. Self-propelled guns.
World of Tanks game also provides a few main battle tanks. Currently, this game has over 600 armored vehicles from Britain, China, Czechoslovakia, France, Germany, Italy, Japan, Poland, the Soviet Union, Sweden, and the United States. The player can play one of these vehicles which they like most. All vehicles outfit is well decorated.
Each nation has at least one line of vehicles starting from tier I to tier X, players progress by playing games in vehicles in that line.
The player can customize their vehicles to a particular degree, either visually or in terms of performance. The majority of parts players can be customized these are:
1. Guns
2. Turrets
3. Engines
From the game's tech, three players can purchase modular parts. Various two-tone and three-tone camouflage schemes are available for all tanks as well, including both historically accurate patterns and game-specific, custom variants. Camouflage is available for temporary use by paying with freely earned in-game credits, or for permanent use by paying with gold purchased in the World of Tanks store or won in an in-game event
Feel free to apply national flags, pre-designed slogans, and camouflage.
All kinds of vehicles can mount three types of additional equipment, which varies from vehicle to vehicle and suggest various advantages.
Some mechanics equipment allows the gun to fire fast, some equipment increases the durability of particular parts of vehicles and some other tools help the vehicles keep hidden while stationary.
Each vehicle is able to carry three consumables for example repair kits, medical kits, and extra rations that boost the tank's crew for the duration of a single battle.
Clan Wars:
This is the most highlighted and addictive feature of this game. There are a few members (players) who can join a clan, and they can join the battle play. There are two main components in Clan war mode in the World of Tanks game.
1. Stronghold and
2. The Global Map.
Each clan can have its own stronghold if the clan's commander wishes to construct one. As the clan membership increases, each stronghold starts with one zone and can grow up to four zones.
Many kinds of structures are placed in this game but only one of each can be built. By consuming industrial resources, some structures generate special missions or reserves that can be used to temporarily boost clan members' experience or credits, or enable artillery or airstrikes during a battle for a stronghold. To build structures, industrial resources are required, which can be won by attacking another stronghold or through skirmishes.
The Global Map is based on the real world.
A clan may enter the global map by entering a tournament for a specific province, in which they compete against other clans and ultimately the current landowner.
Minimum Requirements to play the World of Tanks game:
Operating system: Windows XP / Vista / 7 / 8 / 10
Processor: 2.2 GHz supporting SSE2
RAM: 1.5 GB for Windows XP, 2 GB for Windows Vista / 7 / 8 / 10
Video Card: GeForce 6800 / ATI HD X2400 XT with 256 MB RAM & compatible with DirectX9.0c
Sound: Compatible with DirectX9.0c
Hard drive space: 16 GB
Internet Speed: 256 Kbps
Recommend Requirements to play the World of tanks game:
Operating system: Windows XP / Vista / 7 / 8 – 64-bit.
Processor (CPU): Intel Core i5-3330.
Memory (RAM): 4 GB (or more).
Video Card: GeForce GTX660 (2GB) / Radeon HD 7850 2GB, DirectX 9.0c.
Sound: DirectX 9.0c compatible.
Hard Drive Space: 30 GB.
Internet Connection Speed: 1024 Kbps or higher (for voice chat and better gameplay).