COD Mobile is a both First-Person (FTP) and Third-Person (TTP) shooter game. This game was developed by TiMi Studios and published by Activision for Android and ios. This is the first multiplayer battleground game of the Call of Duty series. The previous series of Call of Duty was based on a story about world war 2. Call of Duty mobile released date was 1, October 2019. In March 2019 Activision occasionally announced about this game. This game also gains popularity as well as PUBG and some other battle royale games.
The graphics of this game and the sound quality is better than any other battle royale game.
How to Download (Call of Duty) COD Mobile game on PC:
To play this game, first of all, you have to
download an emulator
. There are too many emulators on the internet you can use any of them. Here we learn how to download and play Call of Duty on PC by using Gameloop.
Let's see step by step how to download this game:
Step 1: 
CLICK HERE
to download the Gameloop. Follow the image instruction.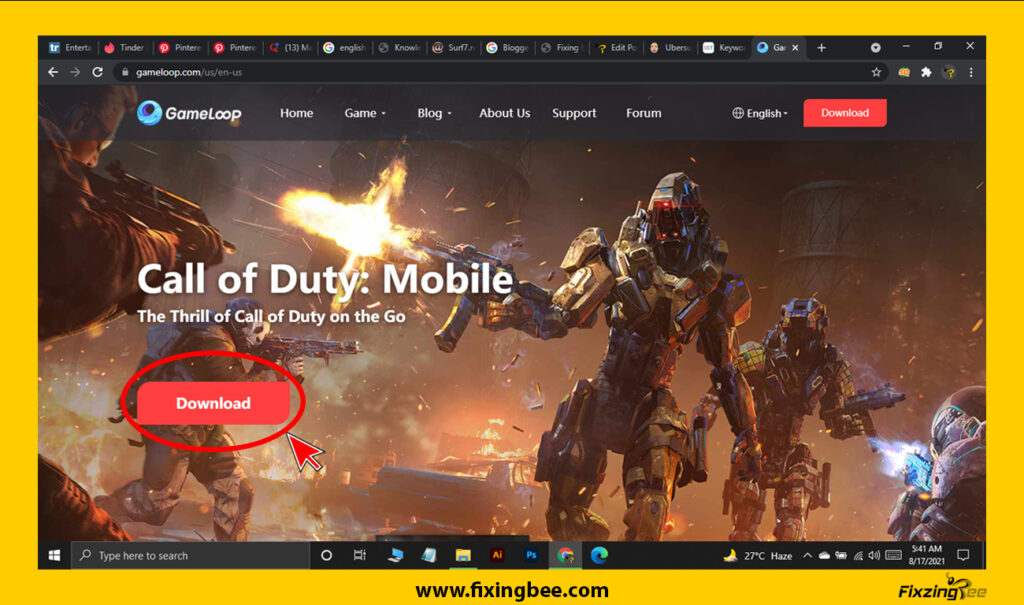 Step 2: Wait to start downloading. The download will start automatically.
Step 3: Open the downloaded file and run the file.
 Step 4: Now you will see an interface of the game loop and here you will see a search box. Type Call of Duty on the search box.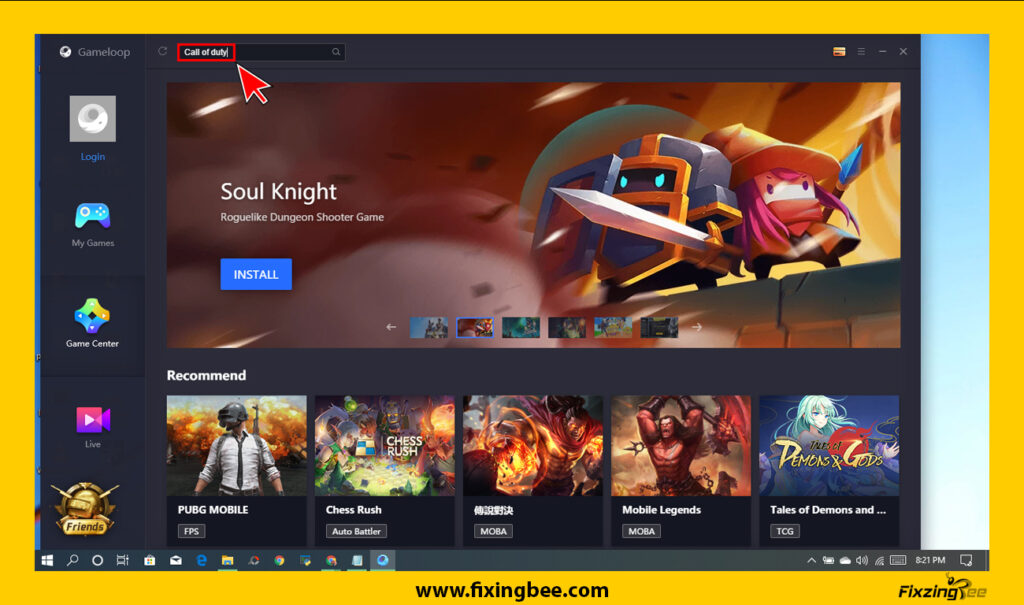 Step 5: Click the Call of Duty button to start downloading.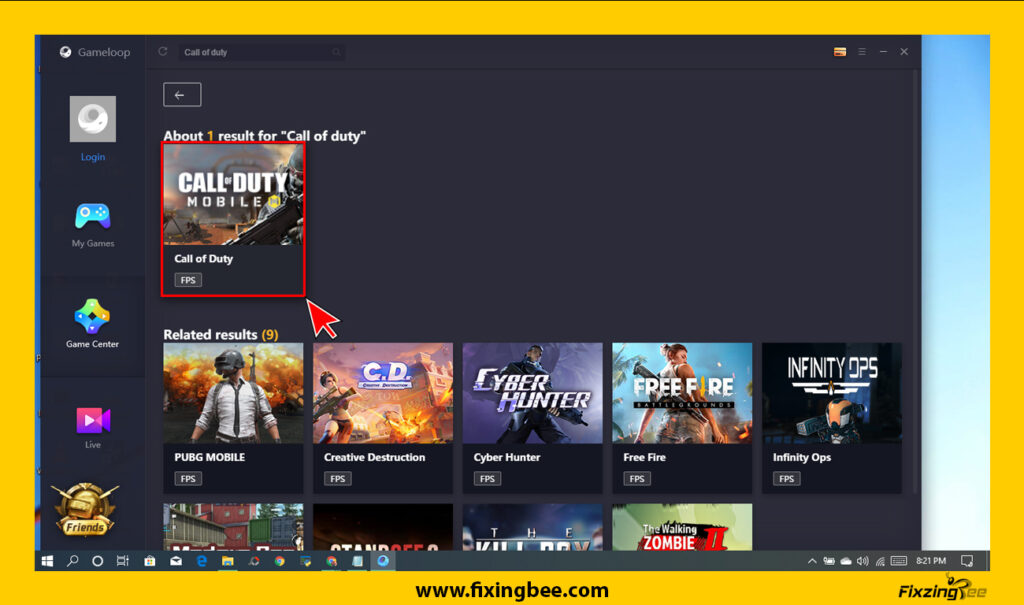 Step 6: Now click the Download button. If you already download the game then it will show play.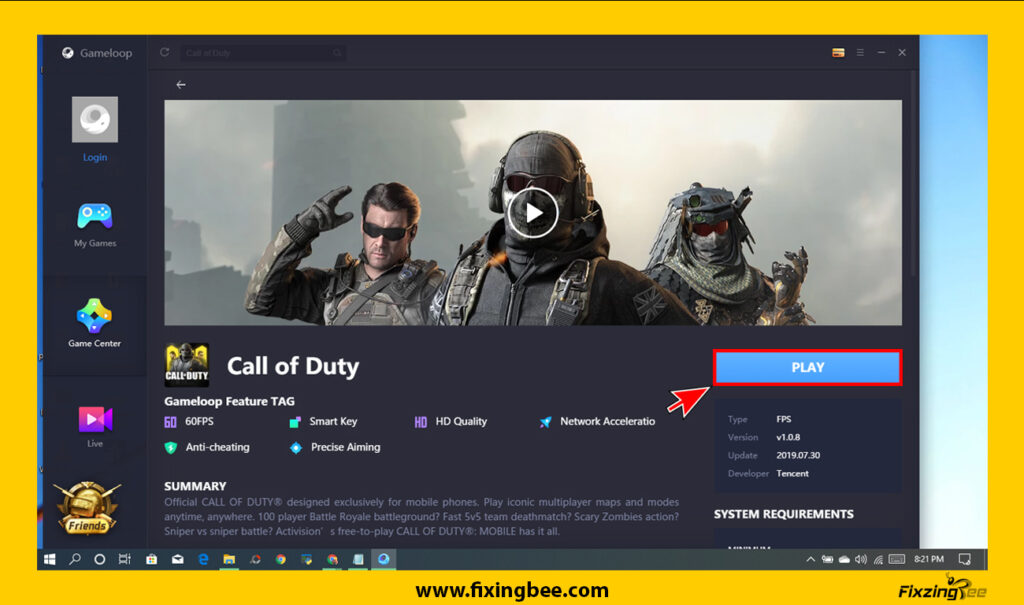 Call of Duty Mobile Gameplay:
Call of duty mobile is a multiplayer online shooter game. Besides multiplayer mood, one can enjoy the battleground gamming. When you download the game, you can only play the multiplayer game until you reached level 7.
In the Call of Duty mobile game up to one hundred players fight in a battle royale. The last man standing deathmatch where players fight to remain the last alive is selected as a winner. Players can play three types of match
Players can choose to play the solo, duo, or a small team of up to five people. The last person or the team who is alive wins the match. Each battle royale game starts with players parachuting from planes. The best strategy for winning the game is to quickly get down from the plane into your selected area and search for gears. Once the players land, players have to search for buildings, towns, or other sites to find weapons, vehicles, armors, and other equipment. You can loot from dead enemies or teammates.
Players can opt to play both either First-person (FTP) or Third-Person (TTP) views according to their advantages and disadvantages.
Multiplayer gameplay:
In multiplayer battle play, you can play with your friends. A maximum of five players can play at a time.
Moods of Multiplayer gameplay:
Players can play five different types of mood in a multiplayer game.
Frontline: Kill players on the opposing team. you always spawn at your base. The first team to reach the score limit wins.
Team Deathmatch: Kill players on the opposing team. The first team to reach the score limit wins!
Domination: Capture and hold objectives to earn points over time. Reach the score limit to win!
Search & Destroy: For each round, either work together to destroy an objective or stop the enemy from doing the same. No respawns.
Practice VS AI: Home your skills against AI opponents. XP earned a 90% reduction.
[These data have been collected from the game's info accurately so that one can gain knowledge throughout this site.]
Maps of Call of Duty Mobile:
There are five different types of maps in COD Mobile. You can play with a randomly selected map.
Crash
Kill House
CrossFire
NukeTown
Hijacked
(Call of Duty) COD mobile game all Weapons: 
ASSAULT:
AK-47


Damage:   70




Accuracy: 45




Range:      65




Fire rate:   55




Mobility:  60

M4


Damage:   45




Accuracy: 70




Range:      45




Fire rate:   60




Mobility:  60

AK117


Damage:   50




Accuracy: 55




Range:      45




Fire rate:   70




Mobility:  60

Type 25


Damage:   55




Accuracy: 45




Range:      40




Fire rate:   70




Mobility:   60

ASM10


Damage:   60




Accuracy: 50




Range:      55




Fire rate:   55




Mobility:  55
SNIPER:
Arctic.50
Damage:   60
Accuracy: 50
Range:      55
Fire rate:   55
Mobility:  55
M21 EBR
Damage:   80
Accuracy: 60
Range:      95
Fire rate:   35
Mobility:  45
XPR-50
Damage:   80
Accuracy: 55
Range:      90
Fire rate:   40
Mobility:  45
LMG GUNS:
RPD
Damage:   80


Accuracy: 55




Range:      90




Fire rate:   40




Mobility:  45

M4LMG
Damage:   60


Accuracy: 60




Range:      45




Fire rate:   55




Mobility:  40
SMG GUNS:
MSMC
Damage:   70


Accuracy: 45




Range:      65




Fire rate:   55




Mobility:  60

POW-57
Damage:   90


Accuracy: 40




Range:      25




Fire rate:   50




Mobility:  75

Chicom:
Damage:   75


Accuracy: 60




Range:      40




Fire rate:   65




Mobility:  80

AKS-74U


Damage:

   80


Accuracy: 55




Range:      35




Fire rate:   60




Mobility:  75
SHOTGUNS:
Striker
Damage:   80


Accuracy: 55




Range:      35




Fire rate:   60




Mobility:  75

BY15
Damage:   85


Accuracy: 80




Range:      30




Fire rate:   20




Mobility:  75
PISTOLS:
J358
Damage:   85


Accuracy: 80




Range:      30




Fire rate:   20




Mobility:  75

MW11
Damage:   65


Accuracy: 55




Range:      20




Fire rate:   40




Mobility:  90
LUNCHER:
FHJ-18
Damage:   90


Accuracy: 90




Range:      90




Fire rate:   10




Mobility:  40

SMRS
Damage:   95


Accuracy: 70




Range:      80




Fire rate:   10




Mobility:  40