Microsoft has finally released the first Windows 11 preview build through the Windows Insider preview program. The Windows Team has launched Insider Preview. And if you use Windows 10 with a Microsoft account, you can install it on your PC right now. This post will guide you on how to preview Windows 11 Insider!
Windows 11 comes with lots of new changes to the UI and also has performance improvements. Windows 11 will be a free upgrade from Windows 10 for all eligible PCs. Please note that built-in builds may not be completely stable and may have bugs before we move on. It is not recommended to install it on your primary PC. However, if you still want to install it, be prepared for crashes and instability.
Windows Insider
There is a lot of confusion about installing or upgrading Windows 11. You can try the PC Health Check app to see if your computer will be able to run Microsoft's new operating system Windows 11. First, there are two ways you can install Windows 11 on your PC. First, check for your PC eligibility using the PC Health Check-up or WhyNotWin11 tool. Windows 11 Insider Preview Builds are testing builds, and you may encounter bugs and issues when using these builds on your computer system.
In this article, I will explain how to upgrade Windows 11 to the Windows Server Insider program. Once you enable the Insider checkbox in your settings menu you need an update and it should be given a check. The Windows 11 Insider preview will appear in Magic, start the download and then install.
Already in Insider Program:
If you are already in the Windows Insider program, Microsoft has detailed the eligibility criteria for previewing Windows 11 Insider. Since you are already in the Insider program before June 24, Microsoft will allow you to install Windows 11 even if your PC does not meet the minimum space requirements for Windows 11.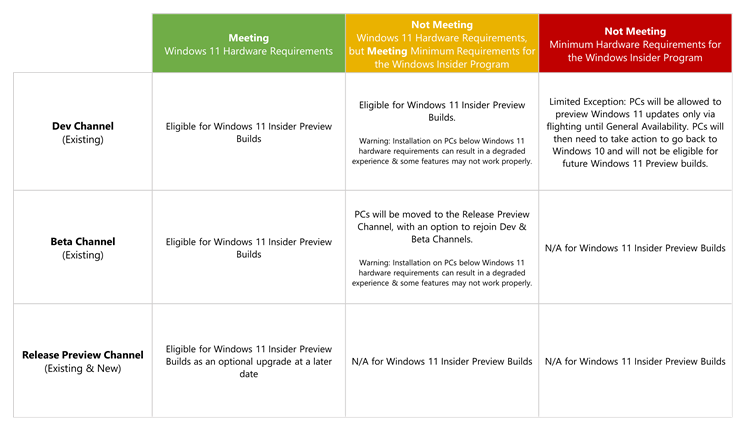 However, keep in mind that if you install Windows 11 on PCs without meeting the hardware requirements, there is a risk of a crash. This will allow you to join the interim program, you will not have access to some channels like Dev, Beta. Microsoft limits these in most cases because the experience will slow down or diminish. The image below is from the Microsoft blog. You can go ahead and start downloading the Insider Preview build from Settings.
How to download and install the Windows 11 Insider preview
If you were wondering, enrolling in the Windows Microsoft Insider program lets you do it for free. You can either visit the Windows Insider program website and register. You can also do this from your PC in the Windows Settings app. Before upgrading first you need to check your Windows version by typing Winver in the run command.
To get Windows 11 Insider builds, you need to sign up for the Insider program. Then follow these steps:
In your Windows 10 device, press WIN+I keys together to launch the Settings app. You can also open the Settings app using Start Menu.
Now click on the "Update & Security" section present on the Settings homepage.
Now click on the "Windows Insider Program" tab or section present in the left-side pane on the Update & Security page.
[thrive_text_block color="red" headline="Note"]Since you are not using the Insider Preview build on your Windows 10 device, you must first join and register for the Insider program. [/thrive_text_block]
Click on the "Get Started" button is given on the Insider Program settings page and Windows 10 will launch a setup wizard to join or register with Insider Program.
If you are already signed in using your Hotmail or Outlook email ID, you can select the same email ID by clicking on the "Link an Account" button. Otherwise, you can create a new email ID or sign in using the existing email ID and select the email ID.

Select Microsoft account and then click continue.
Type your Microsoft email account and then click Next.
Type your account password and then click sign-in.
Click Next.

After login, you will be able to see what is available in Insider Channels for your PC. You can select any of your choices and then select Confirm button.
Select the "Dev" channel on the "Pick your Insider settings" dialog box to be able to receive the latest Insider Preview builds.
The computer will restart.
Once you log in to the PC, go to Windows Settings > Update and Security.
Click on Check for Update button, and it should start downloading the Windows 11 Preview.
Once the update is download, the PC will restart again and install Windows 11 Preview.
When in Windows 11, you can navigate to Settings > Windows Update > Insider Program.
This way you can join the Insider program and check the Insider preview of your computer system. In the future, Microsoft Windows 11's built-in preview builds may allow inconsistent Windows 10 devices that do not meet Windows 11's minimum system requirements to install the built-in preview build for Windows 11.