Numbers don't lie, and they say that more than 800 million websites use WordPress as their primary control management system. This open-source CMS is popular due to its responsivity, massive selection of themes and plugins, and fantastic community.
Open-source platforms are great for many reasons, yet having such a large group of people using them makes WordPress and other systems extremely vulnerable to attackers. As an owner of a WordPress website, you can ensure your website's security doesn't get compromised.
Taking care of many things related to your website, regardless of type and size, can be overwhelming. There are dozens of ways attackers can find their way and endanger the security of you and your visitors, and monitoring everything is resource-consuming and highly demanding.
The great community around WordPress tackles this issue with different security plugins that get the job done for you. One of these plugins is Security Ninja, trusted by more than 10.000 users for more than 11 years. Let's find out how this plugin can perform 50+ WordPress security tests and save you resources you can allocate elsewhere!
Security Ninja
The downside to managing any website's security is that many things can go wrong, from outdated plugins, themes, and PHP to weak usernames and passwords. This is where Security Ninja kicks in! This plugin allows you to monitor and fix all of these issues in minutes.

All of the security checks can be done manually, yet experience says that human mistakes are widespread regarding security. Consistency is another essential aspect – you might check everything, but the reality can change after only a couple of hours.
Security Ninja can actively monitor your websites and alert you when there is a change that attackers can abuse to take control of your website. Here we scratch only the surface, but the main point is that you save time, which you can use for other aspects of your website, while leaving security monitoring to technology.
However, scanning for problems is only one part of the picture. There are many more aspects to consider, which is why Security Ninja comes with several modules that take care of different security aspects.
WordPress Firewall
Making sure that attackers don't even have a glimpse of the structure of your website is the first line of defense. On different systems, it is solved in different ways, and this is usually called a firewall.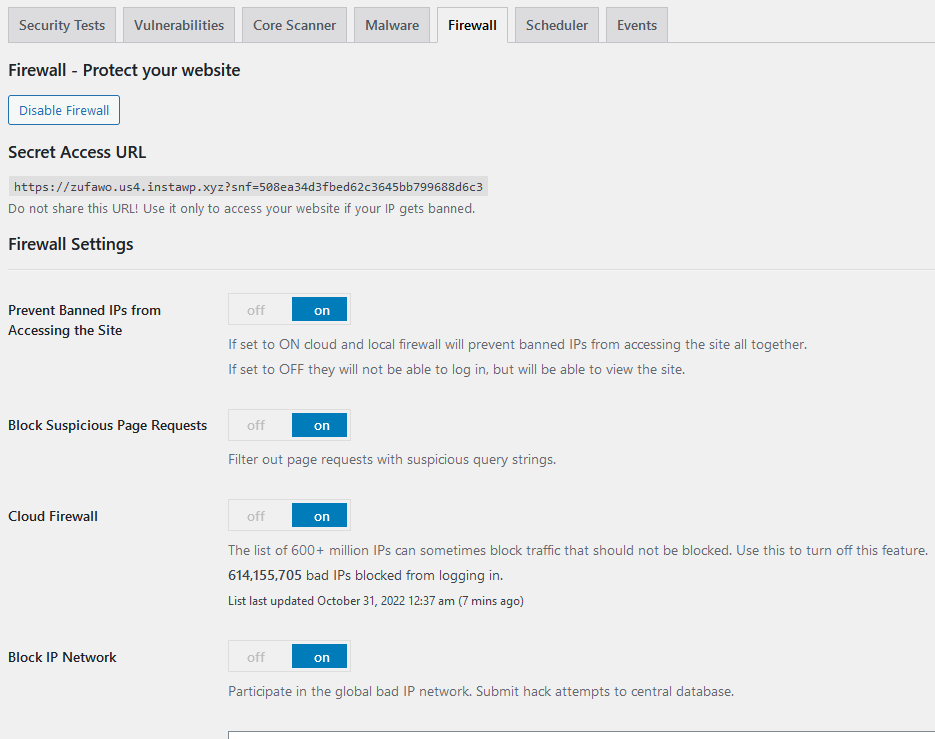 Like a wall around a castle, the WordPress Firewall module of Security Ninja ensures that suspicious logins from suspicious IP addresses and blacklisted networks cannot even come close to your WordPress dashboard. If you wish, you can also block specific countries, which can benefit security and other strategic reasons.
Security Ninja double-checks login attempts with a list of more than 600 million blacklisted IP addresses. This list is updated twice a day, so you can rest assured that your website is not accessible from known attackers.
Another neat strategy is to change the admin login URL. This way, the attacker will have trouble finding the login page in the first place. Security Ninja also has the option to set the login page to a custom URL.
Malware Scanner for WordPress
The wall around the castle seems pretty stable, yet this is only the first line of defense. More sophisticated attackers can always find a way around firewalls and plant malicious code on your website. That is the moment for the Malware Scanner module of Security Ninja to shine!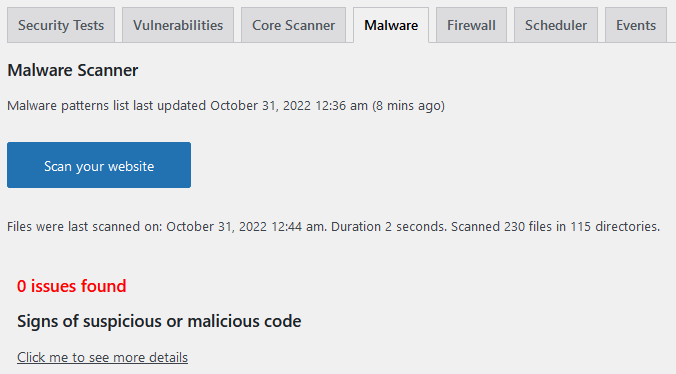 This module performs a series of checks once the scanning is started. A basic way to determine if a plugin or a theme is genuine is to ask the main distributor, the official WordPress plugin repository. Malware Scanner does so via API, double-checking that the plugin is approved on this repository.
Once there is a suspicion, this module digs deeper to find more clues if the plugin, theme, or database is indeed infected. Once additional checks and scanning are completed, it will generate a detailed report from which you can get the information and take further action.
Core Scanner Module
Next on the list of defense mechanisms that Security Ninja provides is Core Scanner Module, which compares core WordPress files to the files from the official WordPress repository. This is an essential module to identify harmful code in the foundation of your website.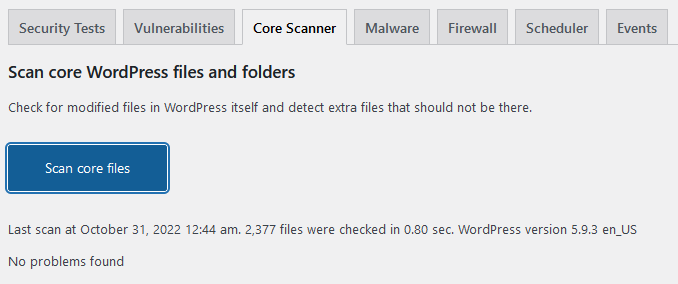 WordPress comes with more than 1200 files. One can only imagine how much time it would take to compare these to the original ones. This is why Security Ninja is about saving time and resources. It completes security processes fully and timely!
It will generate a report if it recognizes even a slight difference between files on your website and the original ones. Such a report will contain information on modified and missing files. It might be that you changed files by yourself, which is okay in some cases. The Core Scanner Module will consider this and let you know if the specific file was supposed to be modified.
Scheduled Scanner
Now that you have multiple layers of defense systems, you need to use them! Running scans manually still means it depends on the human factor we wanted to replace in the first place. This is where the Scheduled Scanner module comes into action.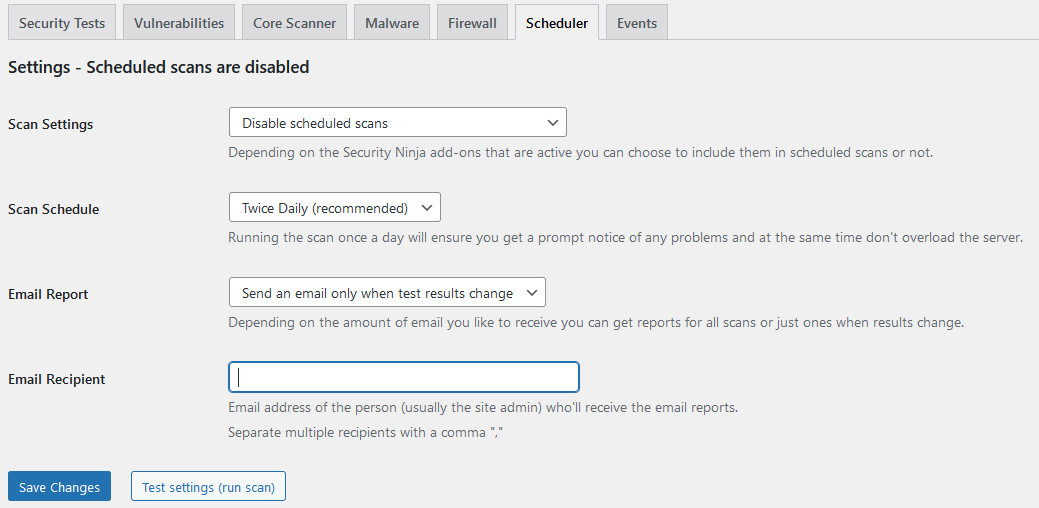 It is recommended that your website be scanned twice a day, and you can do so without thinking about it. Activate scheduled scans from the settings of Security Ninja, and select what security aspects you want to be scanned regularly.
Once the scheduled scan is completed, it will generate a report visible from your WordPress dashboard. However, security changes might require urgent action. This is why email reports exist! You can select the scenario in which you want to get contacted. By default, you will receive an email once there is a change between the results of two tests.
Events Logger Module
Once something goes wrong, we usually look for a solution. Once it is found, most of us like to know the cause. The same applies to the security of a website – having a log of actions taken moments before the problem can help avoid such a problem in the future.
Events Logger Module tracks more than 50 actions a user can make on a WordPress website. Actions can be comments, file edits, installations, general settings, user interactions and many more. All of these are actively logged in a file that can, later on, be filtered and viewed.
This way, collaboration with more people is easier since everything is clear and transparent. There is no more need to investigate who did what since everything is logged and stays available for later inspections.
WordPress Vulnerability Scanner
Did you know that there is a National Vulnerability Database? It is an official database of vulnerabilities that serves as an orientation for checking security. Again, it cannot be easy to keep track of this and manually check. Luckily for you, Security Ninja has a Vulnerability Scanner module that does this for you.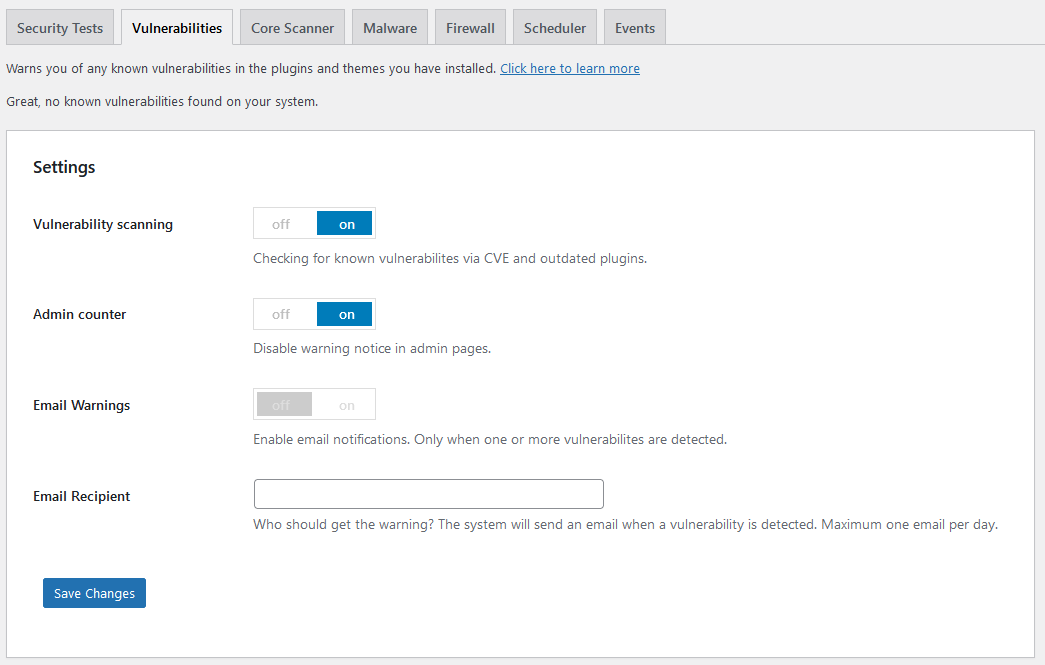 Using API, it will compare the publicly available data from NVD and other similar databases to the ones from your website. The significant part is that the checks happen on your website, so there is no fear of intercepted communication while checking your website for vulnerabilities.
Security Testing for WordPress
As already mentioned, many misconfigurations can lead to security breaches and problems. Some of these are the default settings, such as the 'admin' username, and others are less-known bugs and issues.
Security Testing for WordPress is a free module of Security Ninja that scans your website for such issues. What differentiates these tests from many others out there is the report. Within the report, which is generated in a few minutes, you will get actionable tips to solve burning issues!
MainWP Security Integration
Do you know about MainWP? It is a dashboard that allows you to control multiple WordPress websites from one place! This is particularly useful if you run clients' websites or have multiple websites around your brand.
Security Ninja integrates into MainWP as an extension. This means that you don't have to install plugins on all of your websites. Once the extension is active on the master website, all websites covered by MainWP will benefit from it. To learn how to do it and to discover more details about how it functions, check out Security Ninja for MainWP extension.
Final thoughts
From the first computers to modern technology, there was always a race between security experts and attackers. It seems that this race will continue in the years since new security features only sparkle the imagination of the attackers.
To access the newest security features for WordPress, you can use Security Ninja, with all of the essential modules we described. Want to try it by yourself? No problems. You can use the demo of Security Ninja and see how different modules and features work for you.