WordPress is one of the most widely used content management systems, a platform where administrators can manage, build and edit their website without the need for any coding knowledge or programming skills. Whether you are just kicking off your WordPress journey by building a brand-new website or upgrading an existing page, you will want to let visitors know that something new is on the horizon.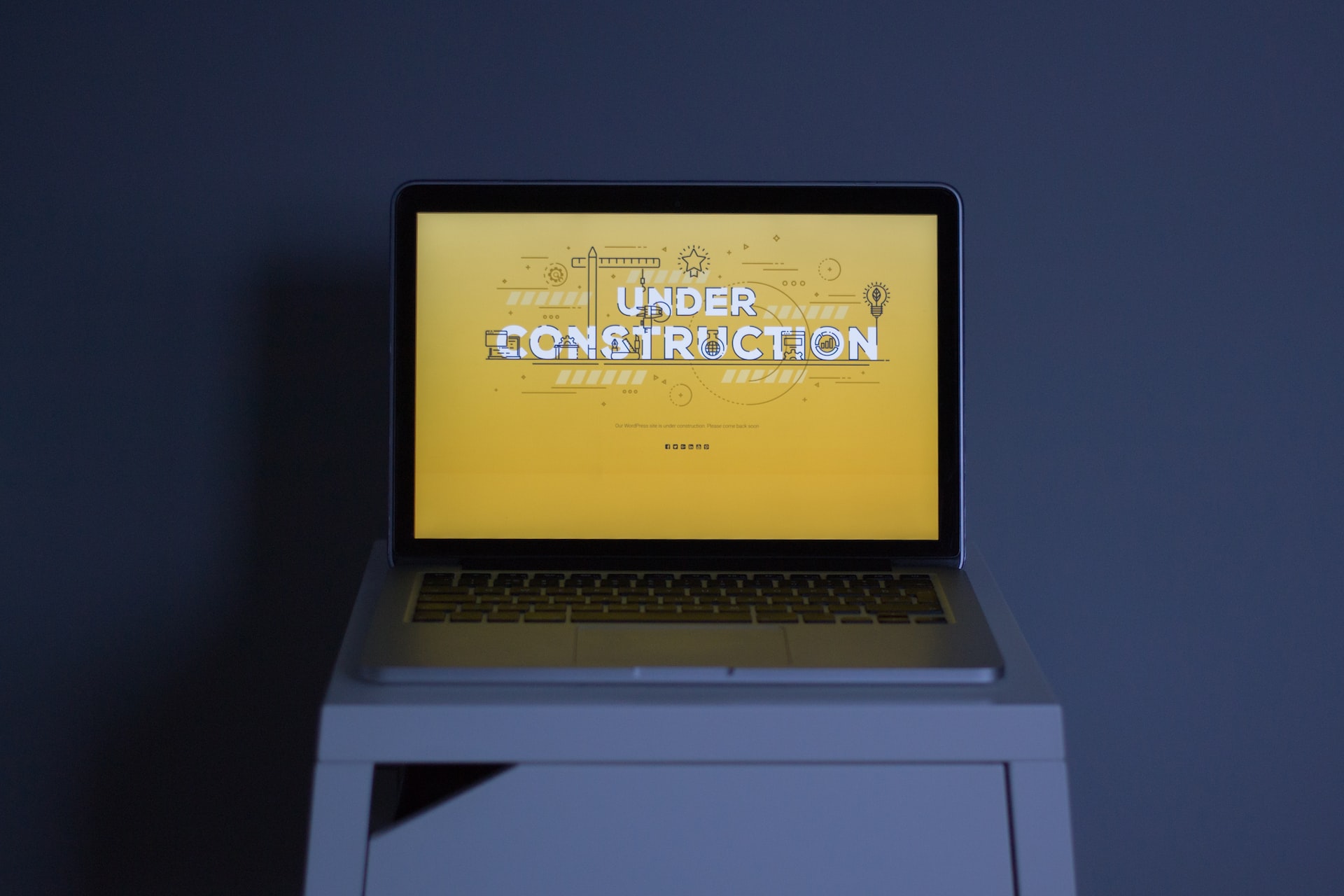 WP Maintenance mode allows you to temporarily close down your site while building or upgrading it. By being constantly improved and compatible with other plugins, WP Maintenance will neither slow down your site nor cause any glitches. With the free version, you can add your logo and pictures, exclude selected pages from Maintenance mode, enable or disable 503 error, configure the visibility of your site on search engines and set up just about every visual – fonts, icons, background, headline, or text.
However, if you want to take your website to another level, have access to pre-made themes, choose among over 3 million high-resolution images and have support from the developers of the plugin, you will want to consider going PRO. WP Maintenance PRO includes all the mentioned options and many more, adding extra functionality to your website. Let's take a closer look at the features.
Premium themes & HQ images
Within the WP Maintenance plugin, you are given an abundance of themes to choose from, whether pre-made or user-made, for essentially every business. Every theme is completely customizable with a simple drag-and-drop design tool.
Since finding high-quality, watermark-free images can be a hassle, within the WP Maintenance plugin you can search among millions of images and add them to your website with just a few clicks.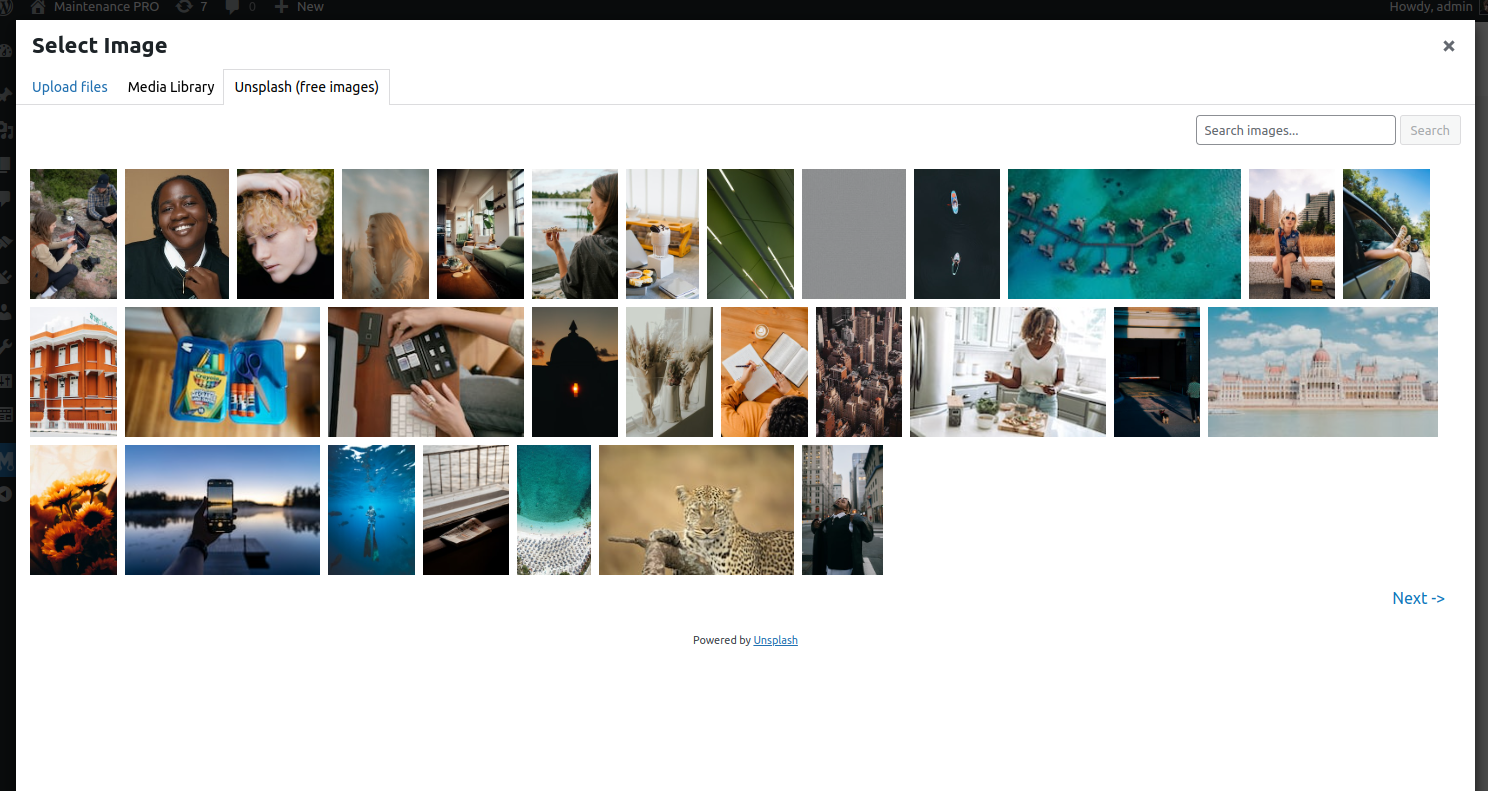 The Design option makes it possible to create a page from scratch, and its user-free studio requires no previous design experience. You can customize the fonts, adjust the layout, add social links and media, including a map, and many more. The possibilities are infinite!
Secret Access Link
Even though your site may be under maintenance, your clients and employees might want to access it nevertheless. The secret Access Link feature makes that possible, allowing you to set up a link of your preference.
You can also choose whether you want all of your pages to be shown or just the ones you have specifically chosen. Set up a username and a password to log in or compile an IP Whitelisting – a list of IPs to whom the site will be accessible.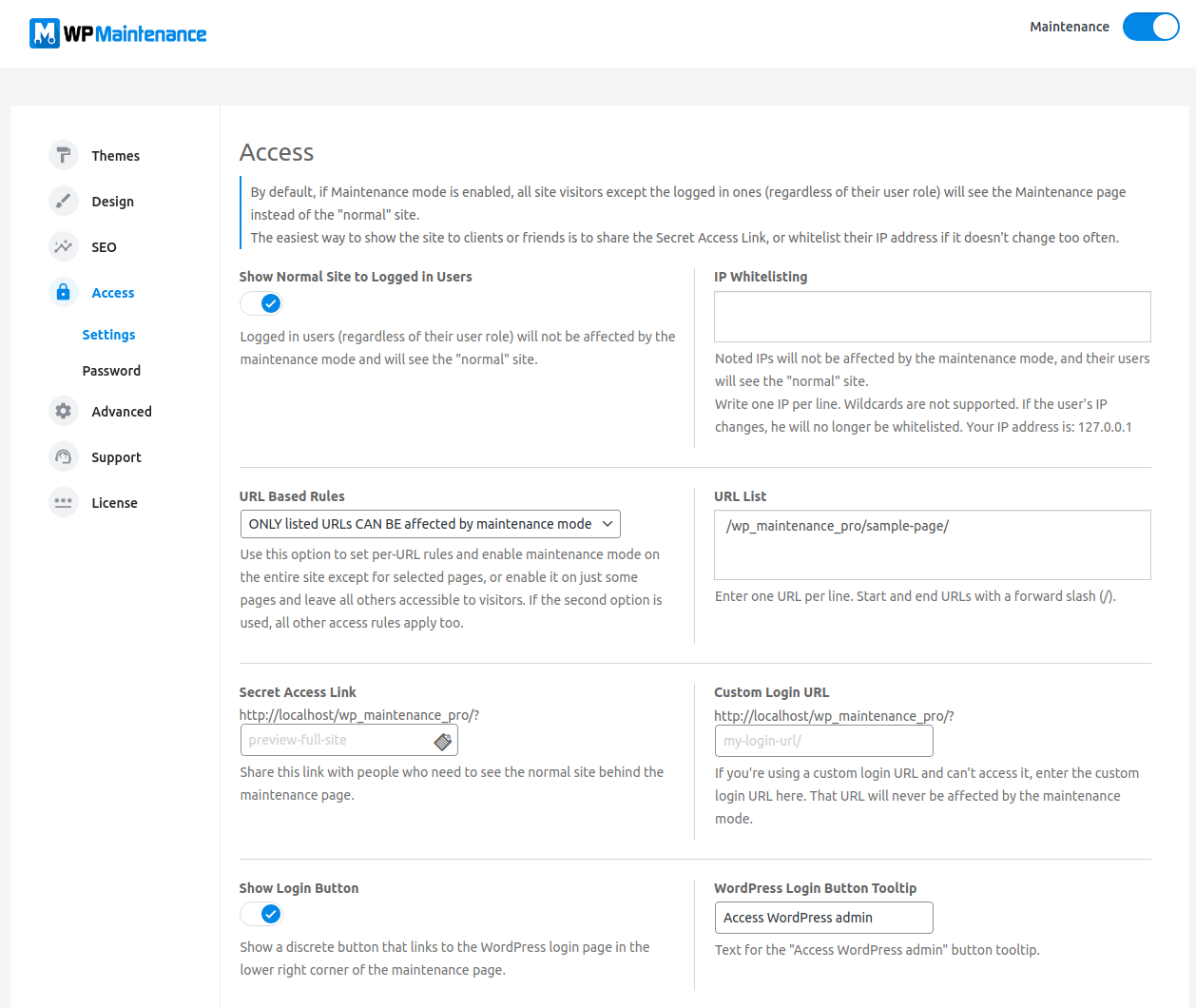 If you are willing to add a temporary Under Maintenance mode to your site, you should consider the Coming Soon & Maintenance mode plugin. With over 200 pre-made and customizable themes, an autoresponder, and easy access, it is an affordable solution for letting visitors know they should drop by again soon.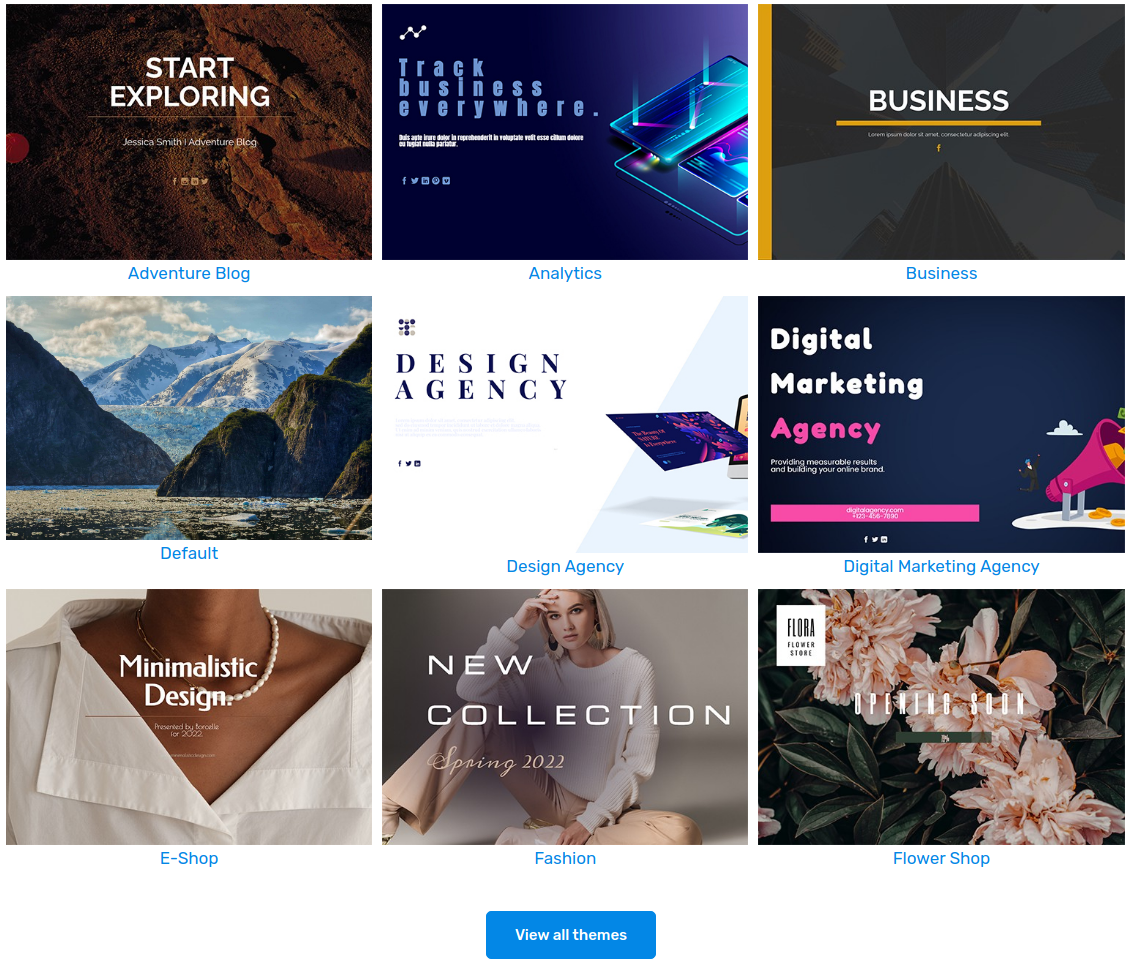 Support from developers
Sometimes we all get stuck on a problem. WP Maintenance license comes with a chatbot support feature where you can submit a question directly to the guys who developed the plugin. They will make sure to solve your problem and answer any further questions as efficiently as possible.
Centralized Dashboard
Whether it is the management of purchases, licenses, brands, or sites, everything you need will be kept in one place, your Dashboard. User-friendly and transparent, it is a place where you can make sure everything runs smoothly in every domain of your business.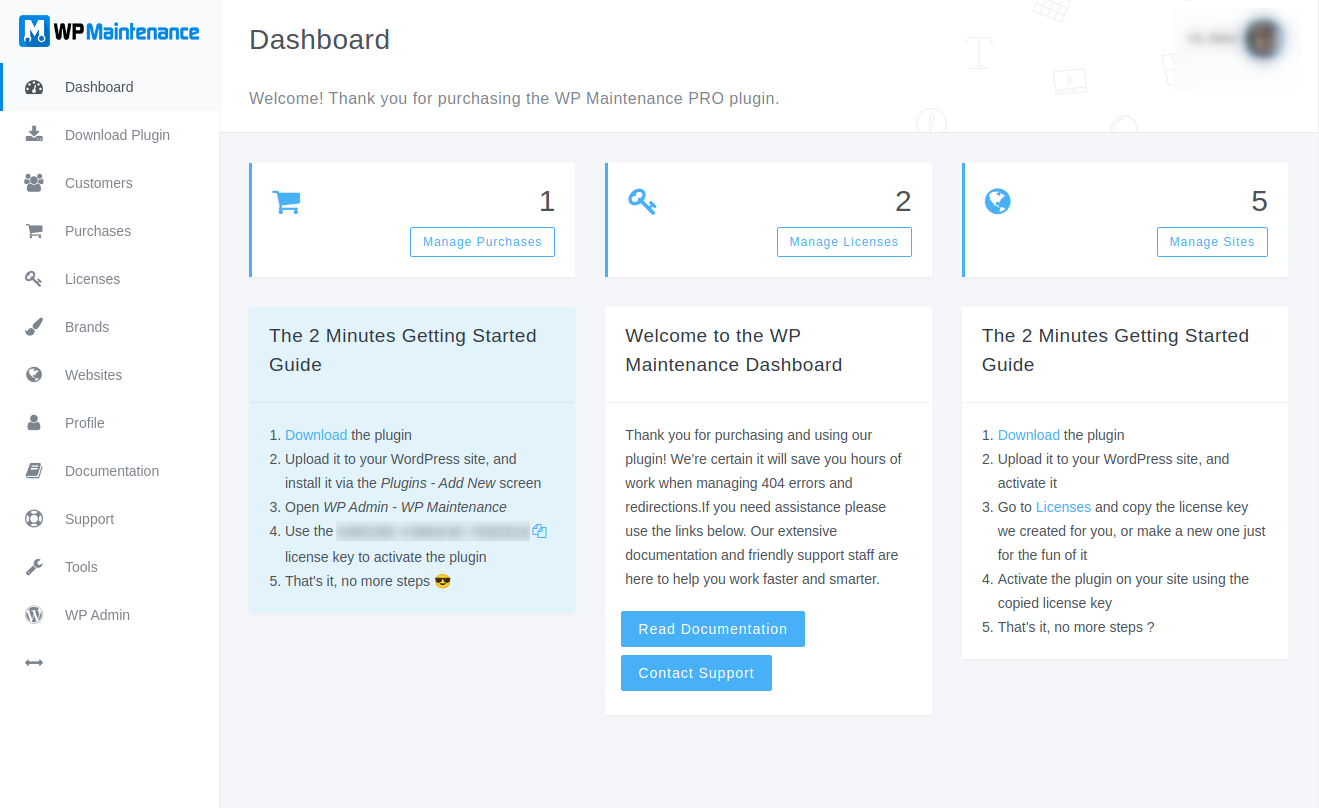 Editing without touching the code
With the WP Maintenance plugin, you can make necessary changes to the website without ever editing its original code. With just a few clicks you can adjust the plugin name, logo, colors, and text. In other words, do a complete rebrand.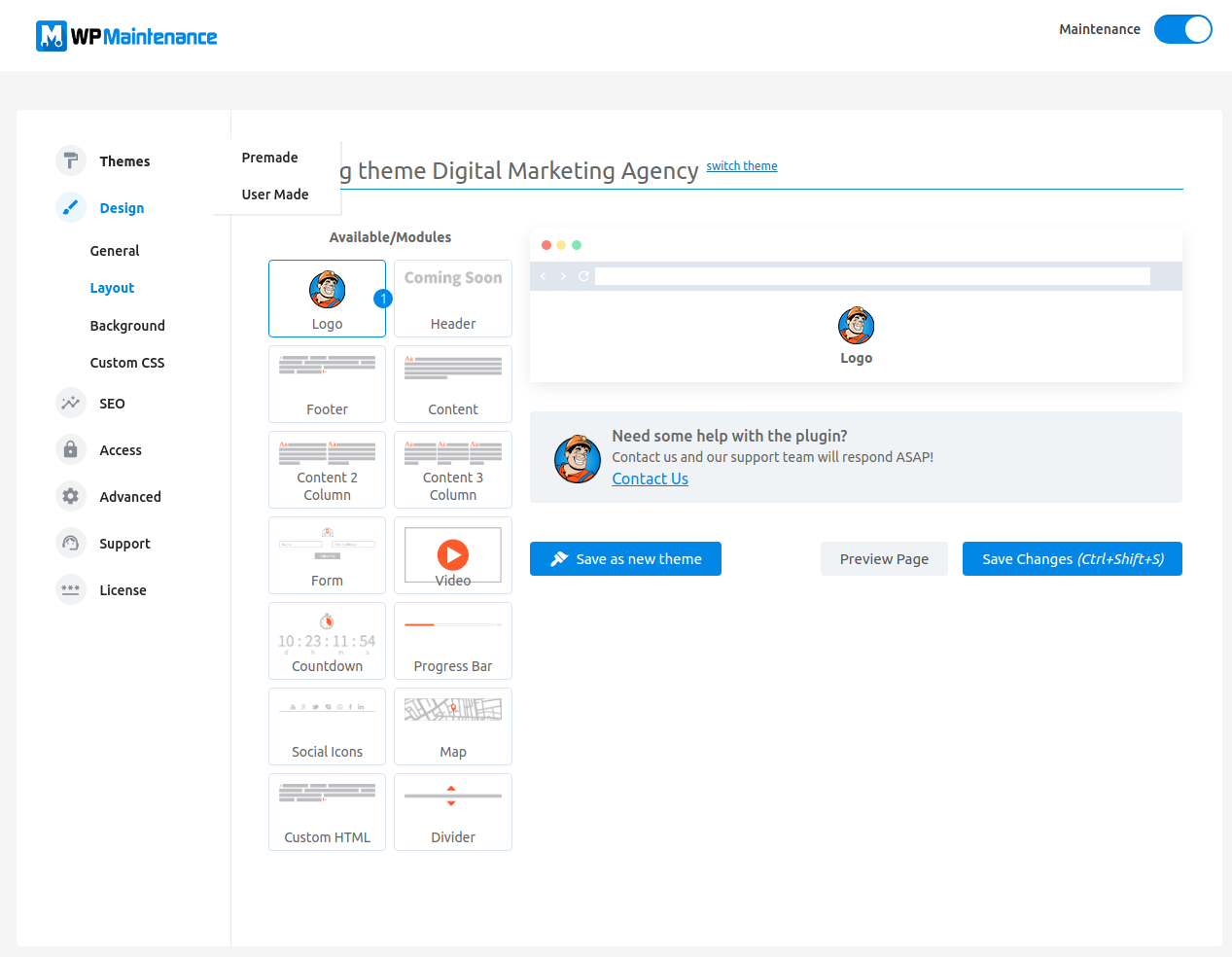 When it comes to not changing the code, you might want to consider WP Force SSL, a plugin that helps redirect insecure HTTP traffic to secure HTTPS and fix the errors without slowing down the website and bugging the visitor.
Pricing
As previously mentioned, WP Maintenance has several pricing options, ranging from free to PRO. Depending on your needs, you can choose between 1 site – personal: 59$, five sites – team: 69$, or 100 sites-agency: 119$. Every purchase lasts for a lifetime, which means it is a single, one-time payment. You are fully protected by the 100% No-Risk Money Back Guarantee, which means that if you, within seven days, decide that the plugin was not quite the right choice, your money will be completely refunded.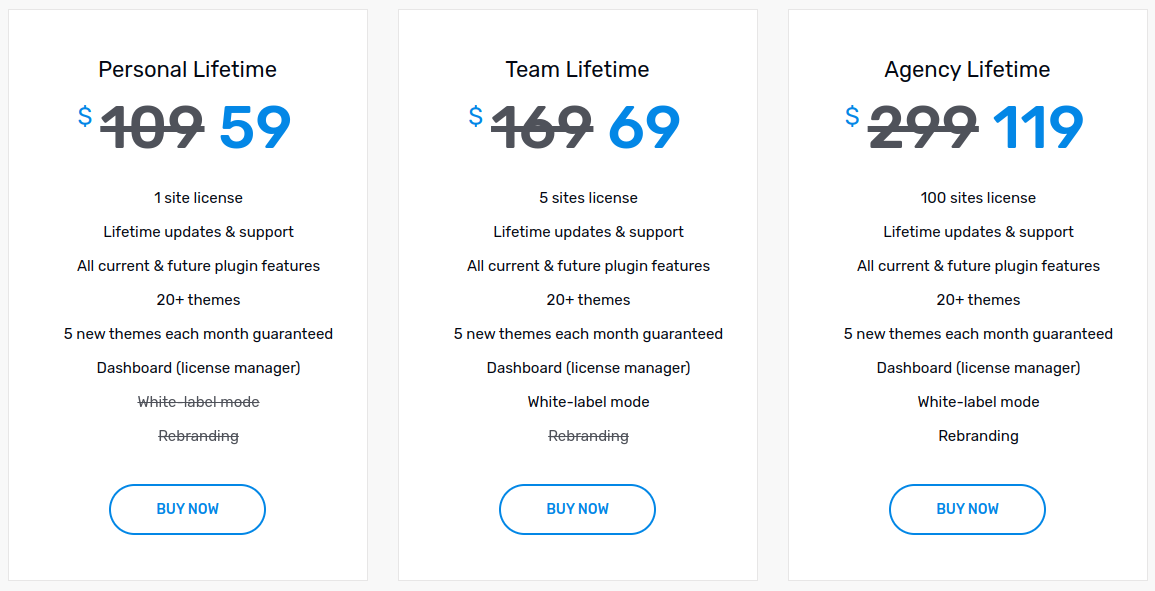 Conclusion
Being one of the best affordable plugins on the market, WP Maintenance is a perfect tool to build or upgrade a website according to your business' preferences. With an abundance of features included in PRO, you do not need to have any prior editing or coding knowledge to build a dazzling website or refresh your brand's online presence.