Lose your record win with this 15.6-inch MSI gaming GS63 stealth laptop. The MSI Gaming GS63 is a very light laptop weighing 1.99 Kg. MSI Gaming GS63 has 16 GB of memory that can easily handle multiple applications. Adequate storage space is ensured with a total of 1256 GB.
This MSI Stealth gaming laptop has a 256GB solid-state and 1TB hard-disk drive for adequate, efficient storage. Graphics powered by Nvidia GeForce GTX 1050.  In addition, it has GeForce® GTX 1050 2GB GDDR5 Graphics, Backlight Full color RGB (Steel series) keyboard and Killer Gb LAN. In terms of pixel density, the MSI Gaming GS63 has an excellent density of 141.2 pixels per inch, resulting in sharper text and picture quality.
With the MSI Gaming GS63, the average gaming performance is outstanding at 56.95 frames per second. Its 15.6″ eDP IPS-level display features a 1920 x 1080 resolution and provides you with wide viewing angles with immersive colors. For normal use, 4.9 hours of battery life is disappointing. The battery life of MSI Gaming GS63 is short and you may need to have that charger attached during long gaming sessions.
MSI Gaming GS63 is very expensive. Connectivity options include Wi-Fi 802.11 ac, Bluetooth, Ethernet and it comes with 5 USB ports, Mic In, RJ45 (LAN) port.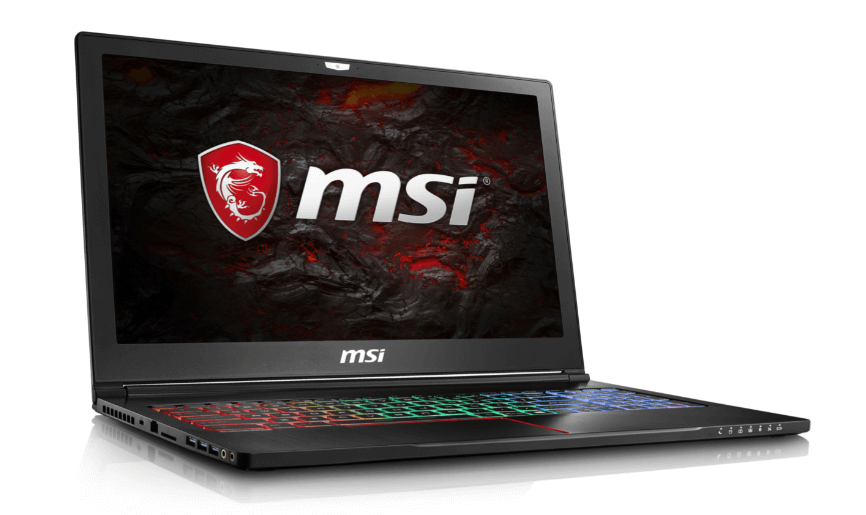 MSI Gaming GS63 7RD Stealth space
OS

Windows 10 Home

DISPLAY

15.6″ FHD (1920×1080), IPS-Level

CHIPSET

Intel® HM175

GRAPHICS

GeForce® GTX 1050 with 2GB GDDR5

MEMORY

DDR4-2400, 2 Slots, Max 32GB,

STORAGE CAPABILITY

1x M.2 SSD Combo (NVMe PCIe Gen3 / SATA )
1x 2.5″ SATA HDD

WEBCAM

HD type (30fps@720p)

KEYBOARD

Backlight Keyboard (Full-Color)

COMMUNICATION

Killer Gb LAN
Killer ac Wi-Fi + Bluetooth v4.2

AUDIO JACK

1x Mic-in

1x Headphone-out

1x Headphone-out (SPDIF)

1x Headphone-out (HiFi / SPDIF)

I/O PORTS

1x Type-A USB2.0

1x RJ45

1x SD (XC/HC) Card Reader

1x (4K @ 30Hz) HDMI

1x Mini-DisplayPort

BATTERY

3-Cell
65

AC ADAPTER

150W adapter

DIMENSION (WXDXH)

380 x 249 x 17.7 mm

WEIGHT (W/ BATTERY)

1.8 kg
This gaming laptop can run Fortnite, Apex Legends, Minecraft, PUBG, and GTA V – some of the biggest PC games at the proposed level. Our reviews are based on how many best PC games a PC can run. This laptop can play 95 of the top 100 games – so we give it a 95% rating.

MSI gaming GS63 stealth laptop
The msi gaming GS63 Intel's 7th generation processor, codenamed Kaby Lake, is built on 14nm architecture and consumes less power while delivering better performance than its predecessors. Also, the H-Series processors come with power-efficient VP9 and HEVC 10-bit hardware acceleration for improved HDR visual quality. The EDP IPS-level display has a 178 ° wider viewing angle and better contrast than the TN (Twisted Nematic) panel for a more immersive viewing experience.
NVIDIA-GeForce GTX 10-Series graphics can increase performance by up to 40% of previous generation positions. With three fans, two GPUs, and one CPU, the Cooler Boost Trinity cooling solution ensures maximum performance for extreme gaming.
Not only are they powerful, but they can also provide similar performance to their desktop counterparts with a slight difference in performance. It changes mobile gaming, allowing you to maximize your game's visual settings so you can enjoy it to the best of your ability.
Connect the laptop to the HDTV display, the Matrix display supports 4K output with a resolution up to 3840 x 2160. MSI matrix display technology creates an ideal environment for the ultimate gaming experience and pleasant multimedia entertainment.

DDR4 Memory
For storing your photos, videos, games, and more, the msi gaming GS63 Stealth has a powerful memory drive. Get the best possible performance from your notebook with improved DDR4-2400 memory support, achieving 32GB/s reading speed and 36GB/s in writing. With 40% faster performance than the previous generation DDR3-1600, the DDR4-2400 is the new laptop standard that will take your ultimate gaming experience to the next level.
This is a 128GB M.2 PCIe Gen3 x4 NVMe disc made by Toshiba and the scores are spectacular. By now you already know that NVMe disks offer 4 times more performance in real-world ease of use.
This will definitely remove any interruptions in your disk I / O non-stop. This drive itself is already reason enough to buy this slim machine! But of course, that alone will not support it too much.
For a laptop that looks executive-ish, at this slim profile, being able to churn out these results does put it at a recognizable status among another slim gaming desktops. Let's talk about how it feels like using it.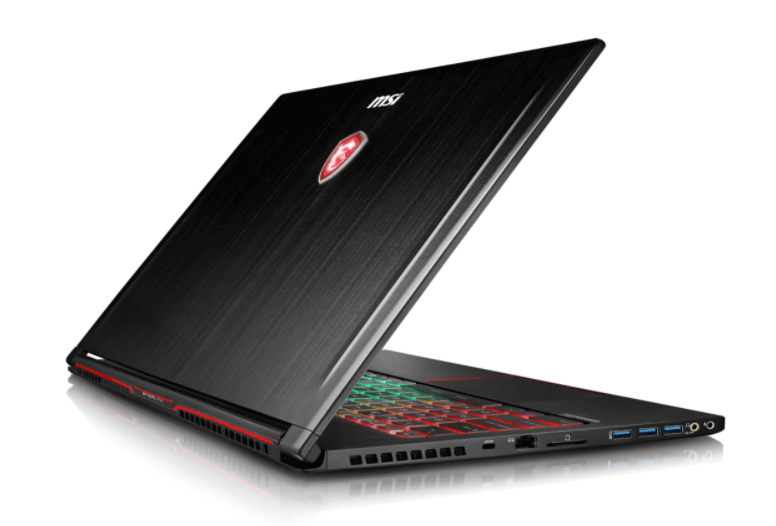 MSI gaming GS63 stealth laptop
MSI's True Color technology optimizes your display for bright colors, stunning details, and sharp images. You'll be able to choose from multiple viewing modes to match your current application: Gamer, Anti-Blue, SRGB, Designer, Office and Movie.
Play backlit steel series keyboards wherever you want, even in dimly lit environments. This ensures proper input and solid response so that you have a more responsive typing or gaming experience. Silver lining prints are durable so you don't have to worry about wear and tear.
It looks like gaming laptops are slowly getting thinner and lighter We've been reviewing a number of gaming laptops lately and these monsters are evolving in stark contrast to what monsters should be; Which is good, by the way. The challenge of having a slim gaming laptop is to fit into every component of the limited space, but thanks to various technologies from Intel and Nvidia, it is slowly becoming more and more possible.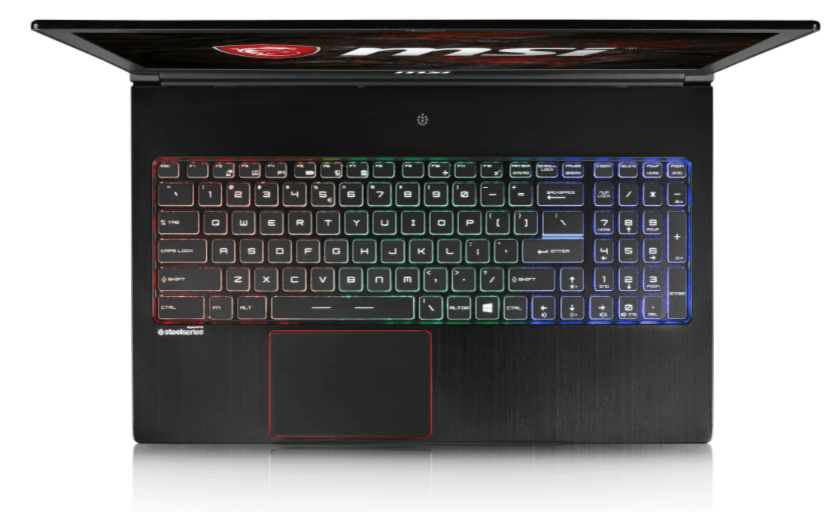 Today, we have an MSI Gaming GS63 7RD Stealth Gaming Laptop. It is important for me to let you know that this is the only unit that MSI had when we got it, and it was an open unit, so we don't have to unbox at this point. Of course, we will get an idea of ​​it down the road, we will update this article accordingly.
Conclusion
I love MSI Gaming GS63, I really do! I immediately fell in love with the first impression of it. This is exactly the laptop that satisfies the thirst for this type. The performance is great for its class and the coolness is incredible. I think MSI Gaming GS63 is definitely worth a gold, this laptop will definitely make my daily crushing way!
Can it run GTA 5?
This MSI gaming laptop does not meet the system requirements recommended for GTA 5 but it can play the game with low settings.
Can it run Fortnite?
This MSI gaming laptop does not meet the system requirements recommended for Fortnite but it can play the game with low settings.
Could it run the Apex Legend?
This MSI gaming laptop does not meet the system requirements recommended for Apex Legends but it can play the game with low settings.