When choosing a platform to build your website, WordPress is one of the first choices that come to mind. This is because it is relatively easy to start with and offers a bunch of cool and useful plugins that will help you with different tasks on your website. However, the accessibility of plugins brings some downfalls also.
Some plugins are more useful than others, and some are downright bad. It is important to choose the plugins you will use carefully, taking into consideration the author, reviews, performance, and other factors. One of the use cases where it is useful to have a plugin is definitely during the development phase.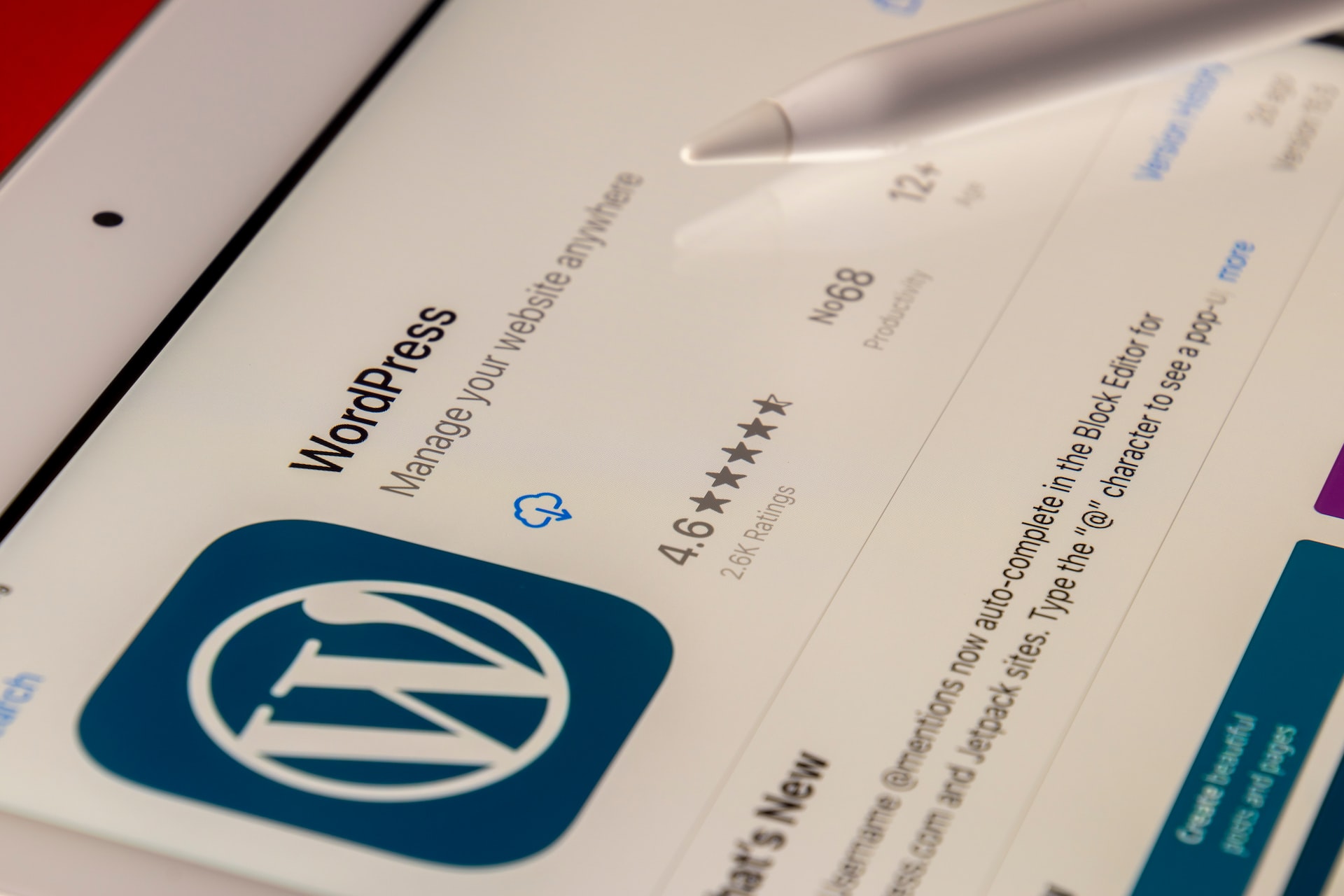 When thinking about the development process, it is highly useful and also important to have a tool that will help you speed up the whole process, as well as reset or restore your website to a previous version in case of an error or something similar.
We have compiled a list of some of the best reset plugins available on WordPress. So, let's have a look at the following tools.
WP Reset is a great WordPress plugin that helps you quickly reset the website's database to the default installation values without any file modification. You can easily decide if you want to delete all customizations and content, or just some chosen parts like theme settings. Built-in snapshots enable this functionality to be performed in one click.
It also speeds up testing and debugging. The resetting process can delete all posts, pages, custom post types, comments, and users, all default wp database tables, and all custom database tables with the same table prefix as defined in the wp-config.php file. It will not delete any media files, no plugin, theme, upload files, the site title, address, language, or search visibility settings.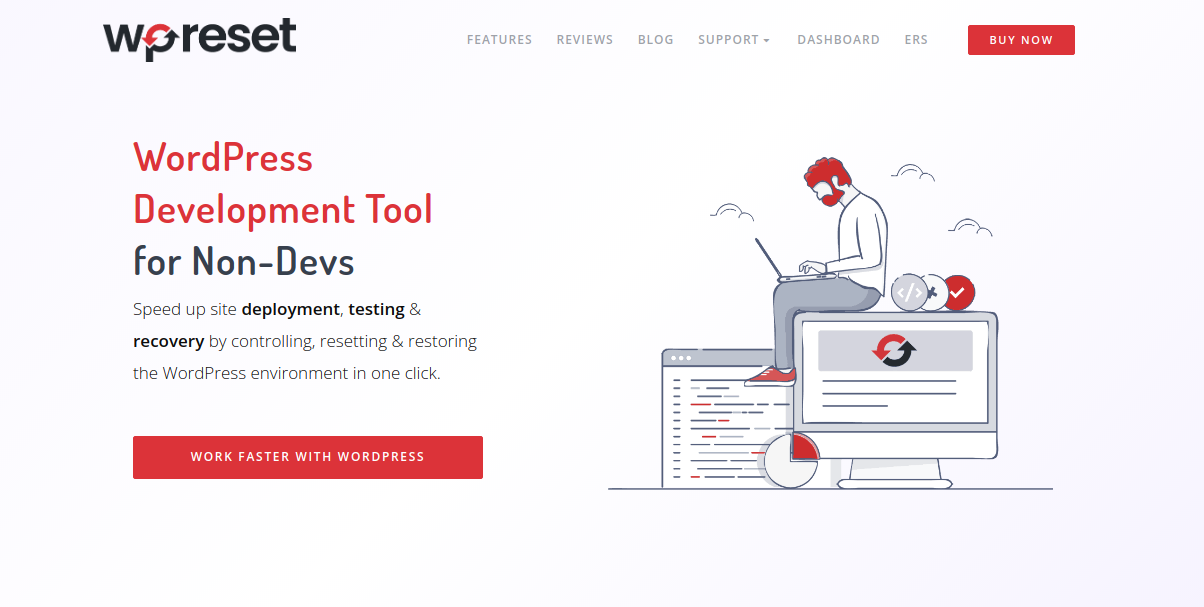 When performing the reset it is always good to do the following procedure. First, remember to always create a snapshot or a full backup, confirm the action because there is no undo, and after the reset log in again with the same credentials.
This plugin comes with both free and premium versions and plans. There are some differences between the two. For example, the PRO version comes with the options reset feature, nuclear site reset, user roles reset, cache purge, local data deletion, content deletion, widget deletion, WordPress version switch, and the option to store snapshots on Dropbox, Google Drive, pCloud, etc., priority email support, and much more.
Paid PRO version comes with 3 plans, Personal with 1 site license at $39/year, Team with 5 site licenses for $49/lifetime, and Agency with 100 site licenses for $149/year. If you are interested in the PRO version, you can check out more details on the official website.
This awesome plugin allows you to reset all or some database tables back to the default setting without doing the 5-minute installation or modifying any files. It comes with many useful features such as an extremely fast one-click process of resetting the WordPress database tables, the option to reset the entire database or specific database tables, secure and simple to use, safety to not accidentally click the reset option, command line commands for resetting, and much more.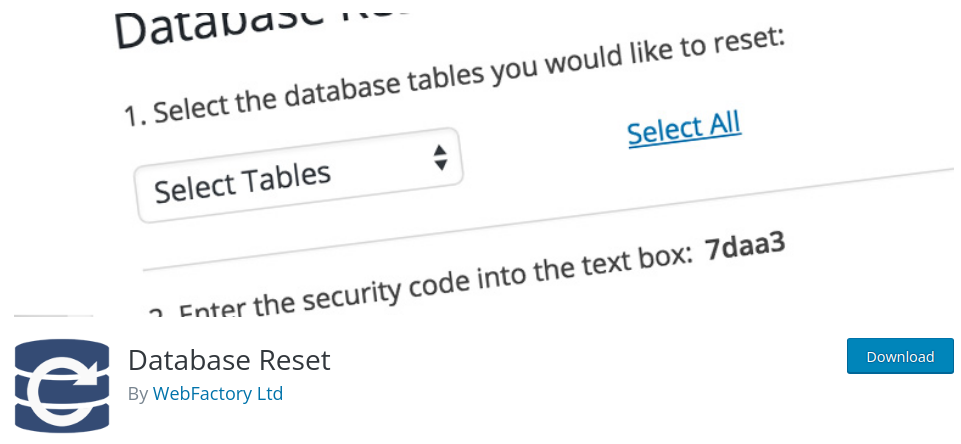 Another important thing is that this plugin is regularly updated and maintained, with more than 40 thousand active installations, and it supports WordPress versions 4.2 or higher.
Although very useful, this plugin is not the same as the previous two. Customizer Reset focuses precisely on themes. This plugin allows users to reset theme customizations made via the WordPress Customizer. It also works with 99% of themes from less known ones to more popular themes such as Divi or Astra.
The reset removes ALL theme modifications registered via the Customizer API. All themes and plugins that use theme_mod modification storing settings type are eligible to be reset by this plugin. This reset is not reversible so keep that in mind, if you accidentally reset your website, all modifications will have to be redone from scratch.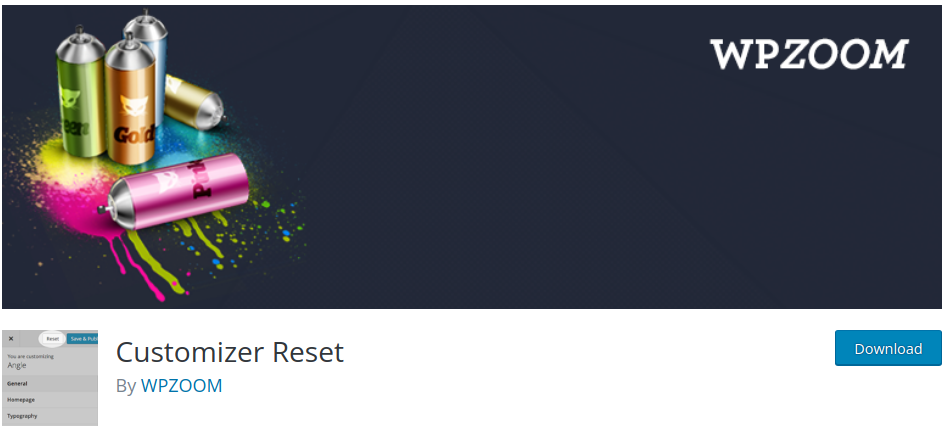 As with previous plugins, this one is also regularly updated and maintained, with available support forums. It is very popular with more than 10 thousand active installations, and it is compatible with WordPress versions 3.4 or higher.
Conclusion
Since WordPress does not have any kind of reset button built into it, these plugins are a great way to implement this option. The above-mentioned plugins are some of the best options available on WordPress for their respective purposes. The Customizer Reset is great when developing and customizing different themes, and Database Reset is great if you perform different database manipulations, but neither of them is as powerful as WP Reset.
WP Reset is the most comprehensive option and includes plenty of functionality for all kinds of user needs. The PRO version offers the full experience with all features included. You can undo anything with one click, save hours of work with collections of your favorite plugins and themes, fix white screens with the recovery tool, remove any demo data with ease, and perform a nuclear reset that will reset all options, files, custom database entries, and tables, easily hide license details, automatic snapshots, store data safely into the cloud, and control everything in one centralized dashboard.
Still not sure? Aside from the limited free version, you can try the PRO version and if you do not like it for any reason, you are fully protected with their 100% risk-free guarantee. In the first 7 days, you can receive a full refund without any questions asked.