Are you a fan of Canon? I'm also a fan of Canon cameras because Canon's body is much lighter than other companies. Canon 80d is one of the best cameras released by canon company. If you are thinking about buying Canon EOS 80D then this article is for you. Before buying Canon EOS 80D checkout the camera specification.
Canon EOS 80d was released in March 2016. Still, this camera is pretty popular in the market.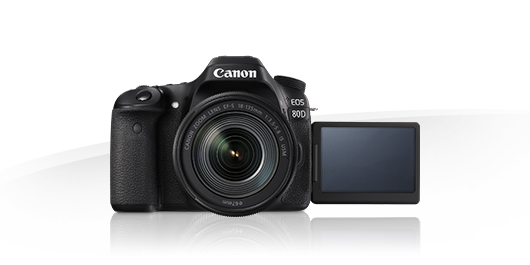 Image Sensor of Canon 80d:
We know nowadays smartphones camera is pretty good in photography and taking personal pictures. You need better qualities photographs that's why you are going to buying a camera. Canon EOS 80d is sponsored by DIGIC 6 image processor. This processor enables improved low-light performance up to 6400 ISO with noise reduction. Approx 24.20 megapixels and 22.3mm x 14.9 mm Complementary Metal-Oxide Semiconductor (CMOS) sensor used in this camera. Canon EOS 80d contains an EOS integrated cleaning system, this will help you to keep your camera sensor clean from dust and fungus.
Focusing System:
Canon EOS 80d has 45 cross-type Auto Focus (AF) points. Autofocus helps to detect the object while you focusing on a subject. Some camera contains 9 autofocus points. That means there are 9 auto-detecting systems on this camera. To be honest sometimes higher numbers of the focus points are a matter of suffering. Because you may feel disturbed when you try to capture any specific spots of pictures. But don't worry you can use manual focus instead.
There are three different autofocus modes in this camera.
1- AI Focus (Artificial Focus): Artificial Focus is very useful when you capturing any moving object.
2- One-Shot: Canons Single-Servo autofocus system is known as One-shot autofocus. When you select the autofocus system that will focus on a subject once and then stops focusing. The acquirement of a focus lock is often indicated by a beeping sound that comes from the camera.
3- AI Servo: This focusing mode lets you focus on the subject continuously. The exposure is set when the picture is taken. The AI servo autofocus point is automatic. The camera first uses the center autofocus point to focus in this mode.
Manual selection of Single point, Zone, and Large Zone autofocus systems are also available in this camera. Users can select the autofocus points separately for vertical and horizontal shooting. Canon EOS 80d has an indicated transmissive LCD in the viewfinder and a quick control screen. The Quick Control screen is very useful, especially in wildlife photography. Up to 8m predictive autofocus system added in this camera. Users can also see an autofocus lock button on the camera.
Exposure Control Details:
Canon EOS 80d contains a 7560-pixel RGB+IR metering sensor with the area divided into 63 segments (9×7).
Canon EOS 80d has four metering modes these are:
1- Evaluative Metering Mode: Evaluative metering mode is the most uses mode in Digital SLR cameras. Almost all cameras set this as default. This mode ensures that the camera will adjust to the right exposure automatically. Even when the ambient light shows the highest contrast this mode corrects the exposure automatically.
2- Partial Metering Mode: Partial metering mode is the most popular mode for wildlife photographers. This mode ensures the brightness of the subject. It helps to correct the exposure depending on the light condition.
3-Spot Metering Mode: Spot metering mode ensures the light exposure of the subject and ignores the objects.
4- Center-weighted Average Metering Mode: This mode is like using the Evaluative metering mode with a center autofocus point. This mode is particularly useful when the subject is located in the center of the frame.
The ISO range of this camera is 100-16000. But users can expand the ISO range up to 25600.
ISO range during video recording is 100-12800 and expandable range is 25600.
Cameras Shutter:
Electronically-controlled focal-plane type shutter used in this device. Minimum 30 seconds to maximum 1/8000 seconds shutter speed contain this camera. Users can manage the shutter speed according to their demands. Higher ISO damage the image quality but this camera contains a noise reduction system so you don't need to afraid of it.
Auto white balance sensor is also added to this camera.
Viewfinder Information:
Canon EOS 80d cameras viewfinder type is pentaprism. The viewfinder is approximately 100% magnification. Approx 0.95x¹ eyepoint contains this camera. Users can see the exposures like shutter speed, aperture value, and ISO speeds information on the viewfinder screen.
There is high-speed sync, flash ready, FE lock, flash exposure compensation, and eye reduction flash in this camera. Users can see the depth of the field preview button on the camera.
Monitor Information:
Touch screen Vari angle 7.7 cm clear view II TFT and 1040k dots type display used in this camera. The touch screen camera is very comfortable to use because you don't need to press the button again and again. You can control the screen on touch. The display is anti-reflective, solid structure, and anti-smudge. Display brightness can be adjustable up to seven levels. Quick control screen, camera settings, and electronic level display option added to the display mode.
Shooting Modes:
Scene Intelligent Auto: This mode is for beginners. Those who don't know what is ISO, aperture, and shutter speed and how it works can use this mode. In this mode ISO, aperture, and shutter speed will change automatically according to the subject light.
No Flash Mode: This mode is like auto but in this mode, the flash won't open no matter how low the subject light is.
SCN Mode: This mode is used in taking a portrait, landscape, close-up, sports, night portraits, and etc occasions.
Shutter Priority Mode: In this mode, only the shutter will change automatically and other option remains manual.
Aperture Priority: In aperture priority, only the aperture changes automatically other option is changeable by the user.
Manual Mode: This is for pro users. Who knew everything about the camera like ISO, aperture, and Shutter speed they use this mode. In this mode, EXIF is changeable by the user.
The picture quality of this camera is Auto, Standard, Portrait, Landscape, Fine Detail, Neutral, Faithful, Monochrome, User Defined (x3). Color space is sRGB and Adobe RGB.
Image Processing:
This camera provides Highlight tone priority and auto lighting optimizer (4 settings). In long exposure photography, this camera capable of reducing noise. High ISO speed and multi-shot noise reduction system are also available in this model.
Users can capture photos in single shots or continuous shots. If you want you can set up self-time to capture images (2s+ to 10s self-timer). This camera also provides silent single shooting and silent continuous shooting.
In continuous shooting mode, users can capture photos maximum of approximately 7 frames per second (fps). Speed maintained for up to 110 images.
Live View Modes Details:
Canon EOS  80d contains an electronic viewfinder with an image sensor. Approximately 100% horizontal and vertical coverage. The frame rate is 30 frames per second (fps). In manual focus mode, users can magnify images 5× to 10× at any point on the screen. The Autofocus system is dual pixel CMOS AF with face detection, tracking AF, FlexiZone-Multi, and FlexiZone-Single. The display option is the grid overlay (3×), Histogram, Electronic level.
Conclusion:
So, if you think you can afford this camera budget then you can buy this one. I watched too many wildlife and wedding photographers use this camera.
Check out more camera reviews here.