Garena Free Fire is an online action-adventure and a battleground game. This game is very popular as a free fire game among the players. This game was developed by 111dots Studio and published by Garena. This game's beta version was released on 20 November 2017 and on 4 December 2017 Garena team officially released this game for Android and ios. This game was inspired by
PUBG
Garena Free Fire reached 7.5 million downloads on Android devices in October 2018. This game has become one of the most downloaded android games of 2018.
How to download the Garena Free Fire game on your computer:
To play this game on your PC you need to download an
emulator
. There are many kinds of emulators on the internet you can use any of them. Here I'll show you how to download and play the Free Fire game on your computer using the "gameloop" application. Please follow the steps given below.
Step 1: CLICK HERE to Download the gameloop application. Follow the image instruction.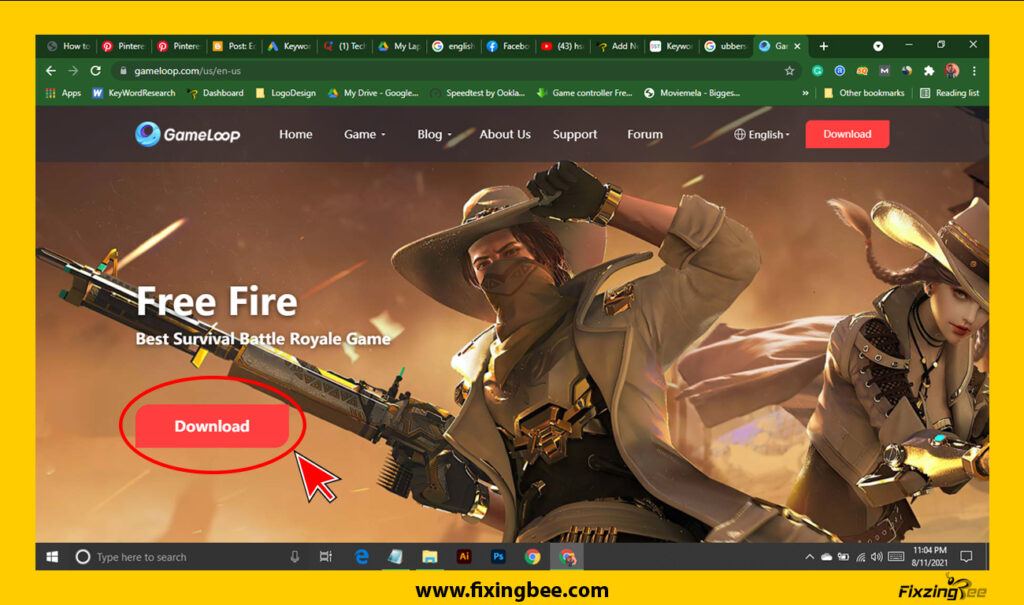 Step 2: Wait for starting the download. The download will start automatically.
Step 3: Open the downloaded file and then install this application on your computer.
Step 4: Now you will see an interface of gameloop application and you have to click on the search box and type Free Fire on the search box.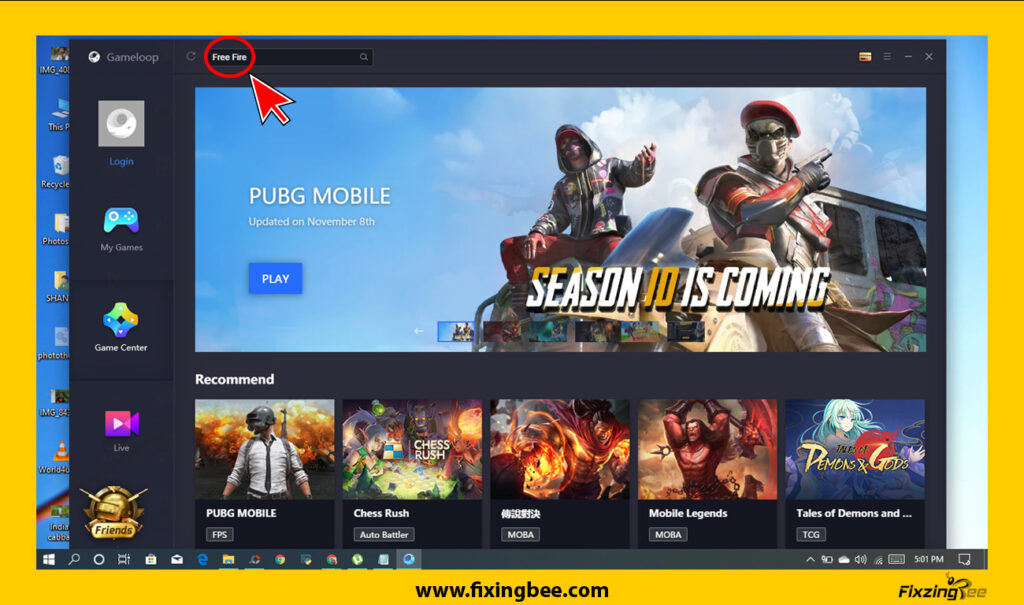 Step 5: Click on the "Free Fire button" to start downloading.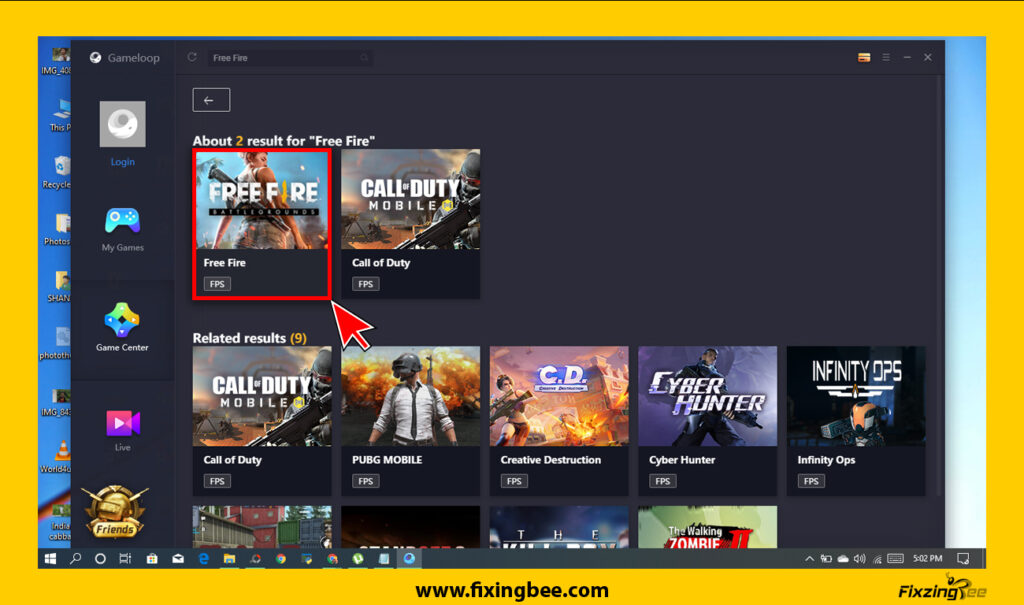 Step 6: Now click on the Install button. To download and install the game.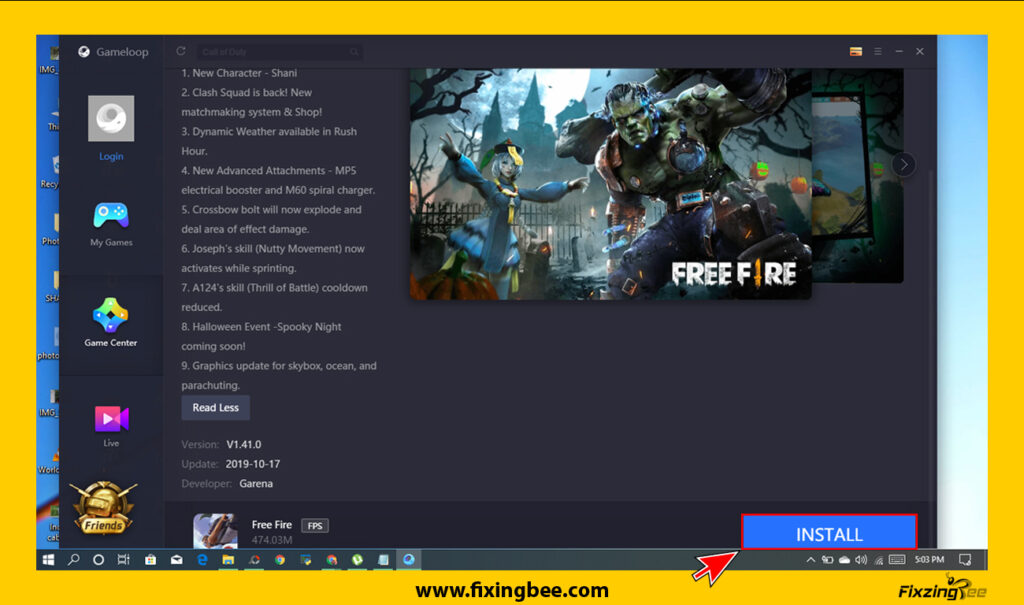 Free Fire Gameplay:
 The game contains up to fifty players. Landing on the island quickly is the better chance of winning. Once you land on the island you have to find weapons and other gear to kill the enemies. You can find your necessary items from the houses, towns and any other places. You can loot from dead enemies or your dead teammates. You can revive your teammates if they are primarily killed by enemies. The last man or team standing deathmatch remains alive is the winner of the game.
Players are allowed to choose their companion according to three options:
The best way to winning the game is by landing on an island as quickly as possible. After successfully landing in your selected area start searching for weapons, aids, grenades, backpack, machete, vehicles, and other gear. Plyers can find weapons and other equipment from buildings, towns, and other sites. Don't forget to take a higher-level bulletproof vest and helmet. Cause these suits protect you from enemies hit.
The main goal of the game is to survive on an island with a maximum of 50 online players and all with the same goal.
There are two different types of maps in this game.
Players can enjoy two different gaming moods, these are:
Ranked match and
Classic match
Ranked Match:
The ranked match will increase your rank from your every match, this only depends on your playing performance. If do well in the match you will get some point which helps you to reach the next ranked. Similarly if you unable to do a good performance in this game, your rank will decrease. From reaching every new rank you will be rewarded with some rewards.
Let's check out the rank match leagues:
Bronze I to III
Silver I to III
Gold I to IV
Platinum I to IV
Diamond I to IV
Heroic
Garena Free Fire games all Weapons:
Rifles of Free Fire: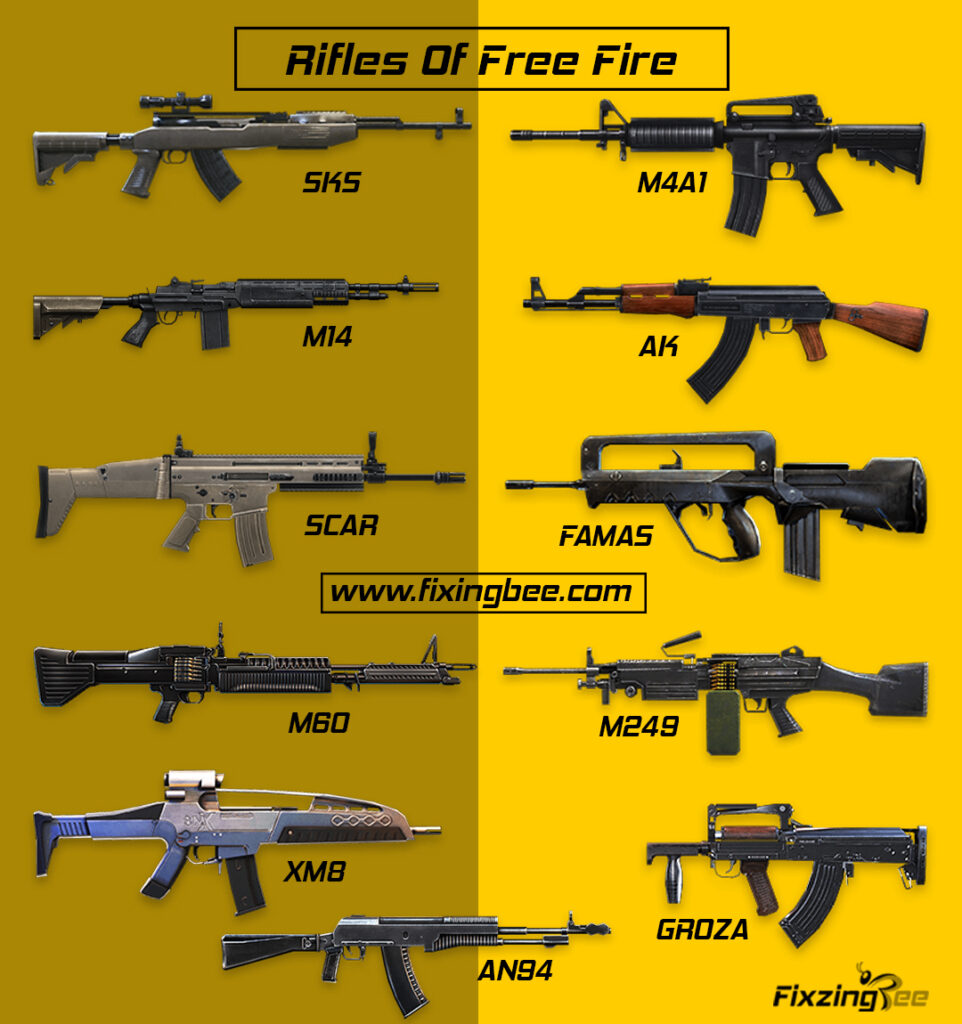 M4A1: This is a well-balanced weapon, this weapon is good for all distances.
AK: AK comes with high recoil but the damage point is soo high. 
FAMAS: Three-round burst, high rate of fire, and extremely powerful in mid-range.
M249: This weapon contains 100 rounds of magazines. Make sure the magazine is at full capacity all the time because this rifle takes more time than any other weapon.
Groza: You can only found this gun from airdrops or bounty tokens. Groza is a well-balanced weapon.
SKS: It's important to know the distance of the enemy while you using this gun because this rifle contains a pre-attached 4x zoom scope. This gun makes high damage but a low rate of fire.
M14: A single-fire assault rifle with high stopping power.
SCAR: This is an assault rifle with a high rate of fire.
M60: Weapons with supper large magazines for suppressing the fire.
XM8: This weapon contains a pre-attached 2x scope, high stability in mid-range.
AN94: This is a rifle with having high power and recoil.
SMG: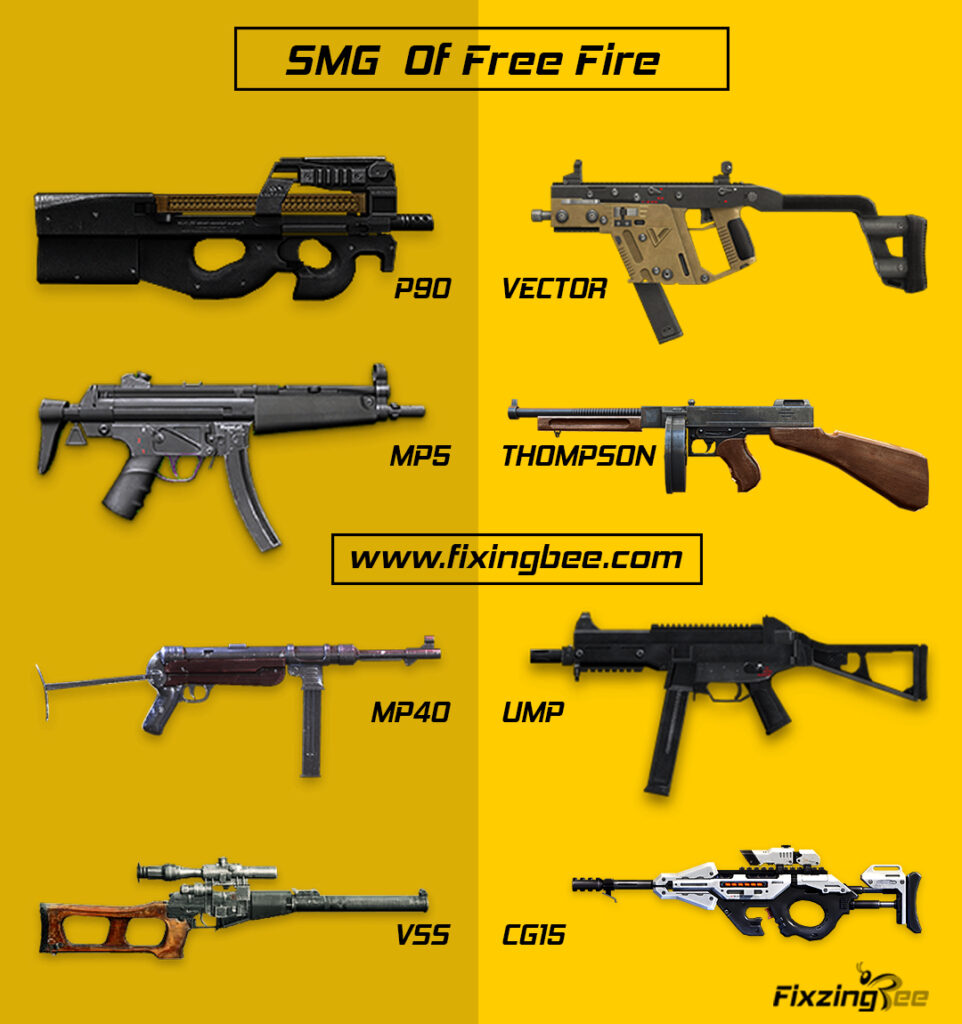 UMP: This is awesome in close range, UMP contains a high rate of fire. 
MP5: A weapon that is really good in any range, but has average firepower.
MP40: SMG with an insane rate of fire. The insane fire rate means that the user runs out of ammo quickly.
P90: This is a large magazine, provides a strong firepower mid-range.
VSS: This gun contains a pre-attached silencer and scope. Low stopping power, but great for camping.
CG15: The CG15 is an SMG made with future technology. Able to charge up the CG15 and fire a high damage shot.
Vector: This is the first Akimbo weapon in the Free Fire game, in short-range this gun provides effective damage. This gun isn't good for long-range attacks.
Thompson: This gun also provides a threat at close range. Not a long-range gun.
SHOTGUNS: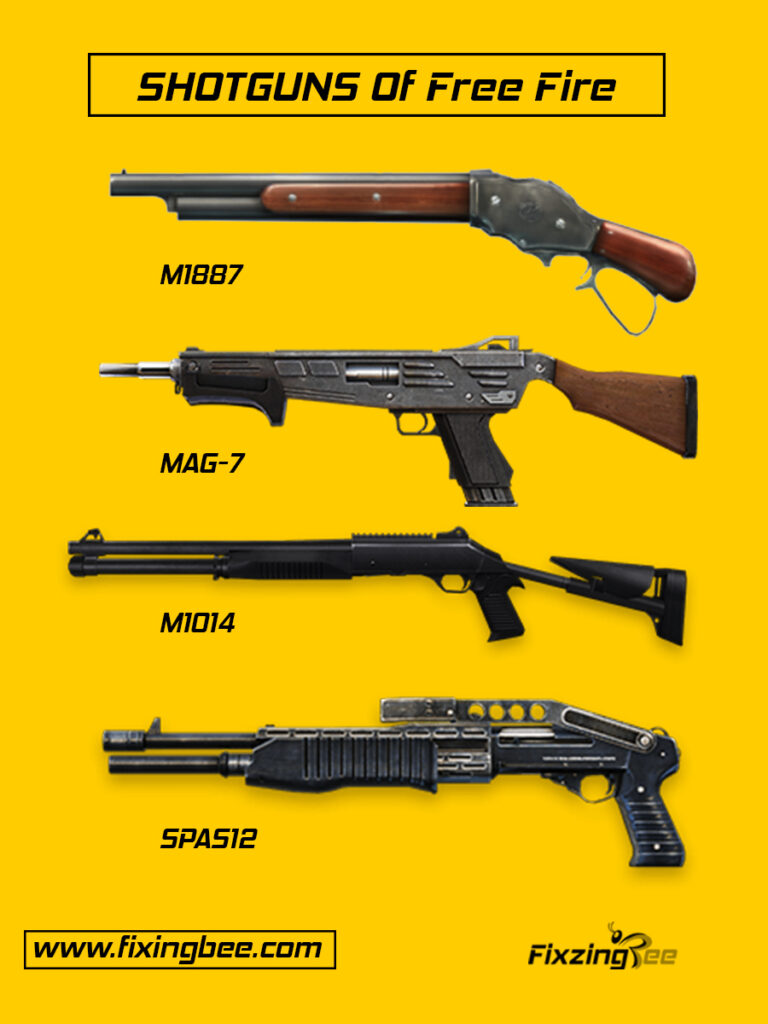 M1014: This gun is best for short-ranged battles.
M1873: This is a two-round shotgun. It's a secondary weapon indeed.
SPAS12: This gun is good for the short range.
MAG-7: MAG-7 is a mid-range and high-rated firing shoot gun.
SNIPERS: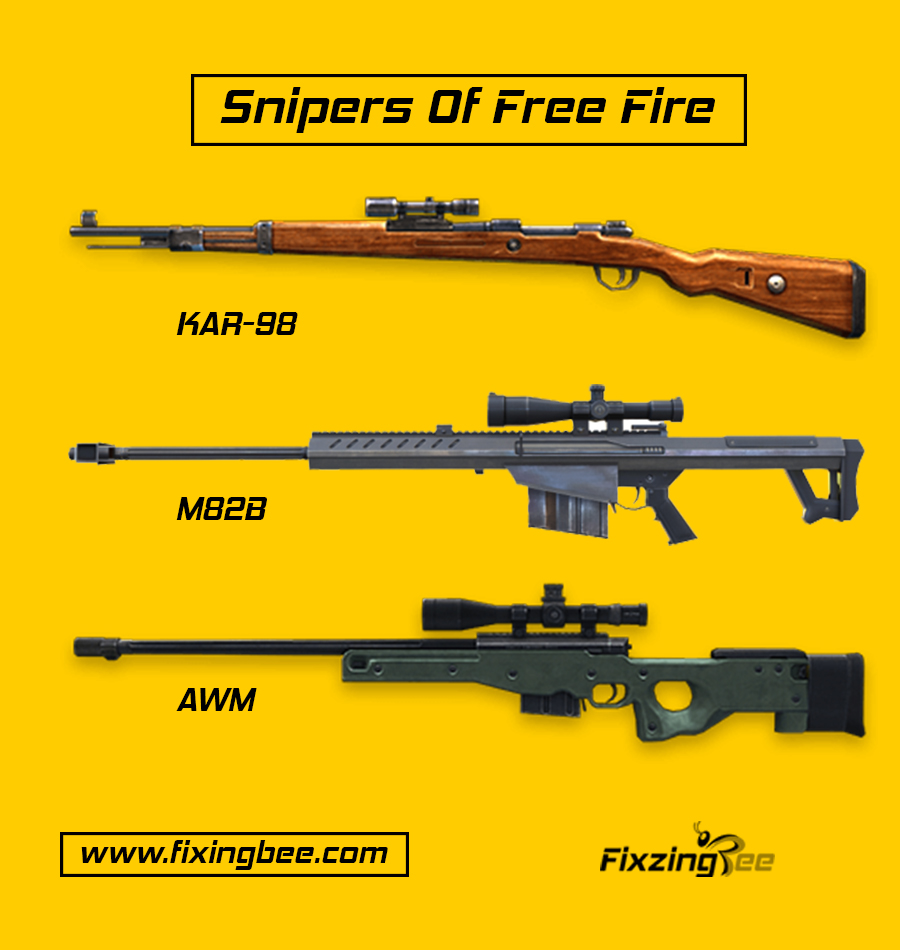 AWM: This game is best for snipping. This is one shot one kill snipper.
M82B: The M82B is an Anti-vehicle sniper rifle that has a lot of additional damage to the vehicle and ice wall, and the shooting can penetrate the ice wall
Kar98K: Kar98k is a low-rated firing gun but this gun is insane stopping fire. If you shoot on the head of the enemy there is a great chance to kill by one shoot.
RARE:
Crossbow: This is a projectile weapon that does damage over time. If you haven't any weapon you can use this gun for Self-defense.
M79: This is a grenade launcher, a projectile weapon with insane firepower. If you going to use this gun you have to hold down the fire key to aim with this gun.
PISTOL:
Treatment Gun: This gun can be used to heal your treatment or attack your enemies.
USP: This is a light pistol. You can use it if you can't find any weapons.
G18: This is a three-round burst pistol with a high rate of fire.
M500: This is a single fire revolver with having a pre-attached scope.
MELEE:
Pan: You can use hit your enemy using this pan. When you put the pan into your backside it works as a protector.
Parang: Increase your melee range and provides protection when it is on your back. You can increase your movement speed by using this melee weapon while running.
Katana: This melee weapon can block bullets when you are holding. You can increase your movement speed by using this melee weapon while running.
Bat: You can increase your melee range by using this weapon. You can also increase your movement speed by using this melee weapon while running.
Weapons Attachments:
Muzzle Level 1: Large increase in range.
Muzzle Level 2: Medium increase in range.
Muzzle Level 3: Large in range.
Silencer: The silencer decrease the sound of gunshots and it also hides your shooting spot from the mini-map while you firing.
Magazine Level 1: Small increase in magazine size.
Magazine Level 2: Medium increase in magazine size and faster reload speed.
Magazine Level 3: Big increase in magazine size and faster reload.
Foregrip Level 1: This grip helps to small recoil reduction.
Foregrip Level 2: Medium recoil reduction.
Foregrip Level 3: Large recoil reduction.
Bipod: The bipod will greatly reduce recoil when firing from a crouched or prone position,
2x Scope: With this scope, you can zoom up to 2x.
4x Scope: Zoom in up to 4x with this scope.
Thermal Scope: This is a high-tech scope that scouts out your enemies according to their body temperature.
Stock Level 1: Slightly increase stability and movement speed while shooting.
Stock Level 2: Moderately increase stability and movement speed while shooting.
Stock Level 3: Greatly increases stability and movement speed while shooting.