OneNote DarkMode
A few months ago Microsoft introduced Dark Mode for OneNote on iOS. Microsoft plans to update its OneNote app to Windows 10 with a new Dark Mode option. Fast forward a few months, the software giant has now created similar skills for Windows users. The first sign that OneNote came back from a slow death was the announcement of the first new feature in more than a year. One Note 2016 is getting dark mode just like Mac and Apple apps.
The software maker is adding a dark mode to many of its popular apps on the web, including Outlook for iOS and Outlook. The dark mode is common nowadays, you will see dark mode on all operating systems, Android, iPhone, Windows, and macOS. Microsoft has since announced that it is bringing the One Note desktop app back to the active development of Windows. They have added Dark Mode support for those who like light backgrounds.
OneNote
Dark mode changes the appearance of the OneNote interface elements from light to dark. Which can improve readability in low-light environments. increase the integrity of your interface as well as enhance the user interface and provide better contrast. This is still the initial work of OneNote Dark Mode, but it appears that if you enable it on a Windows 10 PC, it will take you to the mobile version of iOS or Android. Most apps and browsers have already been switched to dark mode.
Some applications automatically enable Dark Mode based on the Windows 10 theme, and for some applications, we need to enable it manually. Dark mode doesn't actually change the features of your pages in any way. It simply adjusts the way the content is displayed in your current Mode. If you change your theme from dark to light or otherwise, you will need to restart a note to update the anesthetic theme. In this post, we will see how to enable Dark Mode for One Note or Outlook in Desktop Windows 10.
Enable Dark mode for OneNote on Desktop Windows 10
First of all, you create a Microsoft account. Microsoft account is the most important part of Microsoft office management. If you create an account so your any Data save this account automatically. And you can access any place your data from this account just sign in. If you haven't a Microsoft account so you can sign up too easily. Open the OneNote tab and you can see in the top corner a sign-in button, Now you click the sign-in button open a new window to paste your Gmail, Phone number, or Skype details then click next. When you click the next button then you will get a new window to paste your account password. That's it.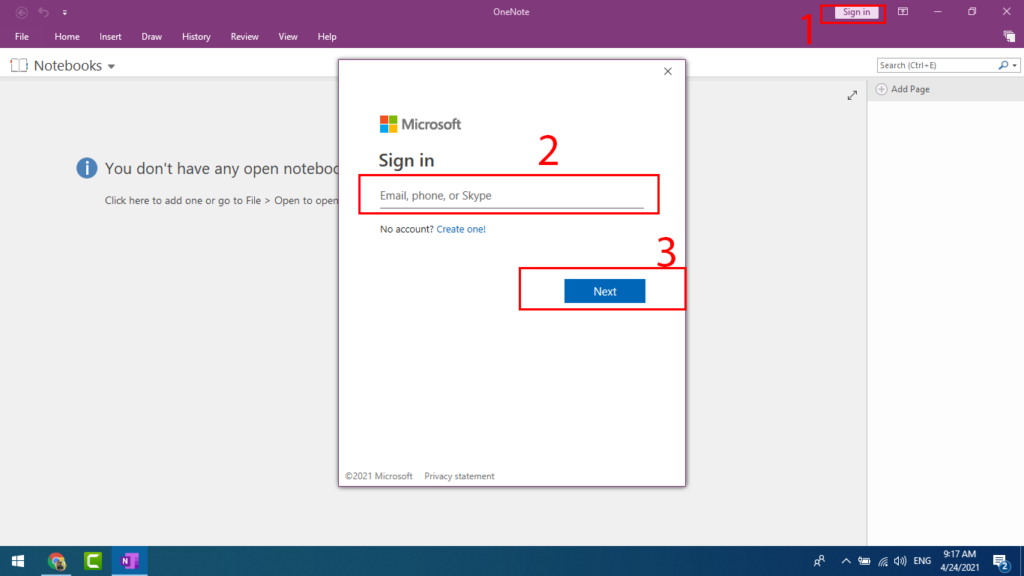 OneNote has a Dark Mode or Theme option in Windows program, Windows app, Mac, and app for iPhone/iPad.
To turn on Dark Mode for One Note in Windows 10. You'll need to maneuver through some of the app's menu settings:
Open OneNote.
Go to File.
Then click Account.
Now click Office Theme with the down arrow icon.
Select Dark Gray and choose more.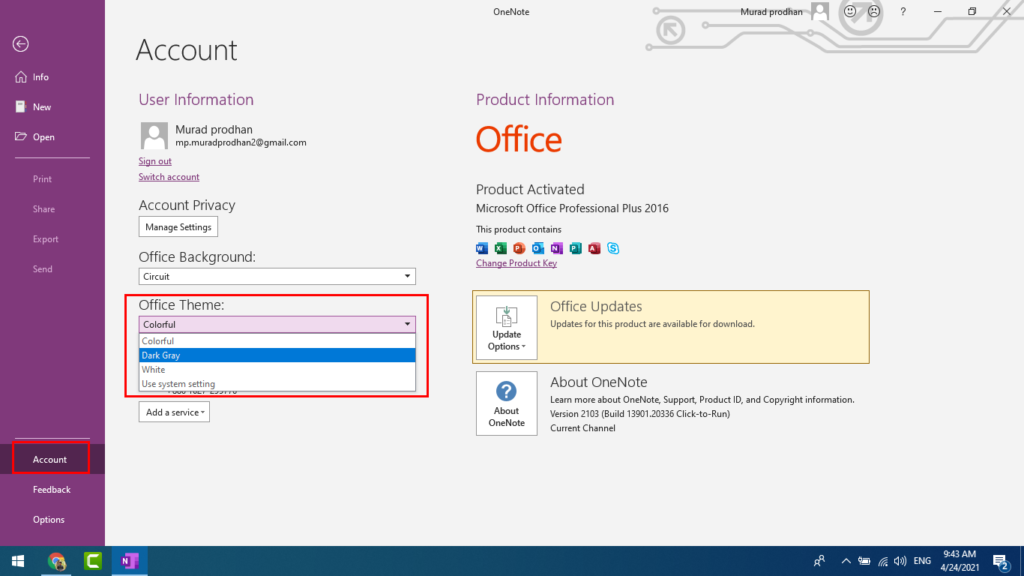 To get Dark Mode to go File and Click account. Now open a new account window then you can see on down this office theme option. Then you can choose different colors for your OneNote theme. Just click the arrow button then you can see some color features for the theme.
You can choose your favorite color. You can also change your office background color too easily. This will change the theme setting for ALL Office desktop programs – Word, Excel, PowerPoint, and Outlook. This is a useful feature because it puts less pressure on the eyes in low-light environments or if you prefer a less bright interface.
Enable Dark mode a Different Way
You can also a different way to change the theme color or enable OneNote dark mode. This Dark mode provides you with low brightness and also saves battery charge. It is most useful for OneNote users.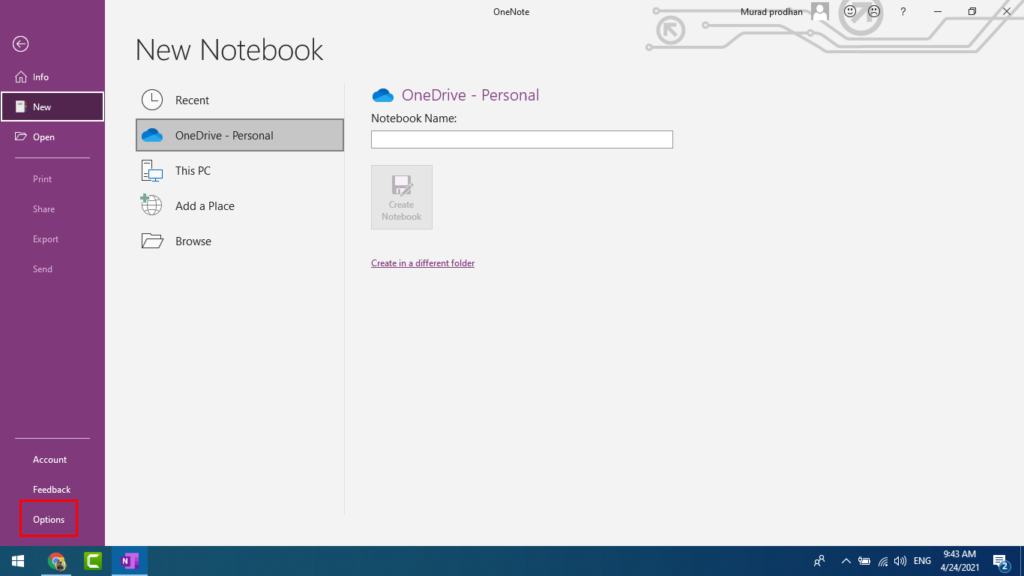 Go to File
Then click Option
Open OneNote Option
Click General 
Then click Office Theme
Select Dark Gray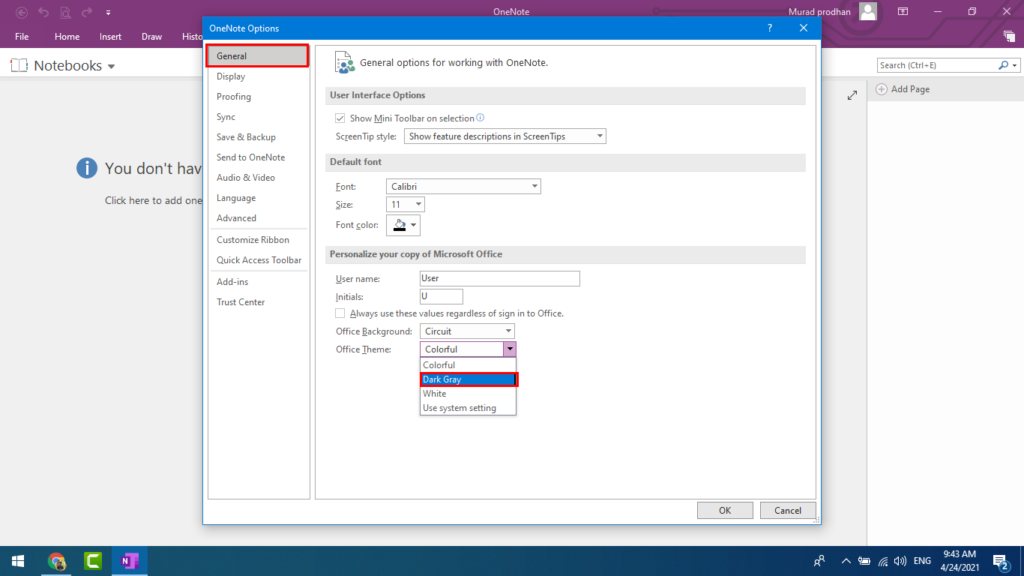 The dark mode is beautiful. Popular features in most applications and operating systems turn off lights and brightness and make things easier to understand and read. However, did you know that every app in the office has its own dark mode?
Otherwise, click the file to enable dark mode and click on the left-corner options at the bottom of the screen. From there, you'll want to look for the Office Themes drop-down menu. Be sure to select the black from the list by clicking the box. After selecting black, you should notice that most of the menus in your Office 365 app have gone dark. Hereafter, any content you create in OneNote or Outlook while in Dark Mode will be visible to anyone viewing the same pages in Light Mode.
Disable Dark Mode Theme
If you wanna disable the dark mode on OneNote then you can easily solve this. Just follow the same ways to change theme color for your work. From there, you'll want to look for the Office Themes drop-down menu. Be sure to select the Default or colorful from the list by clicking the box. Then change your theme color.
Dark Mode On OneNote in Android
One Note Dark Mode is appearing for some Android users, it is automatic and based on Android theme settings. There are no manual toggles to turn it on or off, Microsoft says it's still in development, but it looks like Microsoft is almost ready to move the new theme toward the stable release of OneNote.