The best screen capture software is a simple tool since most people capture one or another type of video using their computer. The software enables its users to easily record any screen on their computer and it offers a wide range of great features and benefits. This is a great way to share a video or review a specific part of your computer screen.
Capturing activity on your computer can help you create high-quality tutorials and presentations in a very short time. While there are many paid screen recording software for Windows systems, you don't really have to pay to get your work done.
And using an app that can make things easier for you through multiple recording methods – one such app is PassFab Screen Recorder. Most of the time, the basic screen recording software should be able to get your work done.
What is Screen and Video Capture Software?
If they say a picture is worth a thousand words, then a video must be worth a million. Most of the media we now use on a daily basis is through video. Studies have shown that we gather more information by watching videos than by reading, so it is easy to see how important videos are in our personal and professional lives.
Let's take a closer look at video recording software and one of the best options on the market in 2021.
Screen and video capture software enables users to take snapshots or record videos on their computer desktop. These programs capture desktop screenshots as image files or digitally record computer desktop activity over time. Screen and video capture software is good for business because it helps users share what they see on their screens. Screen and video capture software can be used for demonstrations, tutorials, and troubleshooting.
The Best video capture software should first be evaluated using its free version
Regardless of which video recording software you are interested in, you can always sign up for a free trial to test it before you do it. For example, 7 days free trial, no credit card or payment information required. Many screen recording software provides a free version that helps you evaluate the software. This is convenient when you want to buy a paid screen recording software, and you need to make sure that all the features work as expected.
Output a small file but with 100% HD recording and clear sound. Video and audio sync. Even if the frame rate is high, the recording process will be smooth and will not get stuck. Also, it has the lowest crash rate. Enabling hardware acceleration makes the computer run faster and the video output smoother.
Features any basic screen recording tools including free, full-screen recording, window recording, selected area recording, annotations, post video editing, microphone selection, etc.
The usual cost of the software for a month is $14.99, but it is available for $5 for now. Going further, you can get a yearly license for $29.99 and a lifetime deal for $49.99.
Download and install PassFab Screen Recorder
The software works on all platforms and devices. This includes Windows 10 and earlier versions of the OS. Now that you know the list of features, follow this link to download the software and start using it for free. Installation is not a problem. You will have three options, select any one of them and start recording.
[thrive_link color='green' link='https://www.passfab.com/products/screen-recorder.html' target='_blank' size='medium' align='aligncenter']Download PassFab Screen Recorder[/thrive_link]
3 Steps to Record Your Screen
Step 1: Open PassFab Screen Recorder, then click on "Record Screen".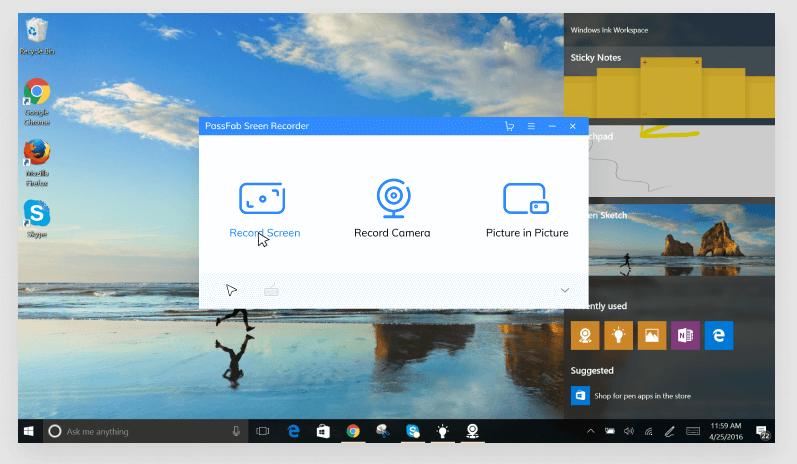 Step 2: Select the area you want to record, and click the "Start" button.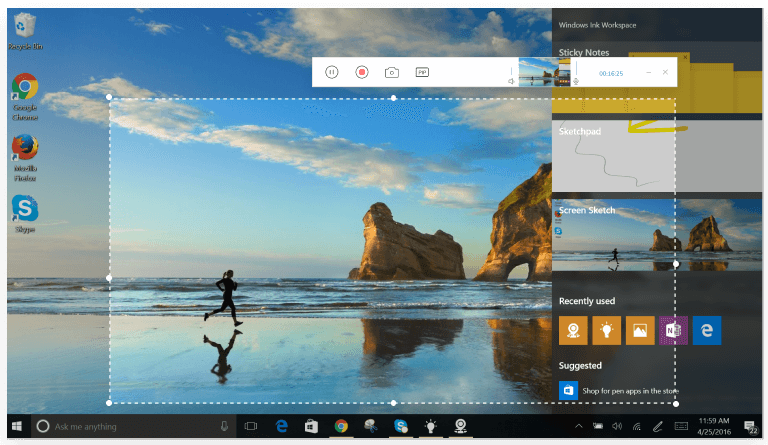 Step 3: Click the "End" button, you can simply edit and save your recorded video.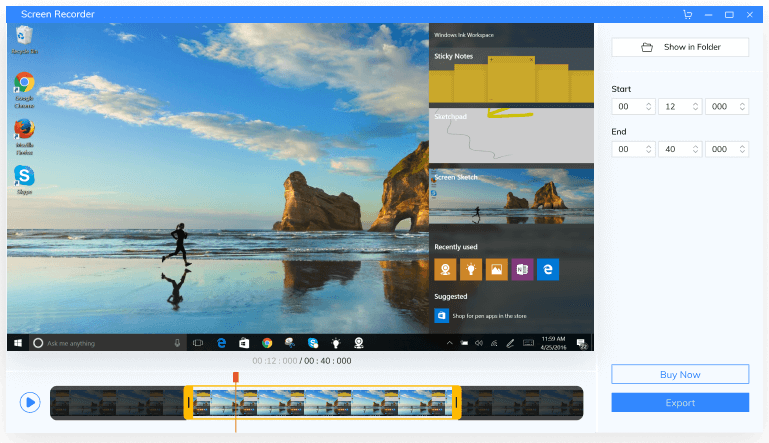 During the recording, you can use a pen if you need to draw something. The rest of the actions will be recorded or configured automatically, including keystrokes, mouse movements, and more. Once you're done and ready, stop recording, and it will open in edit mode for finalization.
How do we determine the best video recording software?
After reviewing the above options, now is the time to choose the best recording software for your business. The above video recording software works best for you depending on your needs and platform. If you're looking for a simple, inexpensive Google Chrome extension with some video editing capabilities, you should choose Screencastify or Fluid. These two apps are among the best free screen recorders, including OBS Studio and the free version of Screencast-O-Matic.
Video recording software is an application or tool that allows users to record their personal screen on PC, laptop, browser, and/or smartphone. Video recording software is not limited to screen recording. They can record a combination of fullscreen video, app windows, games, webcams, system audio, microphone audio, and more. We list the advantages and disadvantages of each video screen recording software program available in the market: premium, free and open source.
Which is the best video capture software for Windows?
Are you looking for free video recording software that is not only easy to use but also saves money? If so, you'll be happy to know you're in the right place. But if you are looking for the most reliable and accurate free video capture software for Windows, then PassFab Screen Recorder is one of the best free video capture software that you can try.
Good recording software is essential for content creators! It lets you capture helpful and innovative content that you can share with friends and family. Today, we guide you about the most popular video recorder for Windows.
To help you figure out which one is best for you, we've compared these recorders to several important ones. Many of today's computer users like to watch videos on their PC for a long time.
Schedule Recording: If you want to start recording automatically within a certain time, you can configure the date and time for both start and stop.
Record Everything: You can use the built-in recorder to record webpages, documents, videos, and screenshots and for later use. Supports both microphone and system sound so that nothing is missed. Once the recording is complete, the Passfab video cutter can be used to edit the recording. If some part of the recording is not required, it can be cropped from the video. Or you can change the order if necessary.
Picture in Picture: PassFab Screen Recorder can record your webcam and your computer screen together. 16 Picture in Picture Position option for users that they can customize the PIP size and easily set the webcam and screen position.
No Time Limit: You can record screen and webcam without a time limit with PassFab Screen Recorder. This allows you to record without thinking that there is a limitation and you do not have to work with multiple recordings.
Record webcam: Users capture demos of amazing products using PassFab Screen Recorder that they can share with followers and friends. Record their lives and share the link so others can see it!
Can I capture video from my screen?
Yes, you can. If you want to tell your PC screen, you need to use video capturing software. There are many software's available in the market, so you have to choose the one you like. Some software can even be used for free. However, paid screen recording software has more features like video editing. Which one to use depends entirely on your needs.